SKIPPER'S UPDATE
The latest Skipper's Update is presented here in the form of an Autumn Newsletter
---
RECENT EVENTS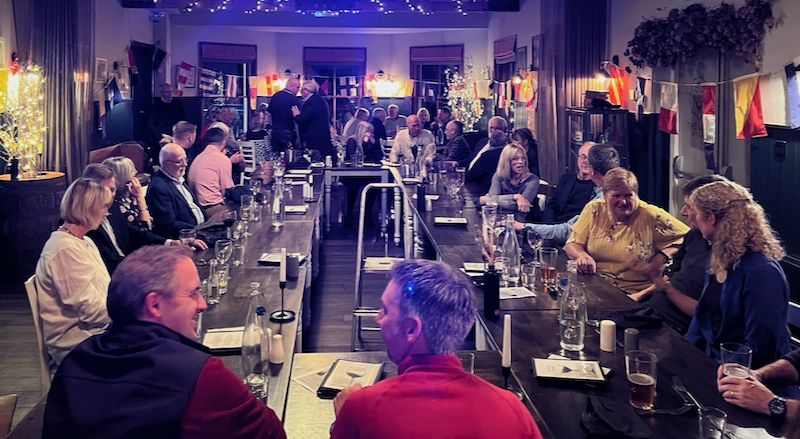 Photo: David Calder
Saturday 13th November
Report and more photos now added
Saturday 11th December
*****
THE NON-THURNE TABLE FRIDAYS
3 December, 7 January, 4 February, 4 March at 7.30pm
As you all know, there is a table reserved for EACC at the Thurne Lion every Friday at 7pm except for the first Friday in the month. On the first Friday each month we will have a virtual event on Zoom to enable those who live away or cannot come to the pub for whatever reason to join us in a sociable event. We thought it might be good to have a programme for these Fridays, so this is what we have planned:
3 December EACC does Desert Island Discs.
Have you ever wondered what floats your fellow EACCer's musical boats? Is it true PippinJack are massive fans of Shakin' Stevens? Is Roger (Lily) more Mariah Carey or Maria Callas? Maybe we will find out! 5 EACCers, 5 discs (one each) and one luxury. First up is the skipper, but volunteers needed to complete the lineup. Contact Cally to take part.
7 January Quiz time.
Maybe with a post-seasonal theme.
4 February Virtual wine tasting.
Just what we will all need after doing Dry January or even Just January. Details of wines to be confirmed in plenty of time.
Plan for social events over the coming winter
---
*****
Last updated 3rd September 2021
Check here for latest club news and information
including the minutes from the previous committee meeting once approved at the subsequent meeting
---
Proposed development of the EACC Site
---

MOORINGS

THANK YOU TO ALL MEMBERS WHO TOOK A TURN (SOME MORE THAN ONCE) AT MOWING LAST YEAR.

THE ROTA FOR 2021 IS NOW OPEN FOR ANYONE TO ADD THEIR NAME

HELP KEEP THE CLUB SITE TIDY

To view or add your name to the rota click on the link above

---

Mooring at the Moorings

Please note that members are entirely at liberty to

use the club moorings frontage for temporary

moorings picnics, BBQs etc whenever they wish

between 1st March and 31st December.

However boats who are not mooring holders should not be

left there unattended without prior consent of committee.

Please contact the moorings officer

---

CASUAL USE OF CLUB SAFETY BOAT

The club safety boat moored in Thurne Dyke may be

used by members for legitimate uses, when available.

On rare occasions a safety boat may not be available.

The dates will be published here.

---

We are also now on Twitter

Our address is @EACruisingClub

David Smith

---

CHARITY

EACC's chosen charity for 2021 is

NORFOLK SCHOOLS SAILING ASSOCIATION

NSSA is a local charity run by volunteers and based on Filby Broad. They provide sail training opportunities for children aged from 8-18. They get no local authority funding and rely on grants, donations and membership fees to cover their operating costs.

*****

In 2019 EACC raised a magnificent

(Norfolk And Norwich Scope Association for

teenagers and adults with learning, physical and

complex additional needs or disabilities)

David and Lesley visted NANSA on 10th January and presented a cheque for £818

Thanks to Lesley and Roger Everett

for

co-ordinating our efforts