Update on the proposed development of the EACC Site
---
STOP PRESS! SUMMER REGATTA TO GO AHEAD!
---
was held on Monday 25th May 2020
Presentation of the Cork of the Broads trophy to winners, Neal and Tricia Duffield of Lady Mary.
Susie is presenting, on a shovel to ensure social distancing, and Tom is officiating as EACC TMOR Coordinator, with anti-viral wipe to hand.
CLICK ON THE IMAGE ABOVE TO SEE INFORMATION ABOUT
THIS CHARITY FUND RAISING EVENT AND TO SEE VIDEO OF THE RACE
---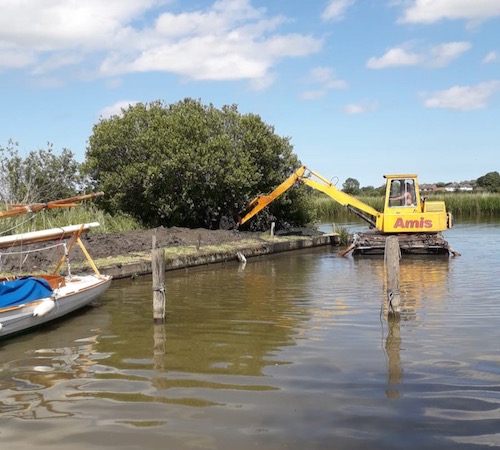 Photo: David Thompson
SOME EMERGENCY DREDGING WAS DONE ON THE MOORINGS
Tuesday 9th June
Berth holders on the club moorings have had difficulty getting their boats into their berths when the water level was extremely low a couple of weeks ago. The Committee therefore agreed that it was necessary to have the bar of silt situated between the posts and the river removed.
---
CLUB NOTICE BOARD
NEXT EVENTS
18th and 19th July
There is now a plan for this to go ahead with certain provisos
*****
LAST EVENTS
Monday 25th May 2020
Saturday 25th April 7 for 7.30pm
Last updated 16th June 2020

Check here for latest club news and information

---

Club Merchandise

*****

Flags, Pennants and Burgees remain available

directly from our Insignia Officer

Jane Stevens (RC Pippinjack) Click here for details

---

MOORINGS

The aluminium Safety boat is in the water and fully operational. Its cover, the fuel tank and the keys are all in the usual place. The grass has been cut and the mowing rota has been reinstated, More volunteers are needed please.

HELP KEEP THE CLUB SITE TIDY

To view or add your name to the rota click on the link above

Mooring at the Moorings

Please note that members are entirely at liberty to

use the club moorings frontage for temporary

moorings picnics, BBQs etc whenever they wish

between 1st March and 31st December.

However boats who are not mooring holders should not be

left there unattended without prior consent of committee.

Please contact the moorings officer

A TEMPORARY MOORING MAY BE AVAILABLE ON

THE EACC SITE FOR THE REST OF THIS YEAR ONLY

---

CASUAL USE OF CLUB SAFETY BOAT

The club safety boat moored in Thurne Dyke may be

used by members for legitimate uses, when available.

On rare occasions a safety boat may not be available.

The dates will be published here.

From Thursday 14th May the safety boat may be used but please bring sanitising materials for use before and afterwards

---

on Members' ADS including

1 Yare and Bure One Design

Price Reduced 16 June 2020

****

Michael McNamara Lug Sail For Sale

---

---

We are also now on Twitter

Our address is @EACruisingClub

---

Sarah Montague

1958 -2020

(RCC 429 - Pickle)

Sadly Sarah Montague died on

Saturday 18th April

Tribute to Sarah by her husband Phil

---

Phil Dring

(RCC 202 - Marilyn Ann)

It is with great sadness we announce the death of Phil Dring who passed away peacefully in the
Priscilla Bacon Lodge, Norwich on Saturday 18th April

---

CHARITY

EACC's chosen charity for 2020 and 2021 is

NORFOLK SCHOOLS SAILING ASSOCIATION

NSSA is a local charity run by volunteers and based on Filby Broad. They provide sail training opportunities for children aged from 8-18. They get no local authority funding and rely on grants, donations and membership fees to cover their operating costs.

*****

Last year EACC raised a magnificent

(Norfolk And Norwich Scope Association for

teenagers and adults with learning, physical and

complex additional needs or disabilities)

David and Lesley visted NANSA on 10th January and presented a cheque for £818

Thanks to Lesley and Roger Everett

for

co-ordinating our efforts