RECENT EVENTS
Spring Bank Holiday Weekend Cruise 2021
Friday 28th - Monday 31st May
Click on image above for report and photos
******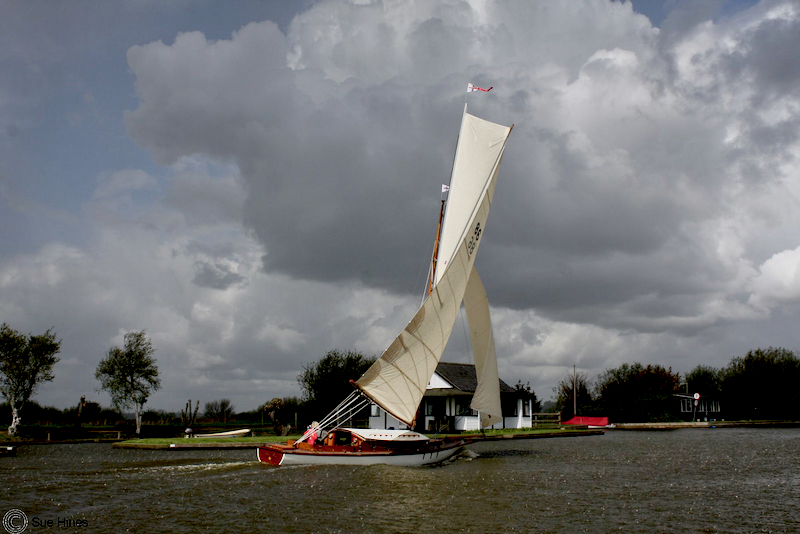 Photo: Sue Hines
Winner of both races Paul & Clare Markham in "Moss Rose"
Sunday, 16th May 2021
Results, Report and lots of photos now posted
******
Friday 30th April - Monday 3rd May 2021
We think the weather must have conspired against all plans for our Mini Spring Cruises
as even those that ventured out did so with seriously curtailed plans.
Only one report received so far. If there are any more please send to webite@ea-cc.org
******
NEXT EVENTS
26th & 27th June
Details now posted
16th April 2021
With the start of a new sailing season coinciding with greater personal freedom re Covid, it seems a perfect time to share our outline EACC plans for 2021 when the sun has been ordered to shine!
---
THURNE TABLES
There will be a weekly EACC table on Fridays at 7pm, with the
first event on Friday 16th April.
They will reserve us an EACC table outside and add as required.

If you want to come please ring the pub on
01692 671806
and put your name on the list and they will allocate the tables we need. You will need to book as we can't guarantee space for walk ups.
We look forward to seeing you there.
---
WORK PARTIES
An email was been sent to all members requesting help with work on the moorings
Please email moorings@ea-cc.org if you can help. Thank you!
A big thank you to the few who responded. Members visiting the site can't fail to notice the progress that has been made although there is still a long way to go. Honourable mentions go to David and Ruth Thompson (Evergreen), Colin and Liz Chettleburgh (Breeze), Mike Jones (Nutcracker), Brian Wilkins (Catspaw), Adrian Lincoln (Tinkerbell), Neal Duffield (YB Lycaena) , Tom Gabriel (Maeve), Julia Bower (MC Come Along), Paul and Jane Stevens (Pippinjack) and Tom Moore on digger.
Thursday 20th April - Brian, Mike and Paul shifted and levelled a lot of mud and Neal and Paul cut and strimmed the grass.
Monday 26th April - David improved the access to the shed and outside racking with boarding, Ruth started painting the shed, Colin serviced the two strimmers, Jane cleaned the BBQ and filled some rat holes in the bank, Paul and Tom G shifted and levelled some more mud.
Friday 30th April - David, Mike and Paul undertook emergency quay heading work replacing two thirds of the of the badly deteriorated section where Aegis moors.
Wednesday 5th May - The dodgy quay heading repair was finished by David, Mike and Paul and Ruth and Julia finished painting the shed.
Monday 17th May - Tom gets his digger on site and improves the access for it.
Tuesday 18th May - Tom M. moves the mud back from Pirate and Wandering Rose's mooring and moves the mud piled on the south end of the plot with Paul S as banksman.
Wedneday 19th May - Tom tackled the big pile of mud with his digger, David T as banksman. Good progress was made but another day needed.
Thursday 20th May - Tom and Colin C attempted to finish the job but rain stopped play.
---
Last updated 7th June 2021
Check here for latest club news and information
including the minutes from the previous committee meeting once approved at the subsequent meeting
---
Proposed development of the EACC Site
---

MOORINGS

THANK YOU TO ALL MEMBERS WHO TOOK A TURN (SOME MORE THAN ONCE) AT MOWING LAST YEAR.

THE ROTA FOR 2021 IS NOW OPEN FOR ANYONE TO ADD THEIR NAME

HELP KEEP THE CLUB SITE TIDY

To view or add your name to the rota click on the link above

---

Mooring at the Moorings

Please note that members are entirely at liberty to

use the club moorings frontage for temporary

moorings picnics, BBQs etc whenever they wish

between 1st March and 31st December.

However boats who are not mooring holders should not be

left there unattended without prior consent of committee.

Please contact the moorings officer

---

CASUAL USE OF CLUB SAFETY BOAT

The club safety boat moored in Thurne Dyke may be

used by members for legitimate uses, when available.

On rare occasions a safety boat may not be available.

The dates will be published here.

The red safety boat is currently availabe for use and is on its mooring in Thurne Dyke.

We plan to have both safety boats commissioned by Saturday 15 May.

---

Michael McNamara Lug Sail For Sale

Updated 18th march 2021

---

It was with the greatest sadness that we received the news last week that broads legend, TMOR vice president, stalwart of the regatta and trustee of our club,

Mollie Howes had died on 10th March 2021.

All our thoughts are very much

with her family.

Her son Paul has sent us this obituary.

Mollie on her 90th Birthday last year

---

CHARITY

EACC's chosen charity for 2021 is

NORFOLK SCHOOLS SAILING ASSOCIATION

NSSA is a local charity run by volunteers and based on Filby Broad. They provide sail training opportunities for children aged from 8-18. They get no local authority funding and rely on grants, donations and membership fees to cover their operating costs.

*****

In 2019 EACC raised a magnificent

(Norfolk And Norwich Scope Association for

teenagers and adults with learning, physical and

complex additional needs or disabilities)

David and Lesley visted NANSA on 10th January and presented a cheque for £818

Thanks to Lesley and Roger Everett

for

co-ordinating our efforts

We are also now on Twitter

Our address is @EACruisingClub