Photo: Jane Stevens
10th March 2019
---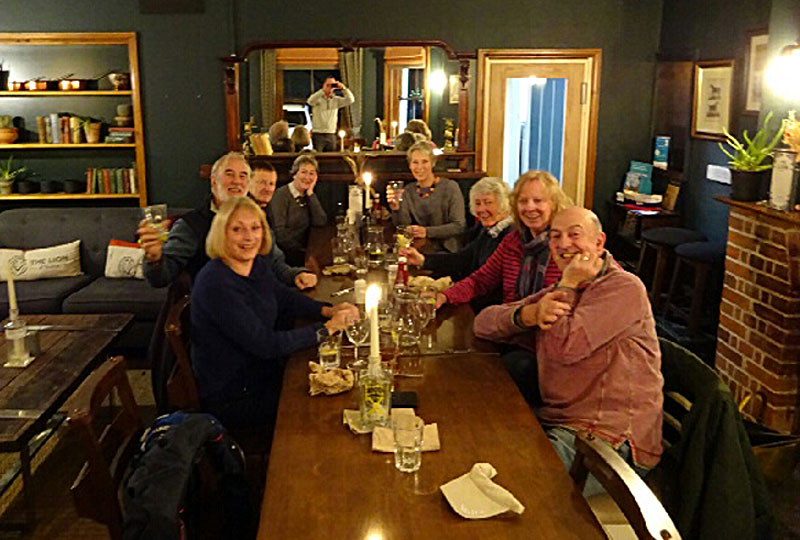 FRIDAY NIGHTS AT THE LION
Keep in touch through the winter
A regular Friday evening booking has been made for an
EACC table at The Lion throughout the winter, 6.45 for 7pm ish.
All members are welcome
.
Please just let the pub know and
add your name to the 'EACC Table'.
Their number is 01692 671806
We've had some very sociable Friday evenings in The Lion through November and December. We will continue this into the New Year with a table booked on Fridays through January, February and March.
Table booked for 22nd March which will be the last (probably!)
---
CLUB NOTICE BOARD
LAST EVENTS

PUB NIGHT

10th March 2019

Sunday 10th February

---

Last updated March 2019

Check here for latest news and information

---

Registration Numbers on Transoms

••• UPDATE •••

Owners of all private Broads Yachts who have been concerned about The Broads Authority's actions last year in trying to enforce an ambiguosly worded ruling that owners should display their BA registration number on their transoms, will be pleased to note that as a result of lobbying by individuals and clubs, including EACC and NSBA, and coordinated by the River Cruiser Class the wording of BA's Display of Registration Marks document has been amended and is set out in an email to RCC members.

*** YOU CAN READ IT HERE ***

---

CASUAL USE OF CLUB SAFETY BOAT

The club safety boat moored in Thurne Dyke may be used by members for legitimate uses. Click here for conditions

On rare occasions a safety boat may not be available.

The dates will be published here.

CURRENTLY THERE ARE NO KNOWN OCCASIONS THAT

A SAFETY BOAT WILL BE UNAVAILABLE

---

on Members' ADS including

1 River Cruiser

1 Yare and Bure One Design

---

HELP KEEP THE CLUB SITE TIDY

MANY THANKS TO ALL MEMBERS WHO VOLUNTEERED TO CUT THE GRASS IN 2018

A new rota will appear here in the Spring

---

Mooring at the Moorings

Please note that members are entirely at liberty to use the club moorings frontage for temporary moorings picnics, BBQs etc whenever they wish between 1st March and 31st December.

However boats who are not mooring holders should not be left there unattended without prior consent of committee.

Please contact the moorings officer

NEXT EVENTS

Saturday 27th April

---

Click here if you are looking for club flags, burgees or

club shirts, tops and other items of badged clothing

---

The charity EACC has chosen to

support in 2019 is

NANSA has worked for over 60 years to improve the lives of people in Norfolk with physical, sensory and learning disabilities. They are a local independent charity and believe that all people with disabilities are entitled

to full inclusion in society.

In 2018 EACC raised £403.88 for the

East Anglian Air Ambulance

Thanks to Lesley Everett for coordinating our effort

On 14th February 2019 a cheque for £403.88 was presented to East Anglian Air Ambulance
SaveSave
SaveSave
SaveSave
SaveSave
SaveSave
SaveSave
SaveSave
SaveSave
SaveSave
SaveSave
SaveSaveSaveSave
SaveSave
SaveSave
SaveSave
SaveSave
SaveSave
SaveSaveSaveSave
SaveSave