SOCIAL REPORTS 2023
CROMER END OF PIER SHOW
Wednesday 13th September
A
A Night to Remember ?
"Who fancies a trip to the End of the Pier Show at Cromer" says I, envisaging a warm evening on the Pier and a beautiful sunset with a glass of wine in hand to kick off the proceedings. Well! Summer had decided to call it a day the previous evening, so when 15 of us battled our way along the pier against wind and rain, it was quite a shock to the system. The show was something else! as the performers tripped the light fantastic back and forth across the stage with no let-up in the intricately choreographed dance numbers. How do they remember all those routines? And such unrelenting energy! In true End of the Pier fashion it was all quite exhausting. Then we all got blown back up the pier, and nearly off our feet, with the rain at our backs, as we each made our separate ways home.
I had promised a night to remember, and it probably will be, though perhaps for different reasons than I had originally imagined.
Next year - the Great Yarmouth Hippodrome anyone?
Attendees: Julia Bower, Tom Moore & Julia Bellamy, Ruth & David Thompson, Jane & Paul Stevens, Anthony and Linda Landamore, David Read and Carolyn Wright, Bill & Lindsay Grist, John Thornicroft & Sue Spivey. Because we got a discount for a group booking, the surplus (£52.50) has been donated to EACC'S chosen charity, East Anglia Air Ambulance. Many thanks to you all for signing up!
Susie Spivey
---
---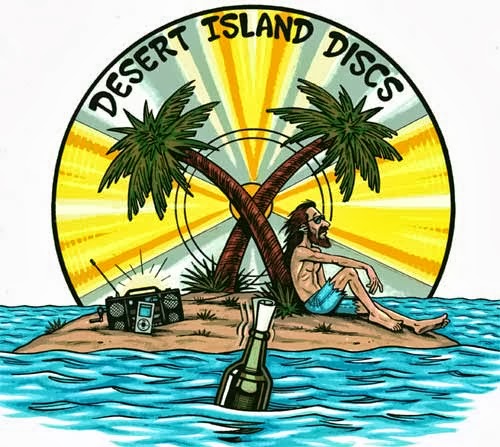 EACC does DESERT ISLAND DISCS 2
Friday 3rd February
The second edition of 'EACC does Desert Island Discs' saw four castaways and four interesting stories generated by four very different tunes. There were technical difficulties, which was really annoying as it had worked perfectly on the trial the previous evening, but we EACCed on.
As the first castaway, Lesley (Lily) painted an enchanting picture of a comfortable Scottish childhood in Bridge of Allan, known as the Gateway to the Highlands, with granite houses, turreted roofs and plenty of places to run and play. The highlight of the local calendar was the annual Highland Games. Held in early August, the usual fairground rides and stalls - coconut shies, win a goldfish and billowing pastel candyfloss - were a pleasant sideshow to the main event, which was the display of traditional Scottish strengths and skills. Caber tossing, hammer throwing and tug of war were all there, but Lesley's pleasure was in the skirling of the pipes and the fierce competition between the bands. For her record she chose 'Campbeltown Loch', played by The King's Own Scottish Borderers, to remind her of those youthful days and also of coming in under sail to Campbeltown Harbour in later life whilst sailing in the Western Isles with her family. She didn't reveal whether Roger was kilted. Slainté.
Castaways 2 - John and Susie (Ceres) - told a simple and familiar tale: a young woman meets a young man, they fall in love and after a few practical adjustments (dumping the boyfriend, relocating to a canal boat, temporary impecunity) they all live happily ever after. Told as a two-hander in a characteristically exuberant manner, there was name dropping (Alan Bennet, Stephen Frears), pantomime-esque discussion about the sequence of events, peril on the high seas (ok, the Thames) and, of course, an old black and white French movie. The record chosen was 'The Mariner's Song' from L'Atalante, directed by Jean Vigo, which was where their story began. As Susie says "The visuals, the atmosphere, the humour, and the wistful, haunting theme tune, (which) has stayed with us for the last 50 years." You can't beat the French for a haunting tune.
Anthony's (Matilda) story told of the founding of Landamores in 1923, his own early career as an engineer with Marconi in the 1960's, before returning to Hoveton in the 1970's, newly married to Linda and ready to start building boats. And build boats he did. The collaboration that became Oyster Yachts saw Landamores building some of the most advanced racing and cruising yachts of the day from their Tunstead Road yard, with their business partners in Essex concentrating on the marketing and sales, which suited Landamores well. The yard did, however, have to deal with the snagging issues on the new boats and this was the basis of the story. A new Oyster yacht, having just crossed the Atlantic, was struggling with heavy steering and was en route to Australia so Anthony was summoned to Panama to sort it out. In a boatyard on the Pacific end of the canal - which is actually further east than the Atlantic end, we discovered - there was a lot of fiddling and furkling until finally Anthony made good with a grease gun and all was well. The boat's name was Baker Street, so the record by Gerry Rafferty was not a surprise. It appears that Anthony has been in, on and over the Panama Canal but never through it.
Joe's (Flight) was the final narrative of the evening. He told us how sailing on the Broads has been in his blood since he was first dangled, swaddled, on the Waveney at 3 months and that, despite dalliances in the south-west for educational purposes, he's never really happy unless there's a reedbed, a bittern and a pint of Woodfordes close at hand. Corsair was his first sweetheart, when he chose to spend his money on anti-foul over nights out drinking foul concoctions in various dives across north Suffolk, and it was a wise choice as he was able to impress Eve with his lovely boat when they first met. Whilst Joe had clearly had many exciting and fun experiences on Corsair, it was an altogether different one that prompted his story. Tacking against the tide in heavy rain, miserable and forlorn, suddenly the mood was lifted by a song on the radio and 'The Bad Penny Blues' by Humphrey Littleton is now the go-to tune in the Farrow-Cronin household for a buck-up. Preferably played on an old bakelite radio, with a non-directional aerial.
To finish the evening off, we played 'beat the intro' using songs that had 'heart' in the title. It was fun, but no-one was very good at it, but it was more about the thought.
There will be another Desert Island Discs, so if you want to volunteer please let Cally know.
---

EACC and YSC members struggled a little to find the legendary pub…
EACC-YSC Joint Social
Saturday 21st January 2023
If anyone has any photos of the event please send them to Cally
Going back through the records, there appears to be some dispute about exactly how many joint socials we have enjoyed with the Yare Sailing Club - is it six or seven? Do online ones count? It's a minefield. If, as we suspect, it is the seventh, then we have a copper bottomed reason for pulling the wool over your eyes (good cryptic clue there).

And 'wool over eyes' was indeed evident as some of us sought a location we could have found blindfolded by river, but that proved something more of a challenge by road. The River Garden, a fine hostelry well run by proper pub people, is not to be confused with The Townhouse, also known as the Stonehouse Pizza place (a Pub and Paddle river stop), or the Canton Chinese (formerly the River Something) or the Rushcutters (rushes = river) or the Fat Cat & Canary which, obviously, has nothing to do with the river, but is none the worse for it, and is a pub I DO know.

Nevertheless, everyone who was expected DID find the extremely welcoming and proper pub-like pub and, after a very decent spot of grub, settled down to the quiz run for us by the landlord Glenn, formerly of The Pleasure Boat. Around 30 river sailors took part, splitting into teams of 4 - 6 people. It's just as well we are river sailors not sea sailors, as there was quite a lot of confusion about fathoms, furlongs and nautical miles, which doesn't bode well for accurate passage planning, but if you can see the opposite bank it doesn't really matter. After some banter and a couple of protests lodged with the committee, there was finally the excitement of a tie breaker to find the winning team. Congratulations to them!

Well done to theYSC and Julia and Margaret for a great evening. Next time I visit I'm going by boat.