Northern Rivers Cruise 2012
---
Photos by Paul and Jane Stevens and Roger Everett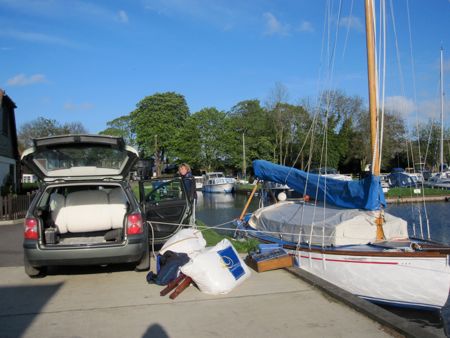 Starting the journey
Amaryllis, Moss Rose, Cordon Rouge and eventually Thirza.assemble at Thurne Dyke on the Friday evening. Too cold for planned BBQ so plan to eat at Pub. Some of us do not intend to be cold. Yes that's a memory foam double mattress with two winter duvets one underneath and one on top and they are looking into the possibility of solar powered electric blankets!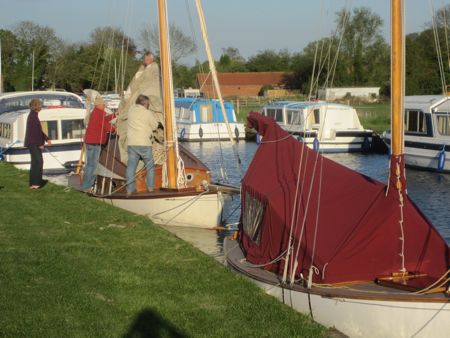 We barely have time to crack open Colin's whisky before its time to put the covers on and make for the pub. Table for eight, Hard Rain playing in the bar,Temperature outside plummeting, a couple of hours later we are back on the boats and feel obliged to help Colin finish his scotch and his crew Oliver obligingly produces a very acceptable Sloe Gin.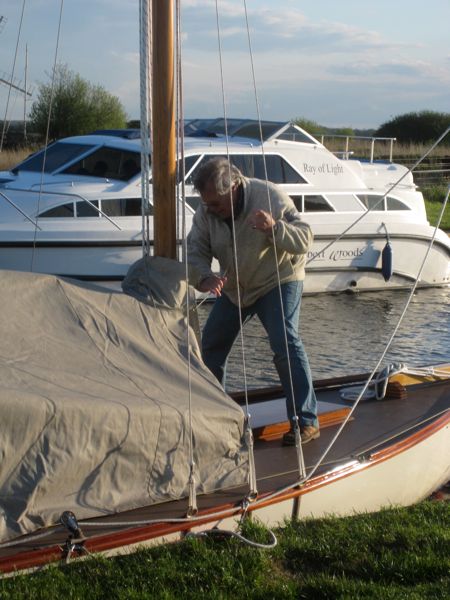 For some reason we sleep surprisingly well and needn't have kept most of the clothes and sock that I found I was still wearing when I woke on Saturday. The sun was shining but as Roger and Lesly arrived to get Ranger they bring a light shower with them. Seems we were lucky as it had been torrential in Norwich apparently.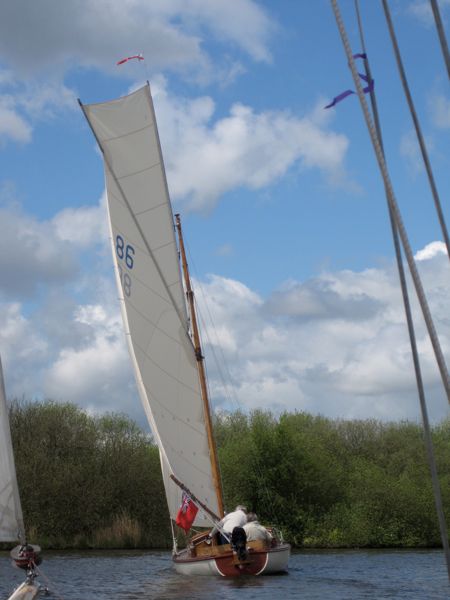 Red Leader, Chris and Rachel arrive. Having singularly failed to get Octavia launched in time to do their cruise leading in they have cadged a lift on Sun Gloy which we soon spot motoring up the river to join us. Following Soozie (Blue leader)'s example they have provided us with someting to tax our brains whilst we are sitting about with nothing else to do. Lets just say that by the time the weekend was over we were to be conderably more knowledgable about Olympic history.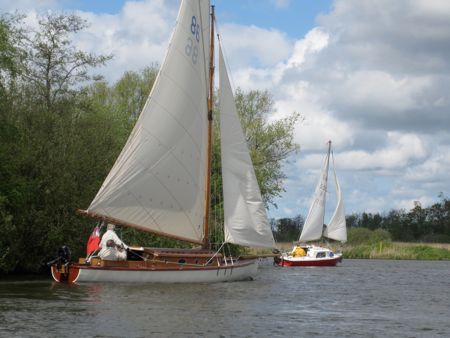 Shortly afterwards Brunnette is spotted leaving Hunters Dyke and with military precision she sails past the end of Thurne Dkye on the dot of eleven our agreed departure time. So seven of us set off for Cockshoot Dyke where we planned to stop for lunch.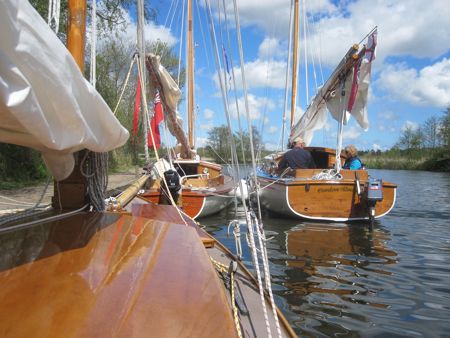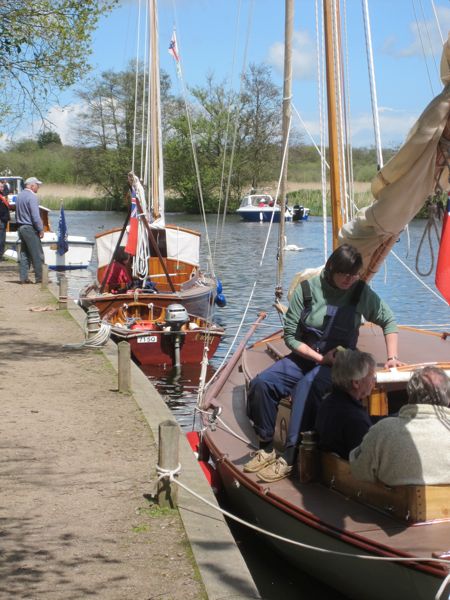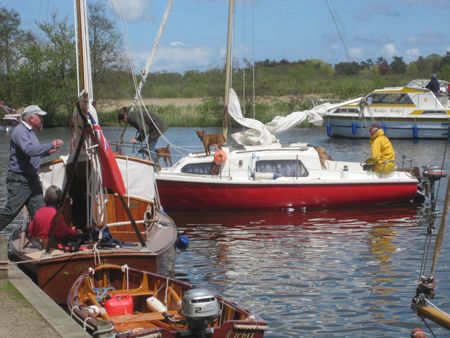 We all arrive at Cockshhot at a sensible time for lunch, including Thirza who set off an hour or so before the rest of us because of her 'handicap'.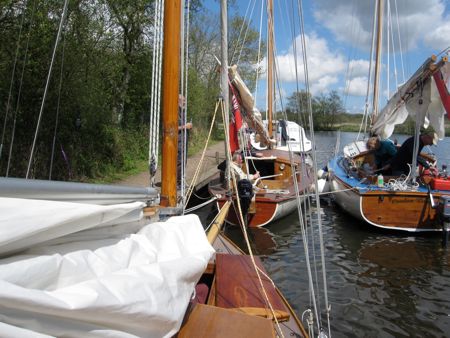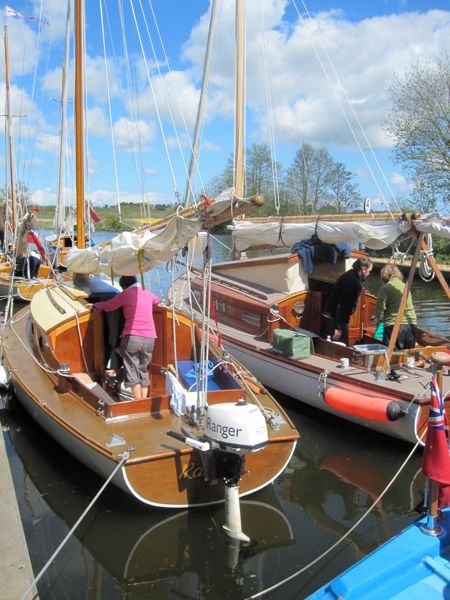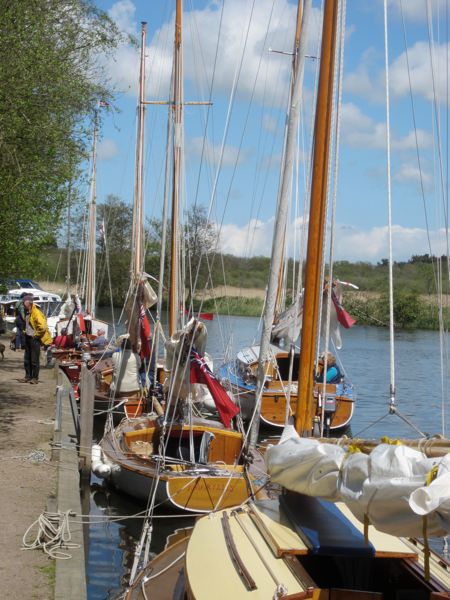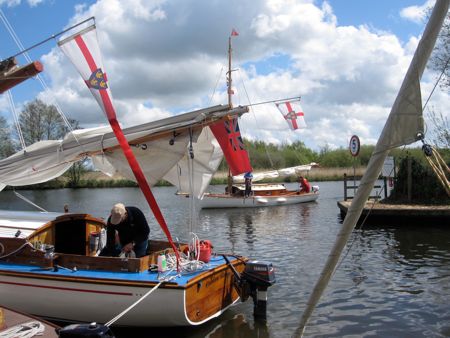 Before long Carolyn and Jimmy joined us, out on Bishy for a jolly.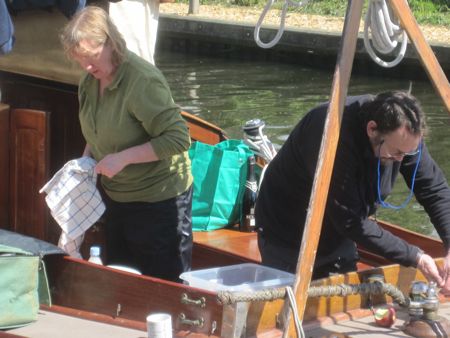 Domestic bliss?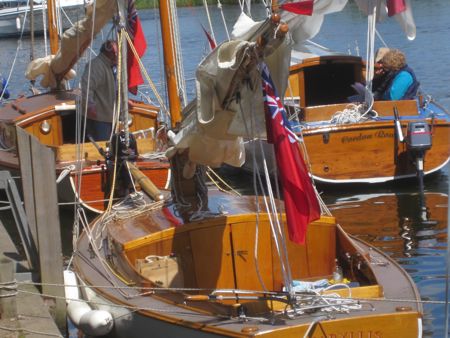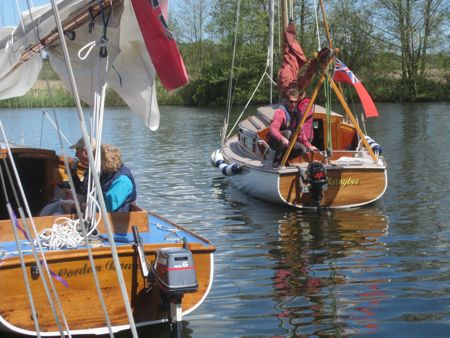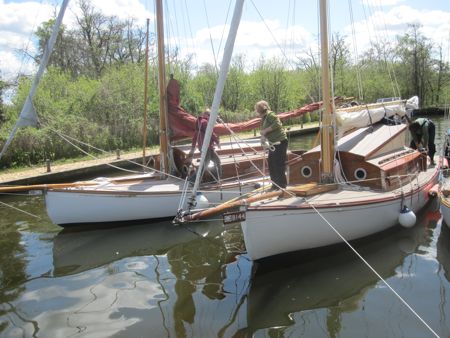 Sisters!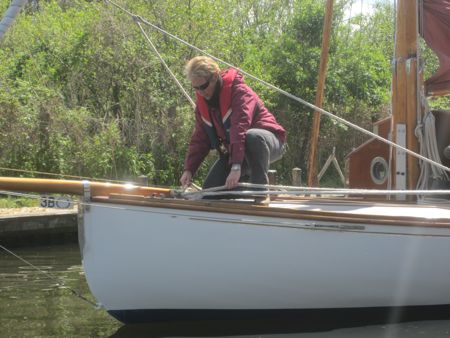 CJ doing her crochet.
Robert and Louise decide that Thirza has reach her cruising limit for today and resolve to stay put at Cockshoot and walk to the Fur and Feather from there.
The rest of us are soon back on the river and with the wind a bit more favourable from Horning corner we arrive at Salhouse around 4.30. Much tea and eating of cake ensued and we set of for the Fur and Feather at about 6.15.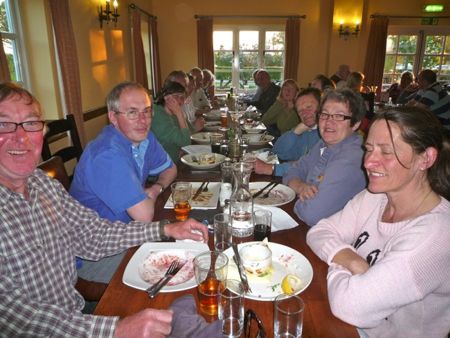 We've never had a bad meal at the Fur and Feather and the empty plates show that this evening was no exception. The Pixies had joined us for the meal so we had quite a big table. After dinner the results of the 'Olympcs' Quiz were announced and Mossy won by a 'short head' with all 100 odd answers correct. Well done Colin and Oliver! Didn't realise you were the athletic types. Jo and Cally came last of course with their trade mark 'alternative' answers which must have been more fun for Rachel and Chris to mark than the boring correct ones that the rest of us put.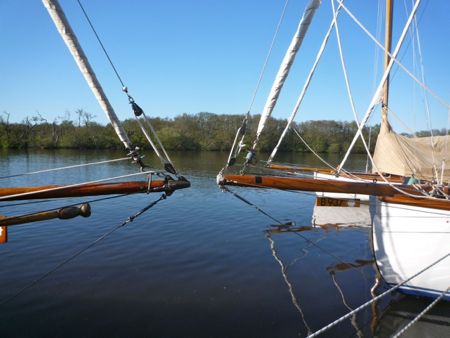 Lesley had left Roger on his own to go to some Scottish Ball which was not his scene. This left him with time on his hands to take some arty photos.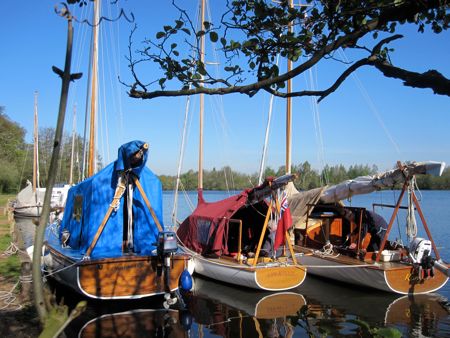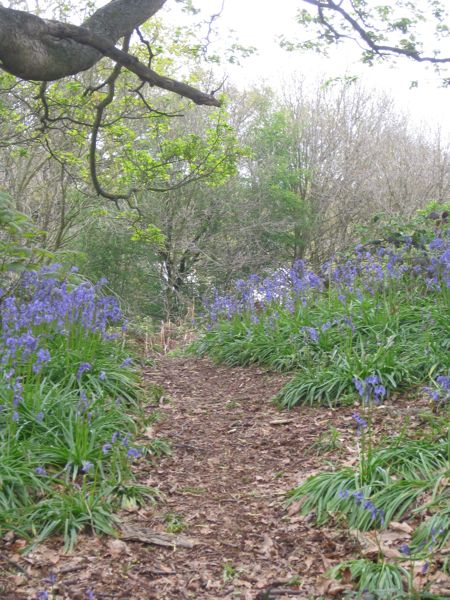 Sunday morning was glorious, sunny and warm and nobody (apart from Sun Glory) was in a hurry to leave. So, with much reading, lazing about in the sun and a stroll to look at the last of the bluebells, it was almost noon before we set off for home. In spite of fears that the wind had changed and it would be a beat back too, our concerns proved unfounded and it was almost a perfect direction for a pleasant sail home with hardly a tack.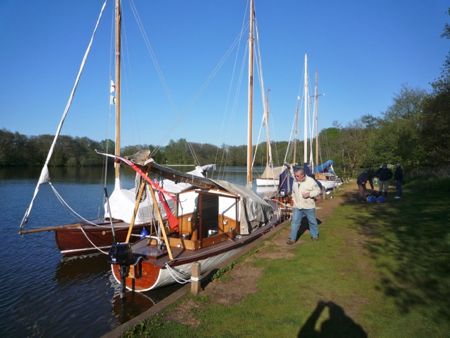 On behalf of all the 'Cruiseristas', a big THANK YOU must go to Rachel and Chris for organising such a brilliant weekend, gratifying that it all went to plan.