INFORMAL CRUISE
A Tale of Two Cruises
Less a tale of two cities and more a tale of two cruises; or how the elderly, retired members with small bottoms, making early passages, made it, and how those still encumbered with work, and with larger bottoms, making later passages, did not.
Friday morning: Message received from the Mate to say that only Snowbird, Bishy & Ranger had expressed an interest in the impromptu cruise. As The Punt Club had extended a welcome to EACC cruising members too, he suggested an overnight stop at How Hill followed by a trip to Barton for the weekend. Ranger could only make the Friday night but thought that sounded nice, so set off mid-afternoon for a wonderful sail to Ludham Bridge. Wind NNE at 10 mph, cloudless blue sky, a temperature of 23℃ and a near empty river made for perfect sailing conditions.
Friday afternoon: Rang the Mate from How Hill moorings to say that they were pretty full but reckoned, if they were quick, we could squeeze a couple more in. He was still loading on the Thurne but reported that Sally, Mischief and Pixie would be joining too. We told him that Amaryllis was also on her way. It was going to be a very tight squeeze!
Friday late afternoon: Phone call from Senior Management on Snowbird to find out if there was still space for them. Yes there was if we rafted up. They were through Ludham Bridge and would be with us shortly. Lots of background noise followed. Senior Management then reported that they were hard aground in the middle of the river!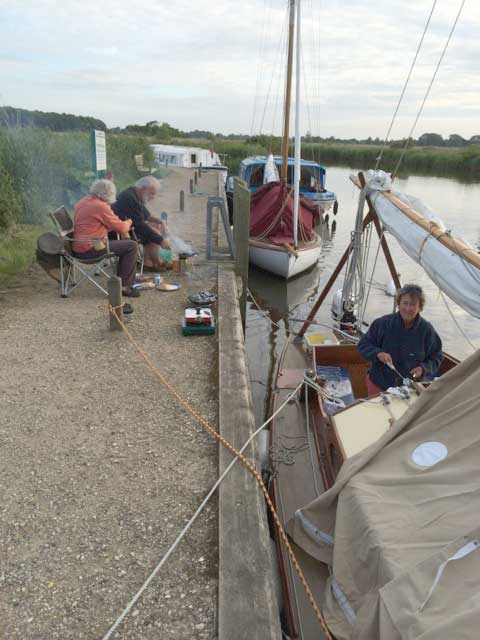 The How Hill Cruiseristas
They would stay overnight at Ludham Bridge with Sally & Pixie, leaving Ranger and Amaryllis to overnight at How Hill. From all accounts both cruises had pleasant overnight stays but at How Hill there was a serious case of barbecue envy.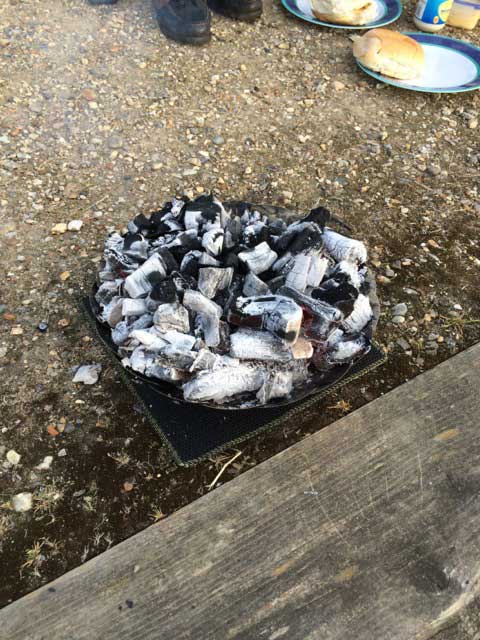 The Grilliput
Ranger produced her Grilliput (copied from Amaryllis) and fired up the coals. Amaryllis then produced her new toy, a BioLite stove. With four or five sticks of kindling and a firelighter Paul was soon cooking. In fact, Paul & Jane had finished eating before our barbecue was ready to cook on! Paul then revealed that not only did four sticks of wood provide enough heat on the stove top to cook a barbecue but it also produced electricity to charge a mobile phone.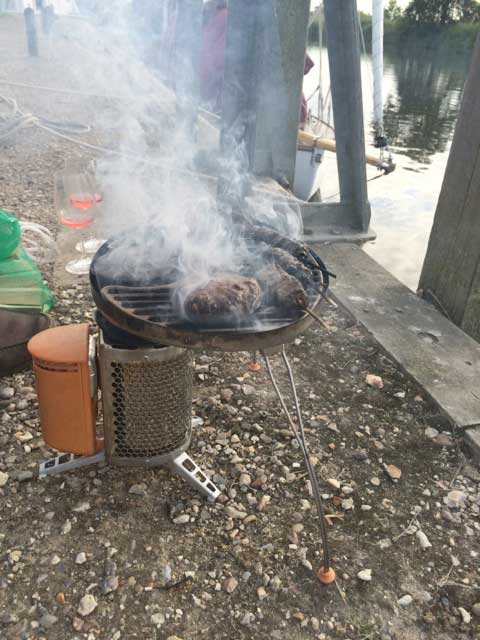 The BioLite Stove
Saturday morning: Where has the sun gone? A grey start to the day. Before long the Ludham Bridge flotilla passed on their way to the NPC river cruiser open, hastily followed up river by Amaryllis. Ranger, with other social commitments, turned for home. Phone call from Bishy (who could only make Saturday night). Where were we? How about lunch at South Walsham? When they arrived, seeing us dragging our mudweight in the fresh breeze, they suggested an alongside mooring. Thinking about it, this was probably less a case of expedience and more a desire to witness me attempting a triple Lutz on the quay heading! Thankfully, no bones broken this time.
Roger Everett
Tale of two cruises continued – from the Bishy perspective!
Having found Ranger gently dragging mud weight towards the lee shore we hailed her with the suggestion to moor on the sheltered quayheading just around the corner, Ranger agreed and joined us – Master of Ranger demonstrated his inability to walk on water whilst talking to Master of Bishy – an interesting view of master of Ranger disappearing out of view downwards as he steps off queyheading into thin air – nothing broken we discover – no comments made honest!
After lunch Ranger makes off down stream back to Ludham, Bishy off up the Ant, motoring just about all the way into the fresh N wind. Out onto Barton and have a good thrash around (perhaps a reef might have been a good idea?) kept out of the way of racing boats, and joined 'Damsel' for good race watching followed by dinner alongside. Managed to borrow baby Damsel for trip over to Punt Club pontoon to say 'High' to all.
After dinner Bishy makes off up to Sutton Broad for the night, just mudweight over the side and enjoy the sound of the wildlife (shame about the sound of the Stalham bypass) in a pretty mooring with lilies all around.
Leisurely breakfast watching Marsh Harriers then make off sailing all the way to Barton, moor up on pontoon for tea and cake (Thank you Punt Club), and watch a little of the racing before setting off downstream. Senior management disappointed that no Otters seen on Sutton. A stop at How Hill finds the gardens open so a couple of hours spent walking around, perhaps we will see a Swallow tail or two? Variety of birds, insects, and a deer seen, but still no Otter, or Swallow Tails.
After lunch set off down towards Ludham Bridge. Three, (or it may have been just the two, with one coming back) Swallowtails flutter over Bishy. Short while later we follow an Otter along the river until he (or she) climbs out of the water and makes off on land – Senior Management now happy. Shortly after this we are privileged to witness a Bittern in flight!
Mast up downstream of Ludham and a cracking sail all the way back to Womack.
There may not have been many of us on the 'informal cruise', but it was enjoyable, sociable and the sailing was good.
Bishy