END OF SEASON CRUISE TO
HICKLING & HORSEY
---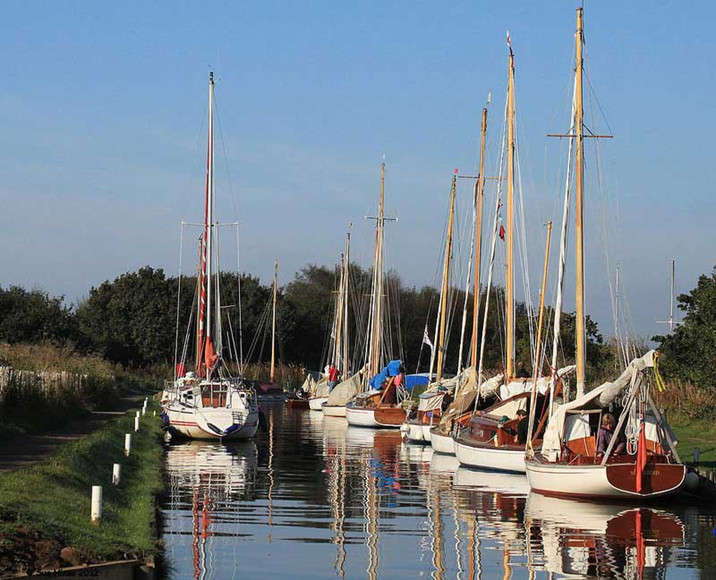 Photo: Sue Hines
Saturday morning Sun Glory, Cordon Rouge, Ranger, Pixie, Martlett and Snowbird set off from the EACC moorings. Amaryllis and Brunette leaving from Womack, Westward from Potter and Moss Rose following up the rear (for a change) from Horning. There was much discussion as to whether Westward would get under the bridge at Potter, but with members of Lady Yacht club and EACC member as ballast, Paul and Claire were persuaded to give it a go.
However Snowbird having decided to motor to Potter and have a coffee en-route ran out of gas on the way. The thought of no bacon and egg on Sunday morning hastened the action of throwing the crew off (Amanda) to go and source a new gas bottle.
Running late, Snowbirds mast scraped the underside of the bridge to the amusement of on looking Lady Yacht Club members. Having safely passed under Potter Bridge - one way or another, we continued on and had a lovely sail to Hickling Broad for lunch (near the sailing cub for various reasons). One being that the Cordon Rouge crew for the day Robin and Sue needed placing ashore but returned in the evening for the meal. But be warned if you decide to sail on Sun Glory as crew they will hire you out at any opportunity as Sarah found out on Saturday as she ended up crewing in a punt on the trapeze!
After lunch we all sailed away toward Horsey, the wind was in a good direction to sail up Meadow Dyke until we reached the last bend just before Horsey Mere where Sun Glory, Westward and Snowbird were beginning to bunch up and a decision to turn on engines was made before we completely blocked the dyke. Once successfully negotiated we all then continued to sail across the Mere, dropping sails at the entrance to Horsey dyke.
The ten boats and their occupants then enjoyed a pleasant late afternoon/early evening yarn before heading off to the Nelsons Head. Those joining us for the evening were Sue & Robin from Lady Louise, Martlett crew by day, Moss Rose crew on Sunday, where we were also joined by EA Car Club (or it might be too cold to stay on the boat club who were from Bishey Barneybee, Solace, Gay Octavia)
This gave us a grand total of 32 for the evening meal. As the car club were leaving, some made the most of it and avoided the long walk back by hitching a lift to the boats. Some of us however decided to make the most of the roaring fire in the pub. Well that's my excuse anyway and I am sticking to it!
Sunday morning some of us awoke early enough to see the heavy mist, however this was soon burnt off by some more lovely sunshine, but I apologise for the lack of wind. Breakfast finished, we all made our way back to Potter to get back under the bridge, followed by mast raising and Rogers impressive erection with the touch of a button. We then said our goodbyes to Westward and Sun Glory who had not resold Sarah again. The rest of us made our way to Womack where we rafted up and enjoyed lunch in the sunshine. After which everybody made their way back to their respective moorings. Yet again EACC doing what they do best: cruising and socialising.
Thank you all for making it such a pleasurable and easy weekend to organise…who fancies Coltishall next year?!
Amanda & Nick
On behalf of all the participants, a big THANK YOU to Nick and Amanda for another superbly organised and very successful and enjoyable cruise.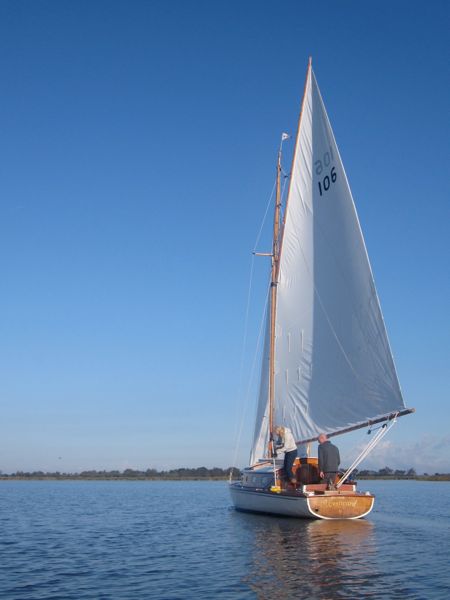 Photo: Jane Stevens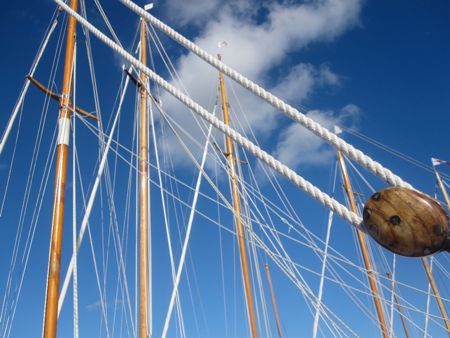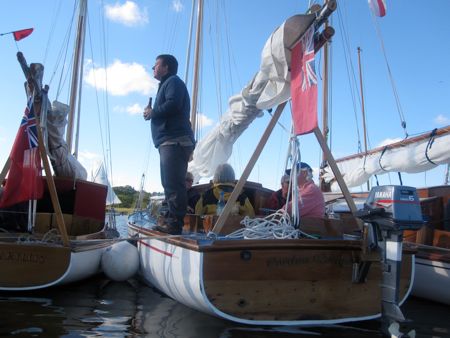 Photo: Jane Stevens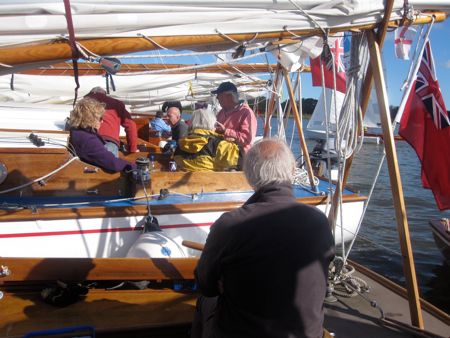 Photo: Jane Stevens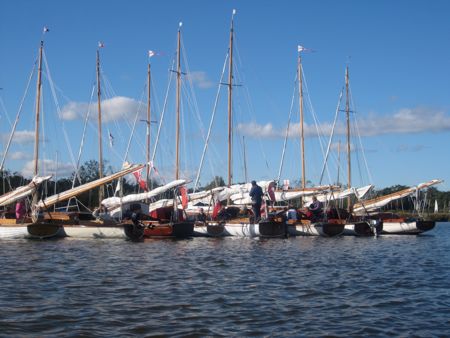 Photo: Jane Stevens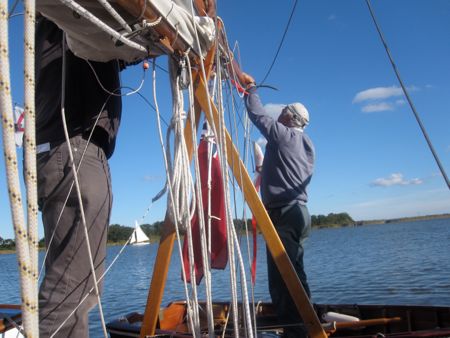 Photo: Jane Stevens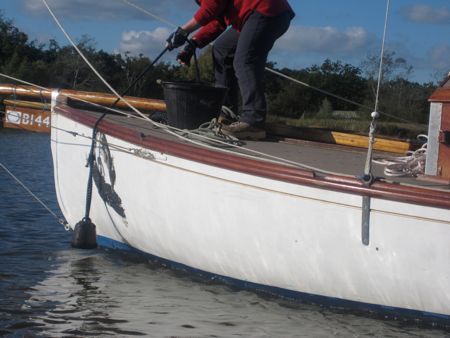 Photo: Jane Stevens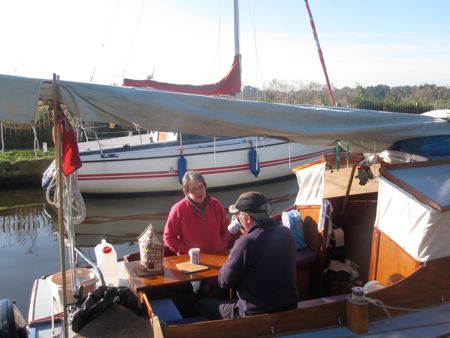 Photo: Jane Stevens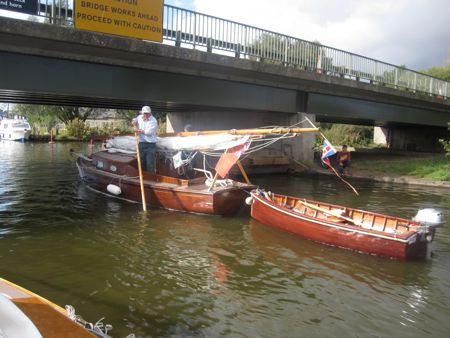 Photo: Jane Stevens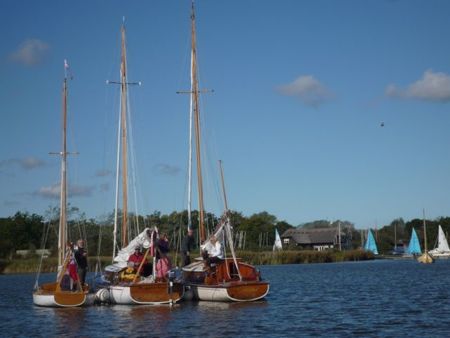 Photo: Jane Stevens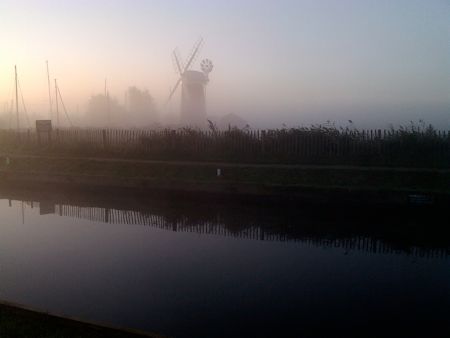 Photo: Nick Wiggins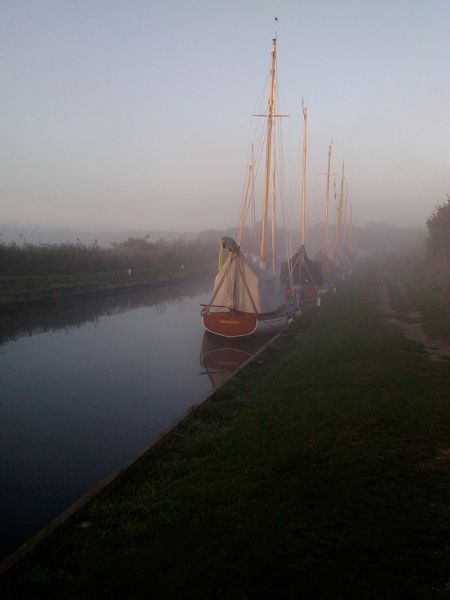 Photo: Nick Wiggins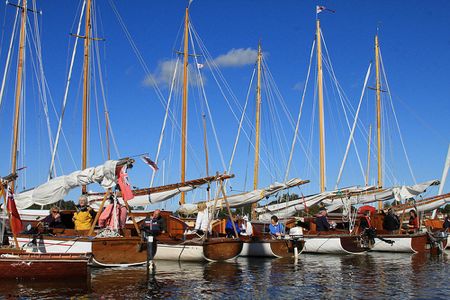 Photo: Sue Hines