END OF SEASON CRUISE 2011
---
Eleven nautical Cruiseristas joined Moss Rose for the end of season cruise up the river Ant this year, starting at the club moorings with Sutton Staithe and dinner at the hotel the objective. Moss Rose had bottled several dozen flasks of Grecian 2011 weather in the Saronic Gulf during the previous fortnight and uncorked it over Norfolk, including a balmy sailing breeze, in the right direction, for going upriver in Mediterranean sunshine that was unbroken all weekend.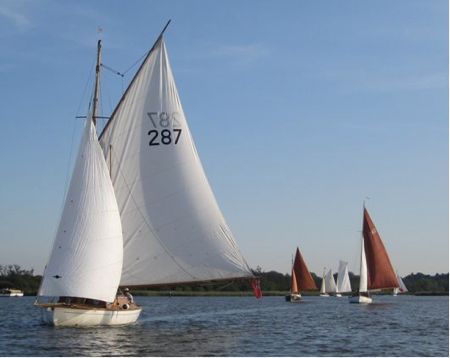 Solace and friends on Barton Broad
Ranger had been dispatched in advance to establish a base camp on Barton Broad for lunch on Saturday and having chosen an admirable position, was not identified by Yorkshire Belle who had a similar idea but in a different location! Since it was clearly easier to move YB than un-stick Leslie from her sun-bathing platform, C in C Fleet resolved the issue and the mountain came to Mohammed! Lunch was consumed by the fleet at leisure without Thirza, who had indicated an intended 10.00am start from the moorings but by 11.00am remained eerily absent (chicken trouble perhaps or just finding it difficult to get off the nest), the fleet thus processed gently up the Ant presenting an irritatingly large raft of sail to on-coming cruiser-virgins leaving Stalham!
C in C Fleet (suitably attired courtesy of Brunette)
No moorings were to be had at Sutton Staithe on arrival, or so it seemed until 'Thompson the Tormentor', our in-fleet mooring master and enforcer, went in to bat, relocating several hundred assorted cruisers and fisher-folk in next to no time. Quite what level of storm and/or pestilence he promised was about to befall them all if they didn't move is unclear, but miraculously sufficient space appeared for the entire fleet, save for Brunette who clearly preferred a reed-bed for a quieter life free from the contented but raucous snores, to set up camp for the night and all did what all experienced Cruiseristas do – went to the pub. Dinner was taken to the accompaniment of a wedding reception in the next room, good conversation and with generally passable food, the staff proving to be attentive and helpful given their apparent heavy workload. My steak was actually very good but I just wish that NFN in restaurants was not predicated on piling the maximum amount of vaguely identifiable multi-coloured camouflage all over the plate to conceal the main event. My prawns were laid on a luxuriantly thick bed of mixed salad (not ordered) that could have fed most of Ethiopia for a week which remained entirely un-eaten, principally because in much of Norfolk it seems that a vast quantity of raw onion is considered to hugely enhance the delicate flavour of seafood!
The subtleties of Rick Stein have clearly yet to reach the Broads save at the Bure Cottage Restaurant in Horning (recommended dining for folk who like fish and have not tried it).
Sunday dawned enabling us all to read the Broads Authority sign on the 24 hour moorings occupied by the fleet that said 'single mooring alongside only, no double mooring' which was a pity since most of us had spent the night in rafts of boats four deep!
What unlawful mooring?
Moss Rose uncorked another few bottles of sunshine but was regrettably unable to reverse the wind direction, so the return down the Ant was a Motorista affair to lunch stop for most, save for those who had appointments (YB and Thirza) or who elected to stay upriver (Ranger), at How Hill. The party broke up mid-afternoon after what was generally felt to have been an enjoyable and convivial weekend, and returned to various moorings. C in C Fleet and Mrs C in C could not have accomplished the mission without the indefatigable assistance from Mrs Cordy, who handled the hotel bookings and notified it of numbers, absent C in C who was sunning various his parts in Greece during the cruise build-up, many thanks Ruth! A big thank you too for all those members who supported the cruise, please spread the word that it's quite fun and perhaps we'll break the 12 boat barrier next year!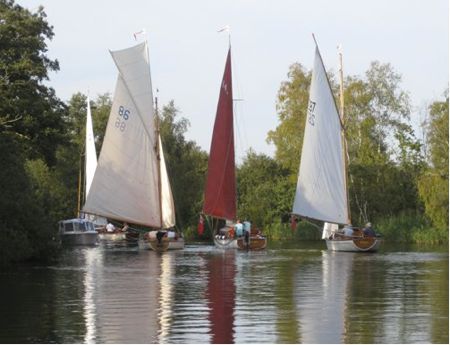 An interesting sight if you happen to be the Safari driver!
Lunch party al fresco at How Hill
Cruiseristas: Bishy Barneybee, Brunette, Cordon Rouge III, Mischief, Moss Rose, Octavia (sans bateau), Ranger, Snowbird, Solace, Thirza (chickens notwithstanding), Yorkshire Belle and Westwood V
Photographs courtesy of and with thanks to Pat Bray
C in C Fleet Moss Rose
Extra Photos sent in by various people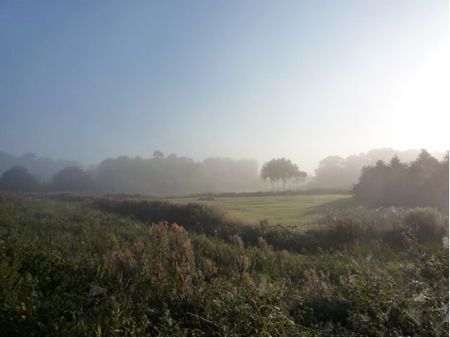 Early morning mist at How Hill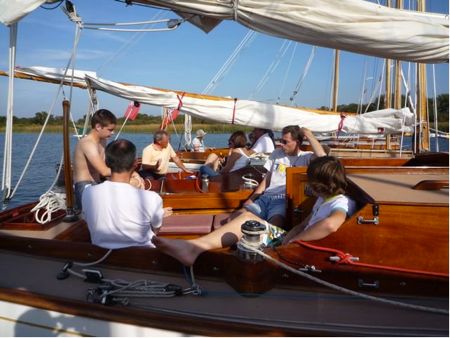 Long, leisurely lunch break on Barton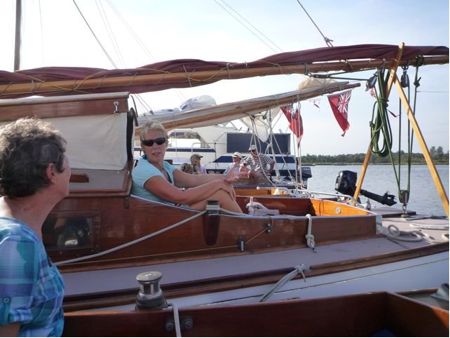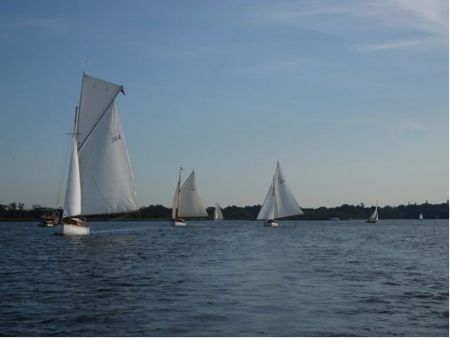 Downwind on the timed passage
Lighter winds amongst the trees on the Ant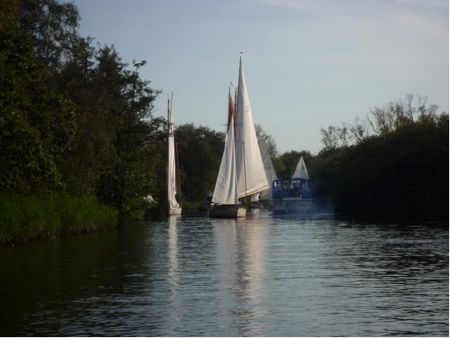 The fleet beginning to bunch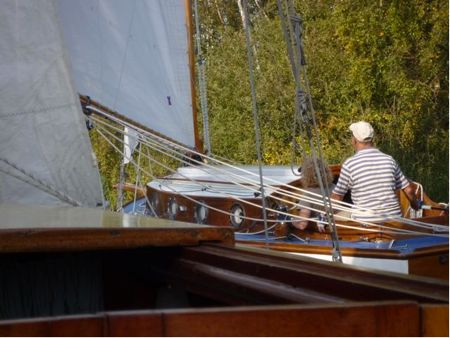 "A little puff" helps Ranger slip past Cordy - for a moment!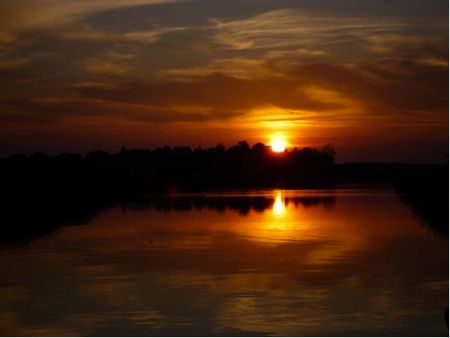 Sunset at Sutton Staithe where the fleet blocked the dyke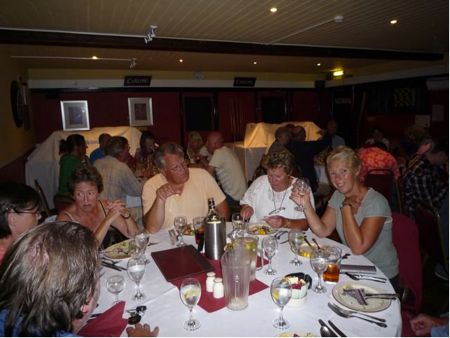 29 of us sat down for dinner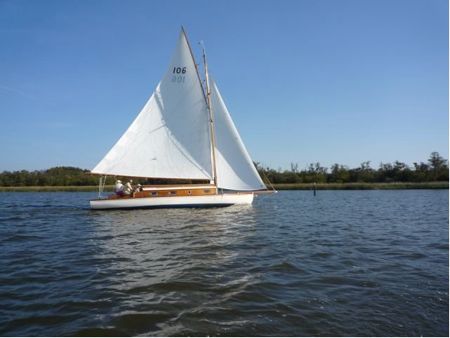 Westward V crosses Barton on Sunday afternoon