Autumn Regatta 2014
Our thanks to Mike Page for this wonderful sequence of arial photographs.
Mike would like to sell hi-res prints in aid of charity, if anyone is interested.
Contact Mike at skyview[at]clara.co.uk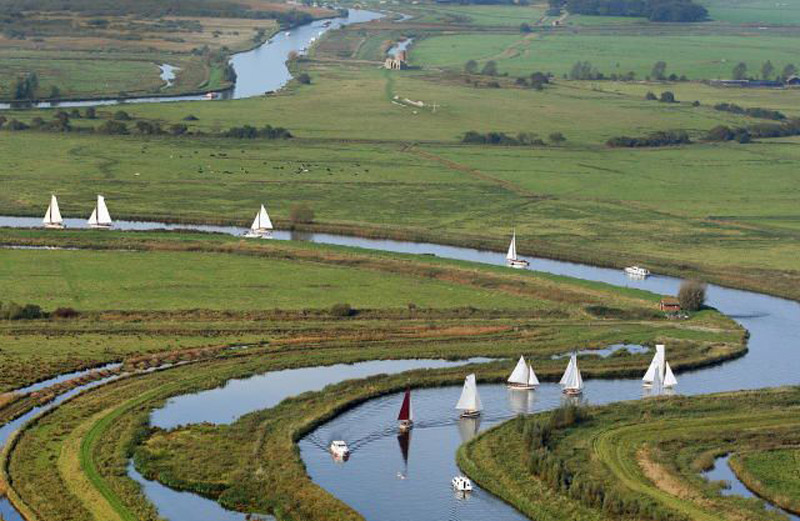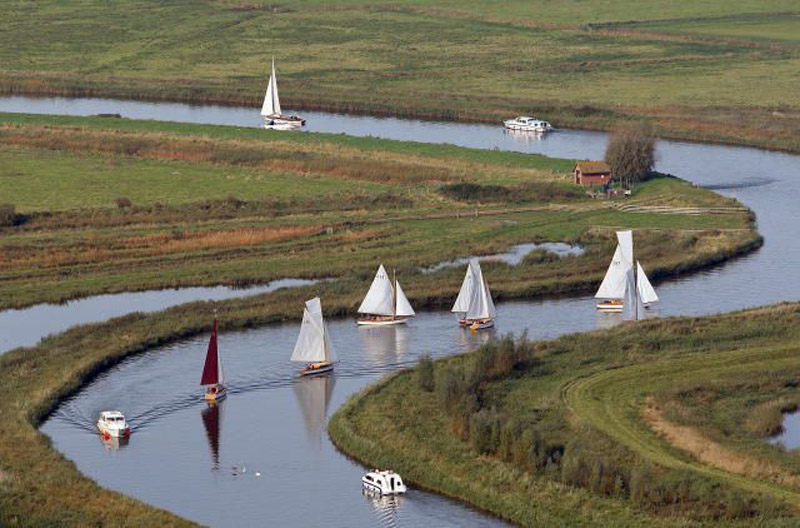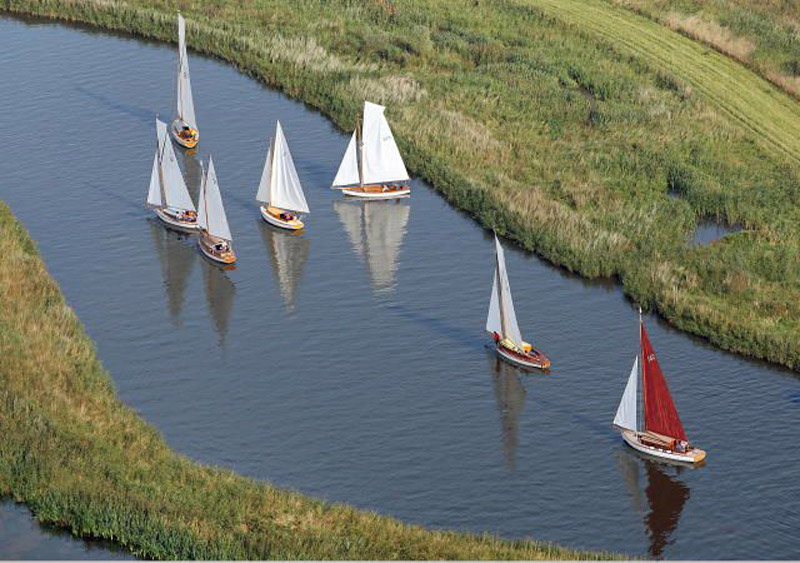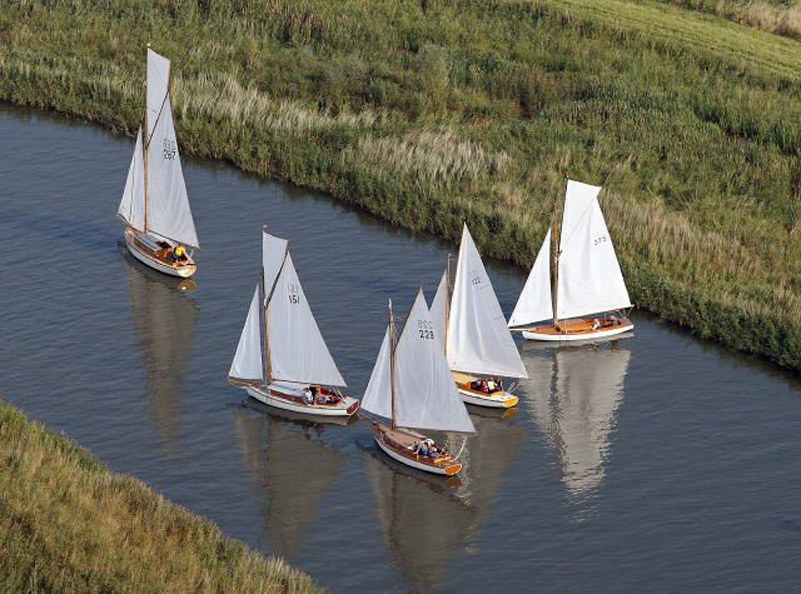 ---
And thanks to to Sue Hines who took the following photographs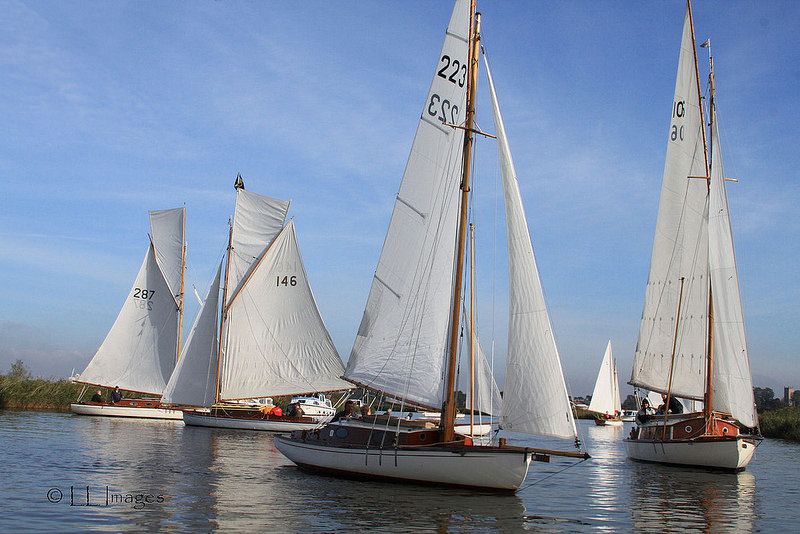 For this late season event we had an outstanding turnout with 12 River Cruisers competing for the Jubilee Cup and the Joe Delf Trophy and over 40 members eating in the Maltsters at lunchtime. The first race was a trial in drifting conditions, short in distance, starting at Thurne Mouth and terminating short of St Benets Reach allowing just enough time for the Fleet to motor to Ranworth for the 1pm booked lunch slot. As is so often the case in these conditions Adrian and Ruth Lincoln in Pixie drifted faster than everyone else to take the Jubilee Cup.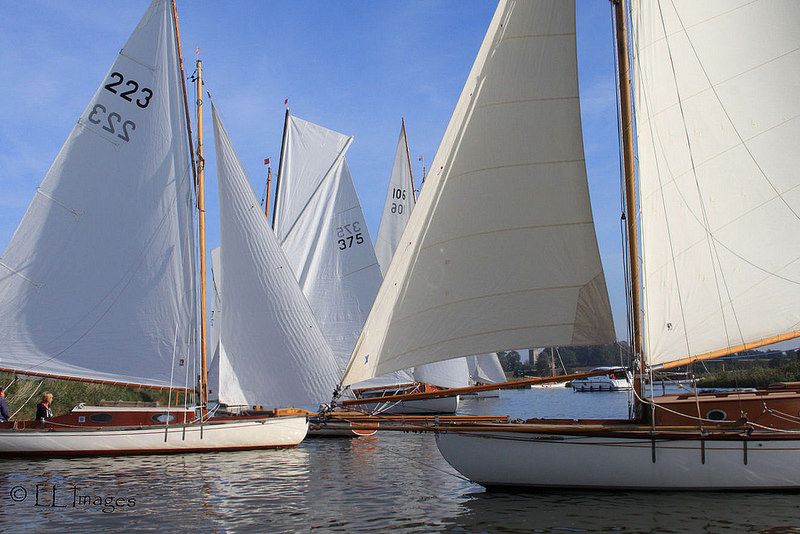 Fortunately by the time 40 plus of us had been served at the Maltsers and every one ferried back to their boats and all motored out to Horning Hall for the afternoon start the wind had filled in and a quicker if rather shorter race back to the moorings saw John Holmes and Tine in Sabrina II first home and winning the Joe Delf Trophy by a minute and a half from Nick and Amanda Wiggins in Snowbird.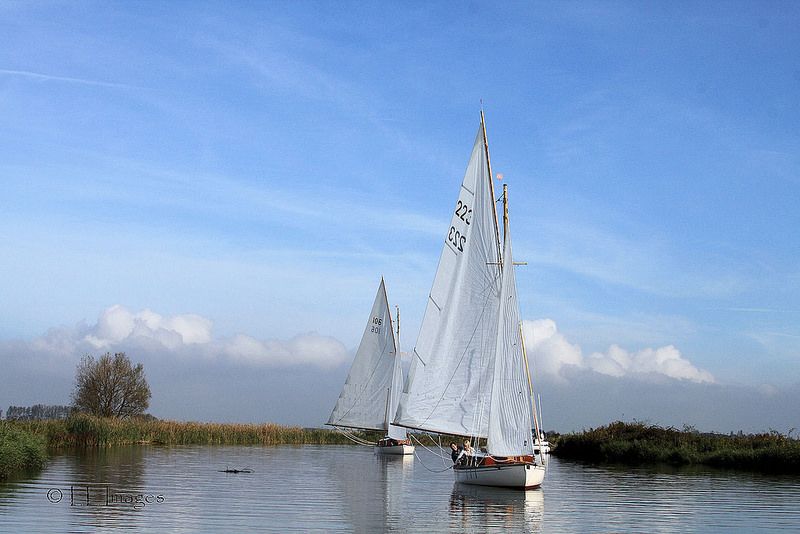 Thanks are due to David and Ruth Thompson and Ian Stewart for stepping into the Race officers' shoes at the last minute.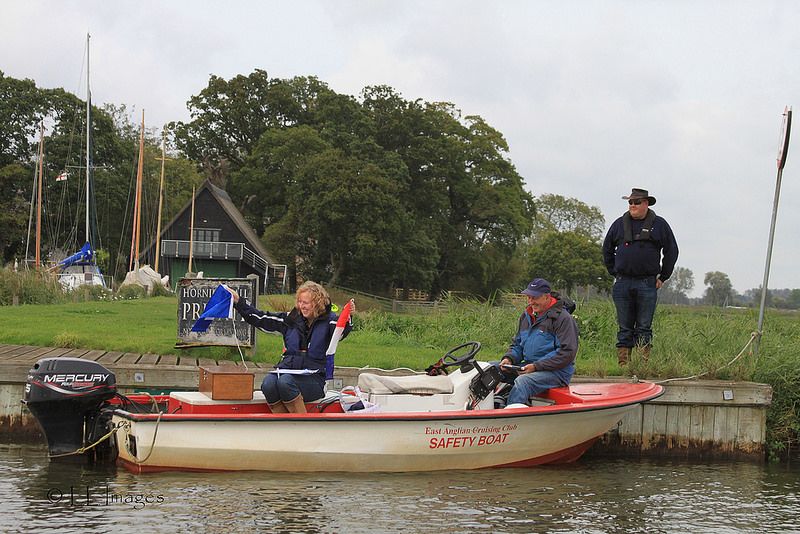 RESULTS
Race 1
| | | | | | | | | |
| --- | --- | --- | --- | --- | --- | --- | --- | --- |
| Sail | | | | Start | Finish | Elapsed | Corrected | |
| No | Boat Name | Helm | H/cap | No | Time | Time | Time | Pos |
| 151 | Pixie | A Lincoln | -16% | 3 | 11:58:39 | 00:48:39 | 00:40:51 | 1 |
| 307 | Mischief | S Seeney | -7% | 1 | 11:45:04 | 00:45:04 | 00:41:54 | 2 |
| 152 | Sabrina 2 | J Holmes | -7% | 1 | 11:45:42 | 00:45:42 | 00:42:30 | 3 |
| 223 | Snowbird | N Wiggins | -10% | 1 | 11:47:20 | 00:47:20 | 00:42:36 | 4 |
| 106 | Westward V | C Markham | -11% | 1 | 11:48:53 | 00:48:53 | 00:43:30 | 5 |
| 122 | Martlet | H Franzen | -16% | 3 | 12:04:18 | 00:54:18 | 00:45:36 | 6 |
| 142 | Bishy Barnabee | J James | -19% | 3 | 12:06:20 | 00:56:20 | 00:45:37 | 7 |
| 229 | Ceres | J Thornicroft | -15% | 2 | 12:04:19 | 00:59:19 | 00:50:25 | 8 |
| 375 | Amaryllis | P Stevens | -13% | 2 | 12:03:36 | 00:58:36 | 00:50:58 | 9 |
| 146 | Sally | S Burton | -14% | 2 | 12:05:09 | 01:00:09 | 00:51:43 | 10 |
| 294 | Perfect Lady | C Makepeace | -23%P | 3 | 12:19:20 | 01:09:20 | 00:53:23 | |
| 287 | Solace | J Aves | -14%P | 2 | 12:04:17 | 00:59:17 | 00:50:59 | |
Race 2
| | | | | | | | | |
| --- | --- | --- | --- | --- | --- | --- | --- | --- |
| Sail | | | | Start | Finish | Elapsed | Corrected | |
| No | Boat Name | Helm | H/cap | No | Time | Time | Time | Pos |
| 152 | Sabrina 2 | J Holmes | -7% | 1 | 16:05:15 | 00:35:15 | 00:32:46 | 1 |
| 223 | Snowbird | N Wiggins | -10% | 1 | 16:08:00 | 00:38:00 | 00:34:12 | 2 |
| 375 | Amaryllis | P Stevens | -13% | 2 | 16:14:56 | 00:39:56 | 00:34:44 | 3 |
| 151 | Pixie | A Lincoln | -16% | 3 | 16:21:37 | 00:41:37 | 00:34:57 | 4 |
| 307 | Mischief | S Seeney | -7% | 1 | 16:08:16 | 00:38:16 | 00:35:35 | 5 |
| 122 | Martlet | H Franzen | -16% | 3 | 16:23:29 | 00:43:29 | 00:36:31 | 6 |
| 146 | Sally | S Burton | -14% | 2 | 16:18:48 | 00:43:48 | 00:37:40 | 7 |
| 106 | Westward V | P Markham | -11% | 1 | 16:12:23 | 00:42:23 | 00:37:43 | 8 |
| 142 | Bishy Barnabee | J James | -19% | 3 | 16:28:41 | 00:48:41 | 00:39:26 | 9 |
| 229 | Ceres | J Thornicroft | -15% | 2 | 16:25:31 | 00:50:31 | 00:42:56 | 10 |
| 294 | Perfect Lady | C Makepeace | -23%P | 3 | 17:05:08 | 01:25:08 | 01:05:33 | |
| 287 | Solace | J Aves | -14%P | 2 | 16:21:59 | 00:46:59 | 00:40:24 | |