Autumn Regatta 2013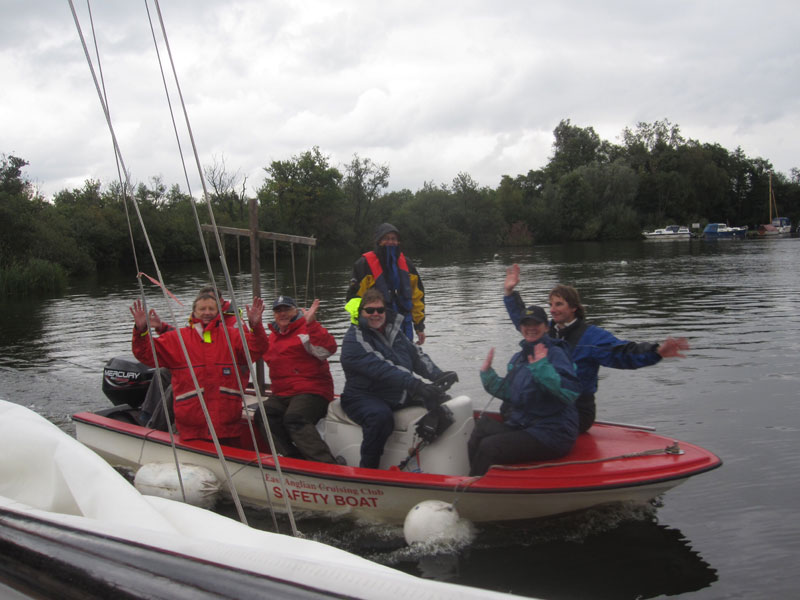 Photo: Jane Stevens
Autumn Regatta Sunday am- Jubilee Cup

Sail No

Boat Name

Handicap

Helm

Corrected

Position

375

Amaryllis

-14%

Paul Stevens

00:38:35

1

307

Mischief

-7%

Steve Seeney

00:38:39

2

146

Sally

-14%

Steve Burton

00:40:26

3

163

Badger

-25%

Ian Ayres

00:40:46

4

Autumn Regatta Sunday pm - Joe Delf Trophy

Sail No

Boat Name

Handicap

Helm

Time

Position

375

Amaryllis

-14%

Paul Stevens

0:33:03

1

307

Mischief

-7%

Steve Seeney

0:33:37

2

146

Sally

-14%

Steve Burton

0:35:50

3

163

Badger

-25%

Ian Ayres

0:35:54

4
END OF SEASON REGATTA
As with all good traditions, things change. This year we swooped the "end of season cruise" for the Autumn cruise, and by a strange co-incidence the Autumn regatta for the end of season regatta.
The result being that the 4 boats normally on a cruise end up racing to Ranworth and back.
The forecast throughout the week makes it look as if we may not be sailing. Having booked for lunch I had to find a way of getting there by river, and hopefully back again, without necessarily helping on the line. Having said that if needs must. However Mischief having looked everywhere else asks me to crew. They too had seen the wind forecast and needed some ballast.
Even as late as Saturday night the wind forecast is not looking good. Even on Sunday morning it not good and rain is forecast. The briefing is due at 10:00 with club skipper Chris and Rachel, and some chap called Roger, and yes he was jolly.
Unusually for me I pack a dry bag with a change of clothes just in case, having taken the forecast seriously, but no life jacket. As I gaze across the river there is a swarm of eacc's huddled together and like bees in winter they swop around so those on the outside getting cold get nicely snuggled.
Some traditions never change though as Capt Mischief and Joe arrive at 09:55, just in time for the briefing. The course is set for C and then Ranworth. No A or B, or even B pretending to be A. As a gentle reminder the wind gusts and discussions take place about 1 or 2 reefs. Capt M decides on 1. Gordon has decided not to join the fun, so there is us,Sparkle (Greek origin), Brock (having avoided the recent cull) and Aunt. One start. As the countdown carries on a reef seems sensible.
Capt decides as it is the penultimate race he will give the others a chance, and we are almost last across the line. By the time we reach C the wind moderates and do we still need a reef? Well yes actually because there are still one or 2 strong gusts. We pose for pictures as we get to Thurne Mouth, and head up the Bure. A glance behind shows Sparkle not too far astern. First pump house, another glance, she is still there. Perhaps when we get to the trees we will get an advantage. St. Benet, still too close. In what seems a blink of an eye, but is in fact about 45 minutes we cross the line. Not even a chance to put the world to rights. I had been given the job of starboard jib, which turned out to be a part time one as the wind was northish and so sails mainly to port.
Lady Louise, as said, was at Thurne Mouth to take some photos with the idea of motoring through the fleet taking action shots of the racing. However the best laid plan goes awry when despite their best efforts (not exceeding the limits toooooo much) all they can do is catch up Brock by St Benet. They therefore go to plan B, which is back on the mooring and to Ranworth by car.
Having crossed the line we look anxiously at our watches and wait to hear the next bell. All too soon it rings. "Oh dear, I think he's just got it" says the Capt. We have a look to see if we can get alongside but there is no space. We moor in sheltered waters and the 4 boats raft up. We hail a water taxi. I do recommend the firm "Safety Boat". Once safely ashore we adjourn to the local hostelry for food and drink. We are joined by Bezzy and Ruth, and a little later by Mr & Mrs 'Breeze'. The results are given by our OOD who nearly breaks with tradition by wanting to announce the results from 1st to 4th. He is reminded that if the winner is announced first we will all clear off. Sparkle wins by 4 seconds.
Food is partaken and some jolly conversing. I explain to the crew of Aunt that it has been said to be my fault that some boats names have been changed (Wetward). They tell me that in fact most of what happens is my fault. Well this is the last time I make up names for boats. Soon it is time for the homeward race. The start is on the Bure, rather than on Malthouse Broad. I think we would have preferred it there though. It seems that we are still not going to A/B on the way home. The 10 goes and we practice timing to the start line. the wind is quite gentle there, except where there is a gap in the trees when it blows a bit. The 5 goes. Again we practice our run to the line. We head up river, and turn for the line, just as a gust comes and speeds us up. "I'm early" "I'm going about" "Bugger I'm late". Well practice does make..................
We are soon at the front of the fleet. Joe and I had swopped sides so once again he gets a majority of the work. The wind has gone round so there was a bit of a beat before the Ant. Eventually the water taxi goes past heading for the finish line. Well actually they had to get back to set the line up.
Reaching and running back down the Bure. Glancing behind and yes true to form Sparkle is too close. Perhaps a beat up the Thurne will give us a bit of time. It is a beat and the wind is just about on the nose. We get to Bishop's Mill and yes just behind is that boat! Excitement, some salvage is seen in the form of a fender. As we are still racing we decide to go back for it. Over the line DING. Into the bank, sails down and stowed. Engine into reverse, me and Joe run to the stern and off we go. Result! fender in good condition and with a clip. Not result Sparkle over line too soon for our liking.
Back on the mooring we get the boats and the club stuff put away. The results are given in reverse order, he learns quick the OOD. Once again that boat wins, bugger,, sorry well done Paul and Jane.
The OOD tells us he has enjoyed running the event, and will be prepared to run another one. Well can I suggest Spring, TMOR, Summer, Cruiser Open, White boats, and Autumn/ end of season as a starter. A big thank you to Chris Rachel and Jolly for organising the event and ensuring the wind was not too strong in the end, oh and for keeping the rain off.
Waif
PS as it is the end of season the safety boat has to go to Upton. Bezzy has volunteered as he is now squatting in the village. He kindly drops some of us off at Thurne Staithe and heads off, collecting A/B on the way to Upton. As I sit at home having a cup of tea the rain pelts down. I send a text "In the dry drinking tea thinking of you." Reply "Arrived Upton before ruth. Got wet looking for Ian."
Until 2014.