Autumn Regatta 2012
---
Postponed from Saturday 1st and Sunday 2nd September the club's Autumn Regatta trophies were sailed for on Sunday 23rd September.
Scroll to bottom of page for results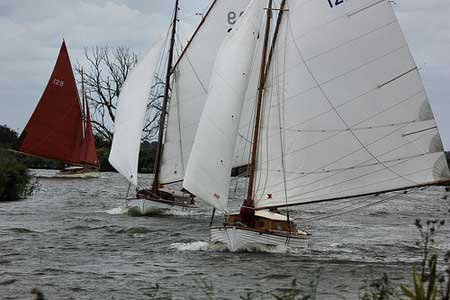 Ancient Mariner, Ceres and Martlett in the Jubilee Cup race.
It was a good turnout with eleven River Cruisers signing up for the rescheduled races. Great to see some new members on the water, at least one of which professed to being a 'fair weather sailor'. You certainly wouldn't have thought it seeing them in the photo above. Welcome Ceres and Ancient Mariner!
Although overcast the weather stayed dry for the morning's uphill race to Ranworth, with a little hitch to the A mark at Oby providing a strenuous beat in probably a 20mph wind in which most of us, if we were honest, would have felt more relaxed had we had a reef or two. Even with three starts, the river near the moorings at Thurne was uncomfortably crowded with a sudden glut of motor cruisers and some irate anglers. Snowbird broke her gaff block and Westward V running out of river parked rather heavily in the reeds, missing the start and having to be towed off. The race was finished in the river at the end of Ranworth Dyke.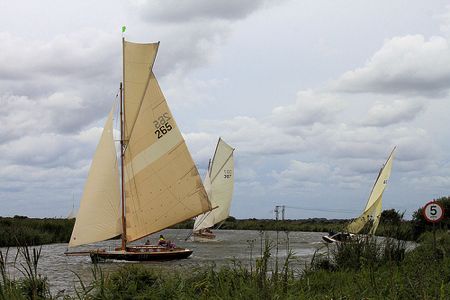 Joy & Mischief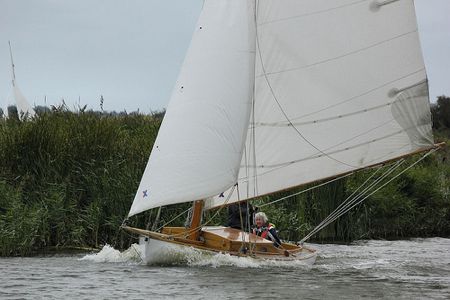 Amaryllis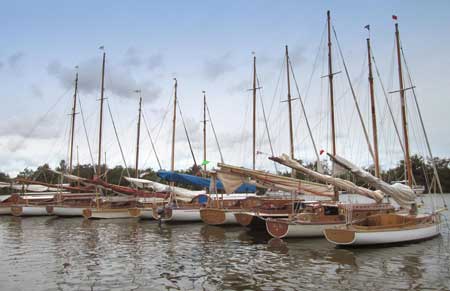 Raft up on Ranworth (photo: Hilary Franzen)
In order to avoid the scrum on Ranworth Staithe a magnificent raft was formed and thirty five or so members were ferried ashore where we were well looked after for lunch in The Maltsters. The results were announced over lunch with Moss Rose taking the honours. Well done Colin.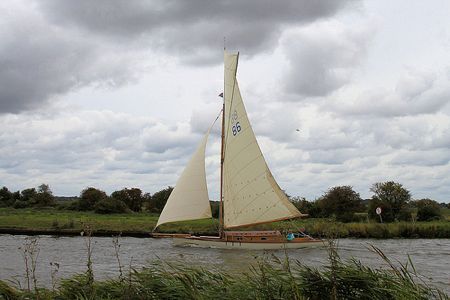 Moss Rose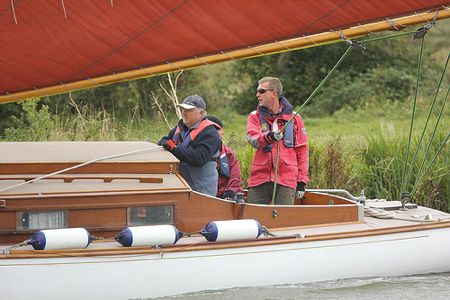 Bishy Barneybee
As we were waiting to be ferried back to the raft the forecast rain arrived early. Expecting the increase in wind speed that should have accompanied it, various reefs were put in before the start of the Joe Delf Trophy Race back to the moorings which was started out on the river. The wind never materialised and those who could, shook reefs out underway. Of course Moss Rose, one boat that never put them in in the first place, came out on top again making it a clean sweep. Everyone finished wet and rather cold but the the revised format for the event was deemed a success.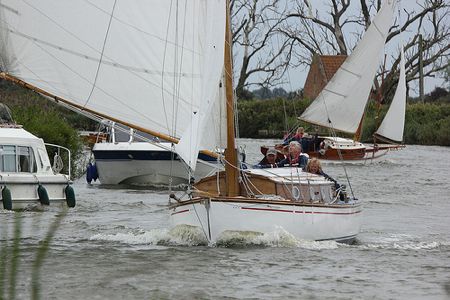 Cordon Rouge 1
Joy
We are all extremely grateful to John Aves and Dave Smith (not to mention Kate in support) who stepped in at short notice to run the event and did a sterling job in difficult weather conditions. On behalf of all the competitors a big THANK YOU.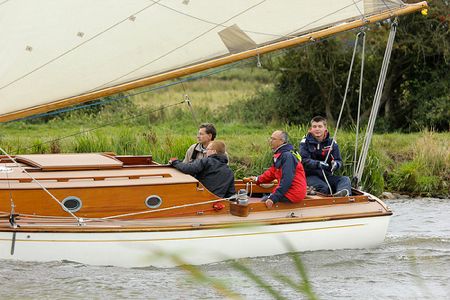 Mischief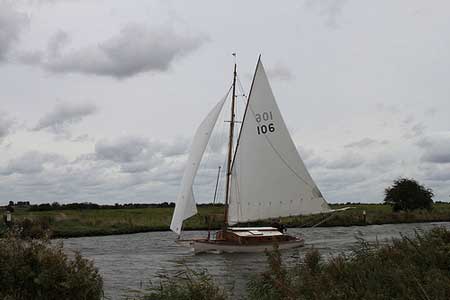 Westward V
All photos: Sue Hines unless otherwise indicated
Results