OBITUARIES
Sarah Montague
1958 -2020
(RCC 429 - Pickle)
Sadly Sarah Montague died on Saturday 18th April
Tribute to Sarah Montague, by her husband Phil
---
Philip Dring
(RCC 202 - Marilyn Ann)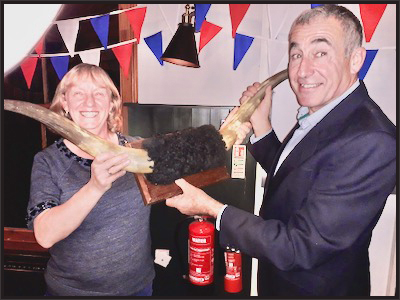 It is with great sadness we announce the death of Phil Dring who passed away peacefully in the Priscilla Bacon Lodge, Norwich on Saturday 18th April.
The Dring family owned Marilyn Ann, and for many years she was kept at Cox's Yard, Barton Turf and sailed with The Punt Club. After Tom and Alice left home Phil lost enthusiasm for racing and we finally persuaded him to join EACC. Although Phil and Kim were only members for a few years they entered into the spirit of the club and enjoyed cruising in company. I have many happy memories of time spent with Phil, mainly involving sailing and drinking (not necessarily in that order).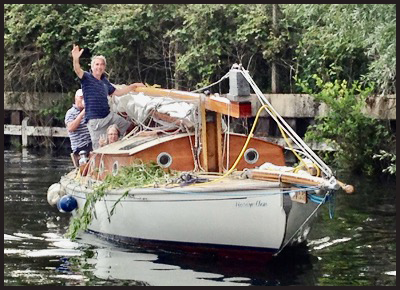 The picture shows Marilyn Ann returning from Norwich after a successful race in the centre of Norwich which resulted in Phil being the first ever winner of the Ribs of Beef Challenge Trophy. It was a very eventful trip, you might notice the willow branch on the foredeck of Marilyn Ann, a moment earlier I had seen a photo opportunity and was standing on the foredeck with my camera and Phil steered Marilyn Ann into the nearest willow tree, almost sweeping me off the boat. Philip's sense of humour and mischievous nature was very endearing and this aspect of his character I will always remember with much fondness.
In these difficult times will be a private cremation service for Philip. When things are back to normal there will be a celebration of his life. In the meantime if you would like to make a donation to Priscilla Bacon Lodge in his memory please send it to Kevin Cobhold Funeral Services, 109 Cromer Road, Norwich NR6 6XW.
David Thompson
---
Ralph Lamb drops anchor for the last time

It is with great sadness that we have to announce the death of much loved and highly regarded life-long member Ralph Lamb who has dropped anchor for the last time at the age of 92.
Ralph, an honorary member of EACC, was a familiar figure in Donny Cooke's Dyke where his grandfather's clinkerbuilt Cutter, the Volunteer, built in1882, had been moored since 1946. The story goes Ralph often used to lay under Volunteer when she was on the bank and fall asleep, to the consternation of passers by who thought he was dead, and would go and alert Donny. He visited Volunteer just three weeks before he died.
Ralph was a regular at club regattas and at Thurne Mouth Open Regatta where he helped set up the electrics and generator for many years.
Ralph was a founding member of Hickling Broad Sailing Club where he raced his International 14, Timoneira. He was also one of the original "outsiders" to be invited to join Lady Yacht Club, set up by Herbert Woods to allow his employees to take out and race the Lady yachts they had worked on all year at the end of the season. Ralph became one of the revered skippers of the Lady Yacht crews and was instrumental in winning many of the trophies.
Born in Beaconsfield Road, Great Yarmouth, in 1926, Ralph left school at 14 to work as an apprentice electrician to his father, also Ralph, in the shop which had been opened by his great grandfather in Cobholm in the 1880s. He still owns the shop and house to this day. He was called up for National Service in 1945 serving in Palestine, Egypt, Libya and Jordan as a gun layer. The constant sound of the guns left him deaf in one ear.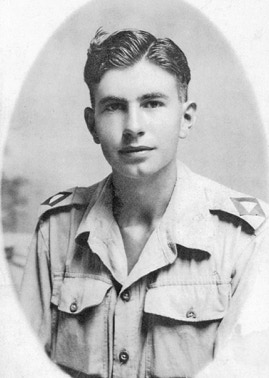 Ralph joined the army's yacht club which built upon his inherent love of boats and sailing. And on leaving the army it was the Volunteer, who helped him adjust to civilian life. With friends courting and "feeling completely lost" Ralph immersed himself into working on her in the evenings at the family boatyard in Cobholm.
A good dancer, Ralph used to cycle from Great Yarmouth to dances in Broadland villages. At one of these, at Potter Heigham, he formed a friendship with Wendy Turner, daughter of Jimmy Turner, a foreman at Herbert Woods boatyard, and niece of Gwen Amies who ran the Pleasure Boat Inn, who introduced him to Hickling. He would often sail from Thurne to Potter Heigham, stay overnight at the Broadshaven Hotel where he would meet his crew, then sail onto Hickling, take part in the races and sail back to Thurne again.
"I didn't often stop for the last race," he admitted.
He was involved in the development of Hickling Sailing Club and the building of the clubhouse.
In the 1953 floods Ralph walked waist deep in sea water through the town to help rescue residents.
Fun loving and modest, Ralph was a sailing genius who passed on tips to many sailors who still practice them while racing today.
"Pull it in just a crumb," he used to say.
Ralph was a Peter Pan who refused to grow old.
"Us young'uns," he used to say as he bounded around. And he meant it.
He always had an eye for the ladies, joking he had a woman in every port and a lady crew for every strength of wind for Timoneira! Even in his last week in hospital he was enjoying the attention of the nurses!
At my father's funeral in 2004 he went down on one knee and proposed to my mother, which certainly lightened the occasion!
In truth Ralph, always smartly dressed in collar and tie, had just two ladies in his life, the Volunteer and the late Wendy Roche, his partner for 50 years, who often crewed for him. They never married, because, he said, they were both too busy.
In later life Ralph bounced back from several health problems, including a triple heart bypass, but a few years ago stepped down as a skipper in Lady Yacht Club to become, at his own request, the "tea boy." The four day October regatta was his holiday of the year and he loved to be around the camaraderie that went with the sailing.
Glynn Howarth recalls coming back to the boat at 3am with the rest of his crew for a final drink, trying, unsuccessfully, to be quiet, to be greeted by Ralph and Ernie Webster emerging from their cabins in their pyjamas with big smiles on their faces ready to rejoin the revelry.
"Nothing would stop Ralphie," said Glynn. "He treated life like sailing. He came very close to the wind with various health issues but if he got a header he bore away from it and never got in irons. He was my hero."
This ever youthful gentleman sailor has left a rich legacy of closely guarded sailing knowledge and many fond memories as he sails into the sunset and drops anchor for the last time.
Ralph's funeral will be held on June 4that 10.30am at Great Yarmouth Minster, and afterwards at The Burlington Hotel.
For more memories of Ralph click on http://www.voicesofhickling.co.uk/r-lamb-1.html
Hilary Franzen
---
Anne Ebbage
1927 - 2017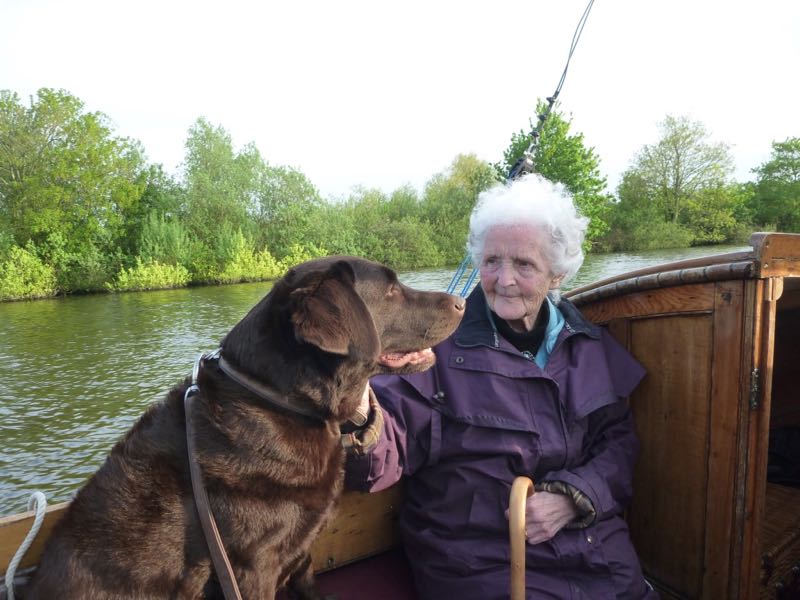 Anne with Tess
Anne Ebbage, wife of East Anglian Cruising Club founder member Billy Ebbage, sadly died on October 20th this year. She celebrated her 90th birthday on August 24th, sailing aboard her son Nicholas' river cruiser Bessie Bell from Coldham Hall, with her two children and five grandchildren. Just two months later she died at her home of over 60 years in Thorpe St Andrew with her family and dogs around her, and was appropriately toasted with her favourite sherry.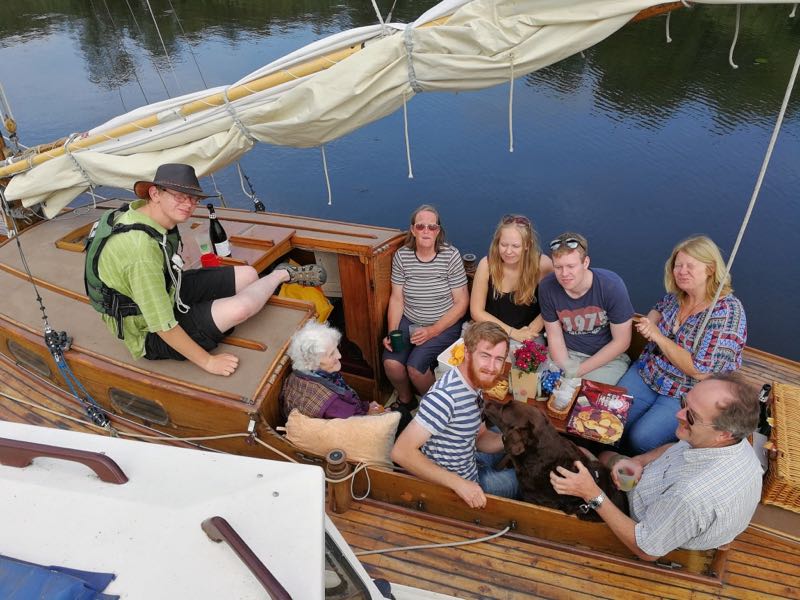 Anne's 90th birthday trip on Bessie Bell shows Anne on left, with (left going clockwise) grandson William, daughter Rosalind, son Nicholas' children Pippa and Jack, his wife Jo, Rosalind's husband John, Tess, the Bessie Bell dog, and grandson Alan.
An honorary member of EACC, Anne was born Annette Stanmore Boorman. She came to Norwich from Essex in 1949 to take up her first job as a teacher at Norwich High School, specialising in English, poetry, drama and handwork. She formed a firm friendship with a fellow teacher, Clare Becher, and as well as cycling around churches and acting at the Maddermarket Theatre, they decided to learn to sail and bought a Norfolk dinghy, Donald Duck no 54. However, they soon discovered it wasn't as easy as it looked and that some lessons were called for. Anne asked her pupils whether any of them knew somebody who might teach them. "I do", said one pupil, "My Uncle Bill will teach you". This offer was to seal Anne's future as Bill just happened to have a beautiful, sleek, highly varnished river cruiser called Buccaneer. She and Clare decided that one of them should marry Bill –it didn't matter who as long as one of them did – as then they would get a bigger boat instead of only half a dinghy! It turned out to be Anne, and though Bill failed miserably to teach either of the girls to sail he gained a wife and crew! The only piece of advice regarding Anne her father gave his new son-in-law was "Can be led, can't be driven"!
With Bill heavily involved in the sailing world Anne was quickly absorbed into the Norfolk sailing fraternity and their wedding was arranged to fit into the regatta calendar! The reception was held at The Swan Inn, Horning on 30th July1955 and their honeymoon was spent on Buccaneer as they sailed off to the next regatta!
Nothing got in the way of their sailing. They moved to Thorpe St. Andrew, chosen for ease of access to the Broads, and the family expanded with the birth of Rosalind. However they didn't let the new arrival curtail their sailing, with the Buccaneer baby going sailing at four weeks and racing at six weeks – which necessitated Bill's crew to disappear into the cabin during the race to feed the cabin crew kid. Three years later the second crew member, Nicholas, was produced.
One of Anne's fondest memories was when Bill capsized Buccaneer during a race. He was late leaving his mooring as he had been helping others to reef but didn't have time to reef his own sail! As the boat went over Anne is quoted as saying "Oh Bill, at last!" She had no idea of the difference between a dinghy capsize when a bit of weight on the keel gets you up and sailing again and a river cruiser capsize where a wherry had to be brought in to raise her! Anne was quickly rescued but felt she hadn't had enough shipwrecked time so dived back in to retrieve oddments that were floating round the cabin.
Anne was a keen member of EACC but was in a support role while Bill was Skipper, serving on the committee and timekeeping at regattas.Together they won their share of trophies, among them the Filibuster Cup in 1968.
"As children, Nick and I spent many happy weekends on the boat both sailing and running up and down Oby dyke in our exceedingly uncomfortable orange life jackets" recalls Rosalind. "Dad was often tied up with duties on the line so his club racing was curtailed. He could work out handicaps in his head faster than anyone with a calculator!" Nicholas adds: "Mother was as enthusiastic and inventive a mother as she had been a teacher, prioritising play over housework and looking at life with child's eyes. In fact when a guest commented that Rosalind was a good helper when making the bed, Rosalind replied "Yes, I am, because Mummy just dances around in a childish fashion!"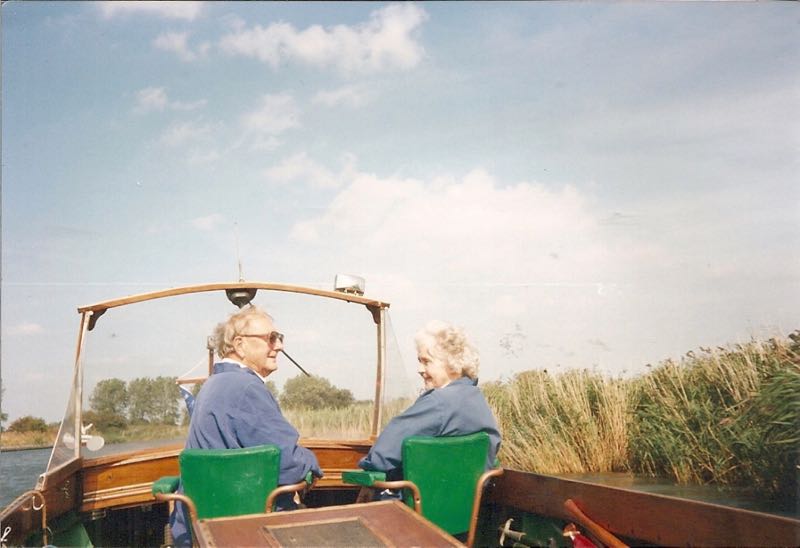 Bill and Anne on their launch Peggotty which replaced Avanti
In 1975 Bill suffered a heart attack from which he made a full recovery. About 1982 they bought the black bungalow opposite Thurne mill and spent most of the summer months living there. Later they sold it and bought the white bungalow next door with a superb dyke for Buccaneer and their motor launch Avanti,so named due to her propensity for jumping into forward gear from neutral and heading off! They both loved their alternative lifestyle in which formality was forgotten and people on boats just dropped in.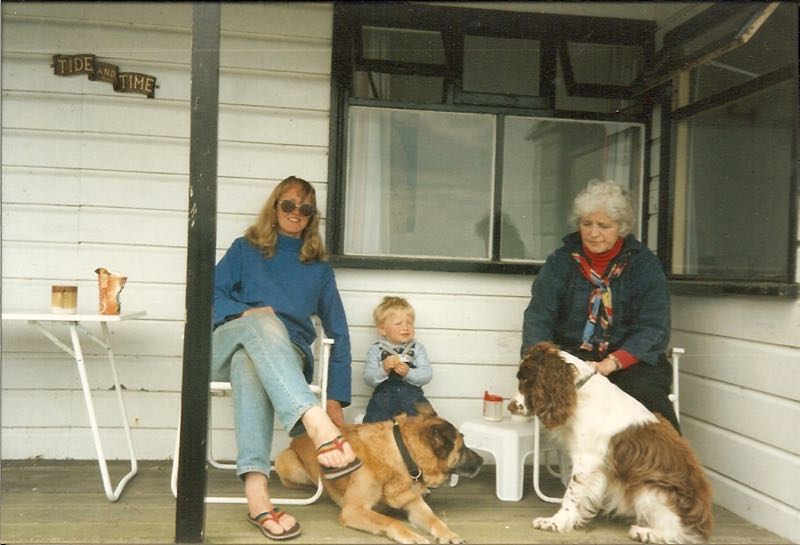 Anne and daughter Rosalind with first grandchild Alan, plus Sirius and Toby, the dogs, at their bungalow at Thurne.
Sadly Bill had another heart attack and died in 1991. Anne continued to serve briefly on the committee with responsibility for meeting and greeting at social events, particularly making new members feel welcome.
She sold Buccaneer followed by the bungalow a few years later as her arthritis and lifelong inability to drive made it too difficult for her to get there on her own. However, she joined various groups including the U3A, starting a poetry and prose group herself. "In fact her social life became so full that we had to "book in" well in advance to arrange any family events!" says Nicholas.
Anne was delighted when her five grandchildren came along within the space of five years.
This, however, put her in somewhat of a quandary. She did not wish to be called Nanny or Granny, so she became known as Batty!
Anne's funeral was held at St Faith's crematorium on November 21st, and two of her first pupils from 1949 were among the congregation.
Hilary Franzen
Rosalind Middleton
Nicholas Ebbage