INSIGNIA
Club Merchandise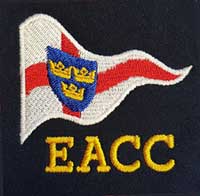 Rugby shirts, Polo Shirts, Sweat shirts, Mircofleeces, Softshell Jackets, Hats, Body Warmers, Gilets, Core Channel Jackets, Blousons, Hoodies, all with the EACC Logo and, if required, your boat name. Choose your required size and have it delivered to your home free of charge or pick up from Calder Designs in Stalham High Street .
T
he links above take you to
Calder Designs' new website. They no longer host pages for individual clubs, however offer us the range of clothing from their online catalogue which will include free embroidery of the EACC Logo (boat names are now charged extra). To place an order
choose items from their
entire online catalogue
by clicking on the above links.
To order do not use their website. If you want the free embroidered logo you will need to
take a note of the
catalogeue number, colour and size required and
use one of the following methods:
Order by phone:
Telephone Calder Designs on 07725 861207
in office hours Mon - Fri 9 am to 4.30 pm or Sat 9am -1pm
Please tell them you are from EACC
Order by email:
Customers can email: info@calderdesigns.com Please let them know exactly what you require including colour, size, logo position, together with a contact telephone number and they will call you to discuss delivery and to take card payment over the telephone
Please tell them you are from EACC
Order in Person:
You can of course go into the shop to place your order.
Please tell them you are from EACC
*****
Printed Burgees and Pennants
These will continue to be available from Jane Stevens (RC 318 Pippinjack)
and will, in future, be the only items held in stock by the club
Just message your requirements to Jane and pay by online banking.
EACC account sort code 20-53-06 account no 40345601 (ref: Insignia Your surname)
On confirmation of payment Jane will arrange how and when to get them to you.
Alternatively you can pay by cash or cheque, on collection, by arrangement,
at an event or from Ludham.
Racing

Burgee

With Spindle

Special Offer

Half Price Spindles

With sleeve only to fix

to your own spindle

12" (In stock)

£ 28 £25

£ 22

9" (In stock)

£ 23 £20

£ 17

6" (In stock)

£ 18 £15

£ 12

Cruising

Burgee

With

Spindle

With sleeve only to fix

to your own spindle

12" (In Stock)

£25 £22

£19

9" (In Stock)

£20 £17

£14

Pennant

With rope

& toggle

12" (In stock)

£ 20

9" (In stock)

£ 15