SPRING CRUISE
29th April -2nd May 2022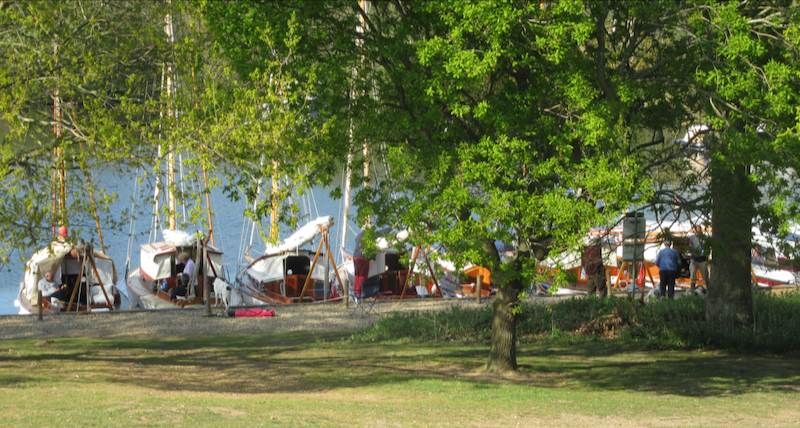 The Spring Cruise 2022 kicked off with various previously proposed participants deciding for various reasons (exposure to or actual infection with Covid, other commitments appearing from the woodwork, woodwork not ready for launching etc. etc) to resist the temptation to cruise. Perhaps they knew that it was going to be cold!
Pippinjack and Sandpiper decided to start the cruise at Malthouse on Friday night and found a small pool sheltered from a fairly biting nor-easter of a wind that gave way to a very chilly night. However a convivial evening with hot food, hot chocolate, hotties and blankets made the night bearable. Glider and Ranger 2 convened on their South Walsham moorings.
Saturday dawned bright with a light breeze for the trip to the arranged starting point for cruise proper where Pippinjack and Sandpiper were joined by Picus, Starshell, Ranger 2, Glider, Mischief and Moon Dreamer for lunch at Cockshoot and the onward journey, mostly under a mixture of sail and power, there being a notable lack of wind, plenty of sunshine and the Horning Boat Extravaganza to circumnavigate to our first night stop at Salhouse Broad, where stern-on moorings had been reserved on the staithe.
Saturday night was somewhat less chilly and Sunday dawned fine with lots birthday wishes for Jane on Pippinjack. The cruise progressed under power through the Wroxham bridges and on to Coltishall where the heady delights of scoff at either The Kings Head (for those not accompanied by canines) or the Rising Sun (for those that were). We were pleased that the EACC Skipper and crew of Bewitched (Liz and Colin Chettleburgh) and Sun Glory (Jo and Cally) were able to join us for dinner at TKH. Sunday night was almost balmy!
Monday was another sunny but largely windless day with most of the cruisers calling by invitation at Jo and Cally's waterside home in Wroxham for a coffee before heading to home moorings.
Cruseristas
Pippinjack
Sandpiper
Ranger 3
Glider
Starshell
Picus
Mischief
Moon Dreamer
Motoristas
Liz and Colin Chett
Jo Edye and Cally Smith
Colin Little (Co-cruise leader by default)
Thanks to Paul and Ruth, Phil and Jamie, Paul and Jane for their photographic contributions.
Sorry lost track of who sent what but you can probably work it out!