SOUTHERN RIVERS CRUISE
Friday (evening) 12th August to Saturday 20th August 2022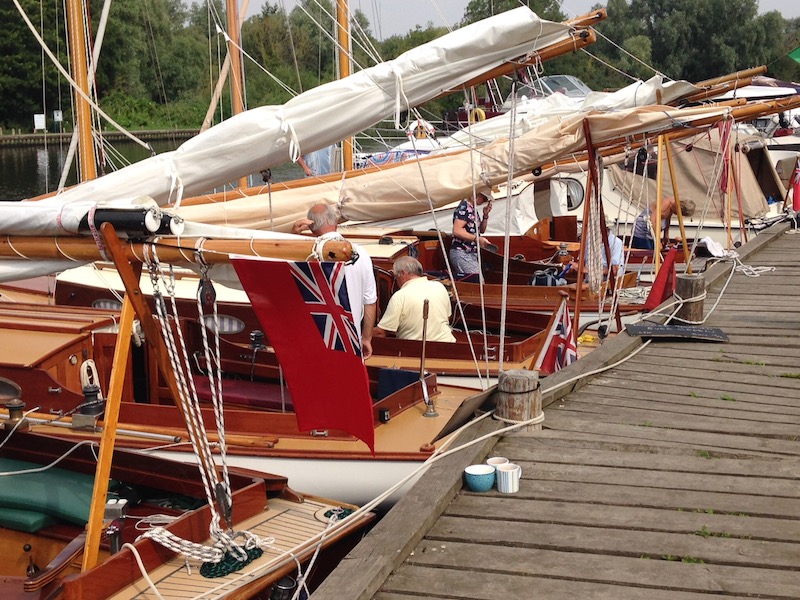 Photo: Jane Stevens
REPORT BY JAMIE BENNETT-MARTIN
The SRC plan for 2022 was a new format, offering crews a choice of two moorings each night and the flexibility to personalise their own route depending on their personal preferences. This not only reduced the pressure on finding sufficient mooring space for all boats, but gave crews the chance to spend time with different boats over the week as people chose different options each night, whilst still remaining part of the overall Southern Rivers Cruise.
Friday
With the choice of a Friday evening crossing or an early Saturday start, the majority of the boats chose the Friday crossing, so Moondream, Evergreen, Pippinjack, Bewitched, Ranger 3, Sandpiper and Come Along headed down the River Bure to cross Breydon at about 6:30pm. After a beautiful summer's evening crossing across Breydon everyone then headed up the River Yare to find somewhere to moor for the night, with Moondream and Evergreen stopping at Polkeys Mill and the remainder heading for Hardley Cross (barely angry), but a lack of available moorings resulted in mooring at Reedham Ferry instead. After a late dinner crews popped into the Reedham Ferry for a quick drink in the pub.
SG2 unfortunately were unable to make the evening crossing, so they had a fun filled evening in the Ferry Inn in Stokesby and were then ready for the early morning crossing over Breydon the next day.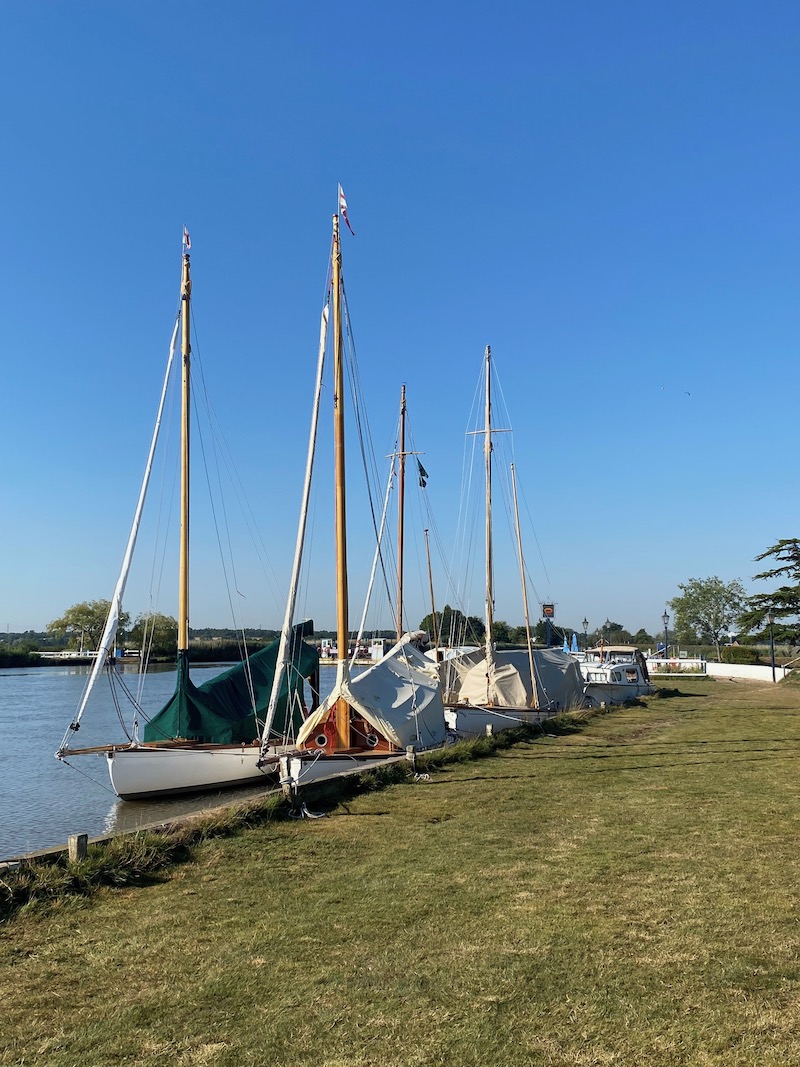 Sandpiper, Evergreen, Pippinjack, Ranger 3 and Come Along at Reedham Ferry by Jamie Bennett-Martin
Saturday
The fleet woke to a beautiful sunny morning, which SG2 thoroughly enjoyed coming across Breydon in the early morning to catch up with the cruise in Reedham. Plans were made where to head for lunch – Ranger 3 wanted to pop into Loddon so they headed up the Chet, whilst the remainder went for a sail up the River Yare with some stopping at Coldham Hall for lunch and a beer.
Moondream headed to Langley to moor badly in true EACC style, and was soon joined by Come Along with the remainder of the cruise joining throughout the afternoon, so by mid-afternoon EACC had taken over the moorings. Crews enjoyed a drink in the shade of the tree's and out of the hot sun, including glasses of Pimms which were kindly handed out by Come Along. Dinners were cooked on board, followed by a couple more drinks on the staithe under the glowing mandarin orange moon.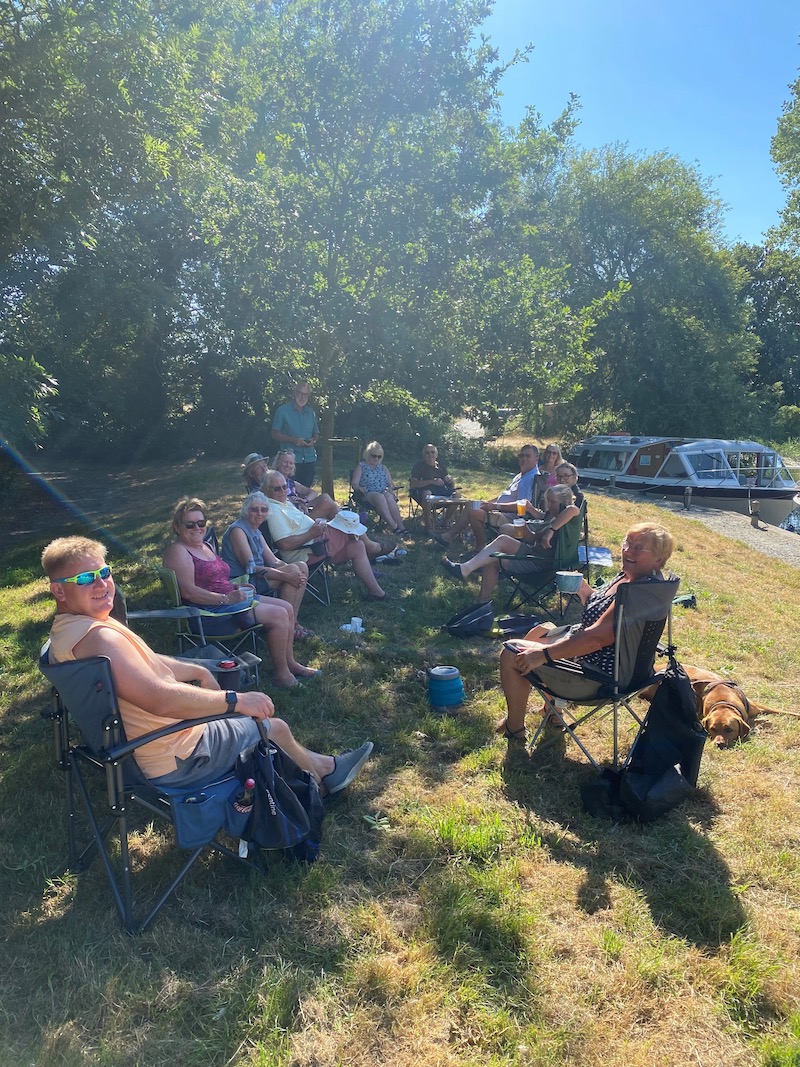 Crews sheltering in the shade at Langley Dyke by Jamie Bennett-Martin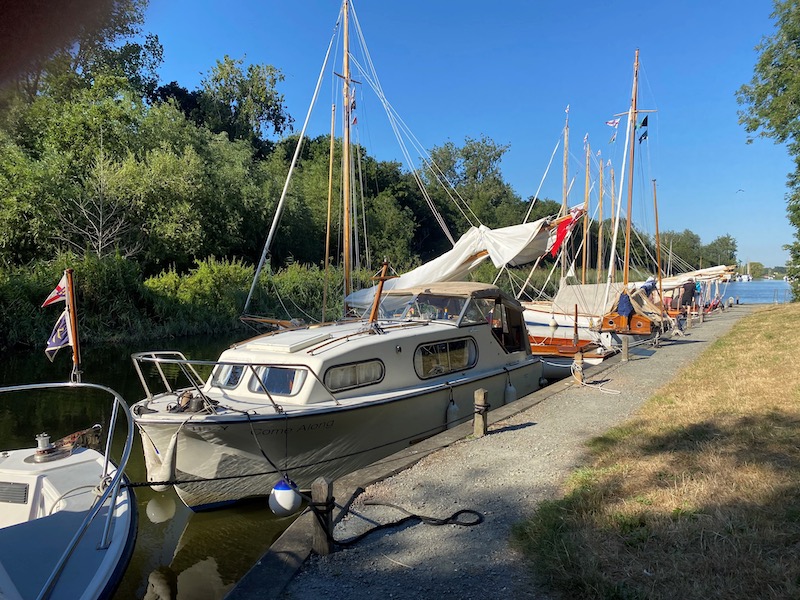 Boats moored at Langley Dyke by Jamie Bennett-Martin
Sunday
The fleet woke to a beautiful sunny morning, so Come Along felt this was the perfect opportunity to try out her paddle board. After a lot of pumping of air into the board (partly because a lot escaped…) the intrepid paddle-boarder made her way down the dyke in the glorious morning sun.
After breakfast the boats were readied for a sail up the River Yare to Coldham Hall for lunch, while Moondream headed to North Cove for the night, which unfortunately resulted in a prop wrapped in plastic which required the support of Hippersons Boat Yard to dive down and remove it.
With some challenging close haul sailing from Langley to Coldham Hall, some boats had to tack en-route to the pub, and only Ranger 3 made the entire journey to Coldham Hall without a tack (not that the crew mentioned it to anyone of course!).
On arrival at the pub the cruise met Lily who had arrived before everyone and had enjoyed a lovely lunch from the pub, and we were shortly joined by Dove who had been racing at Breydon Regatta, so the crews had a good catch up over a beer before returning to their boats for lunch in the shade of the shrubs.
After lunch Lily headed back to Hardley Cross whilst the cruise moved on up the River Yare for the over night stops, with Ranger 3 and SG2 heading to Bramerton to moor outside Waters Edge, and the remainder of the cruise mooring at Surlingham Ferry, for drinks and dinner in the respective pubs.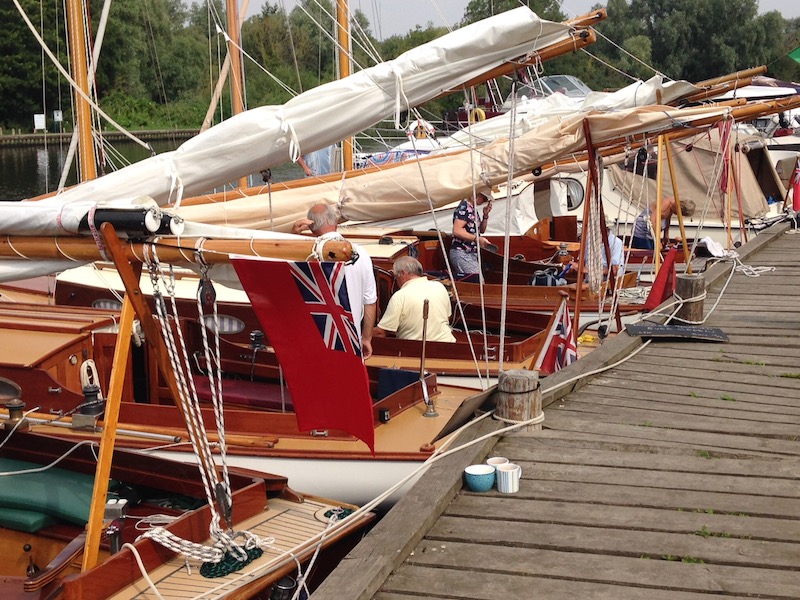 Boats on the mooring at Surlingham Ferry by Jane Stevens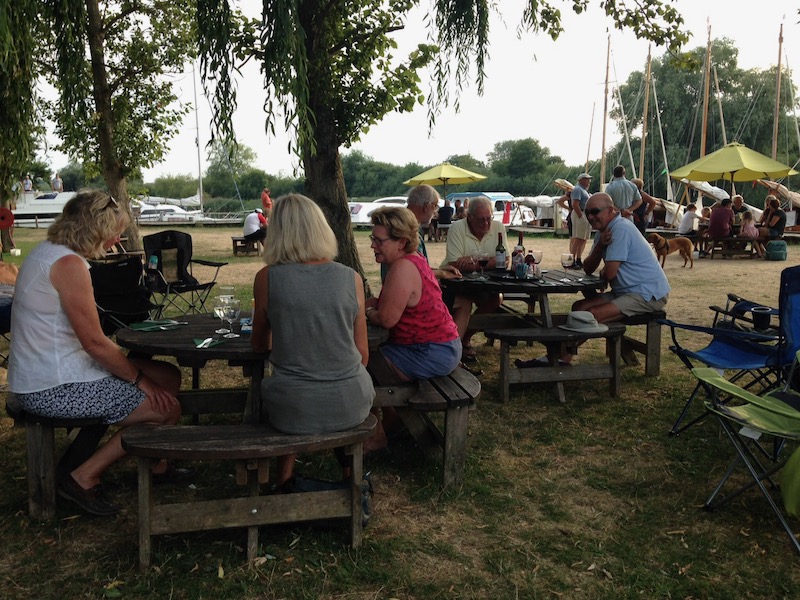 Crews enjoying drinks from Surlingham Ferry by Jane Stevens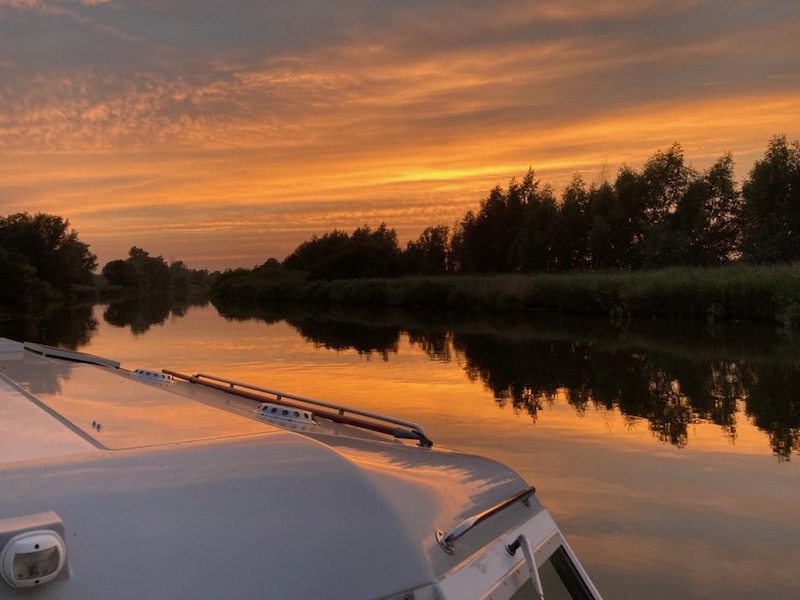 Sunset at North Cove by Tom Moore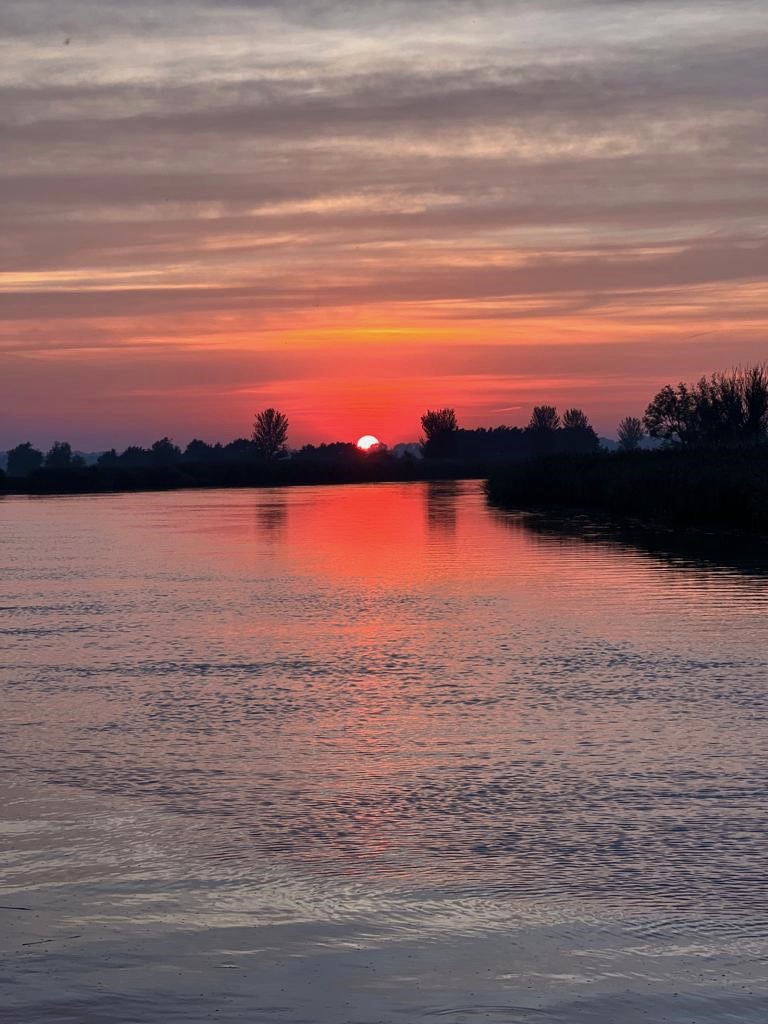 Sunset at Hardley Cross by Roger Everitt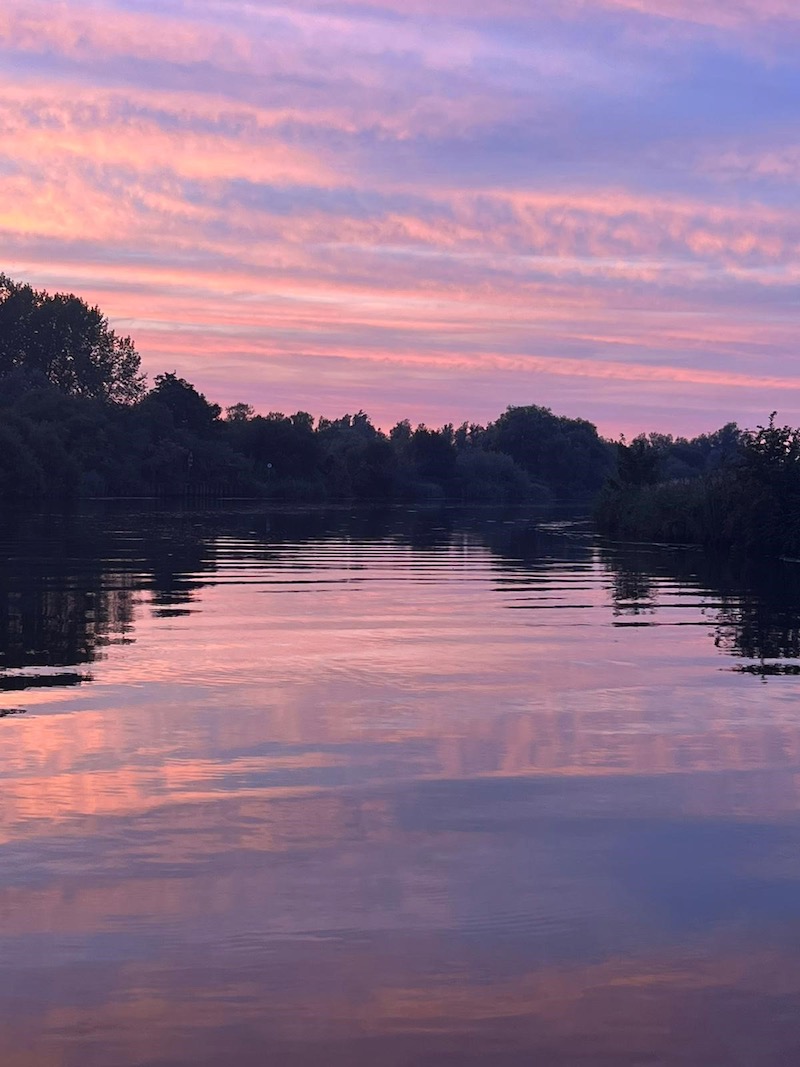 Sunset at Bramerton by Phill Bennett-Martin
Monday
The fleet woke to a beautiful sunny morning, so after breakfast the boats made their plans for the day based on winds and tides, and set off. SG2 hosted the Ranger 3 crew and they headed up into Norwich for a food shop at Morrisons, and then motored on up under the bridges to the Ribs of Beef pub where they moored outside and had a beer on their veranda.
The majority of the other boats headed down to Langley for lunch before heading back to Rockland, with Come Along and Bewitched moored on Rockland Dyke and the remainder in the basin where they were joined by Ceres. Evergreen had grand-parent duties to attend to, so headed off to leave the boat at Cantley overnight and would catch up with the cruise on Tuesday evening.
Due to a loose Broom hire boat in the dyke, Bewitched and Come Along were the hero's of the day by catching and mooring the boat which was floating away. As a reward, they were given a bottle of wine which they later enjoyed that evening in the pub!
Once the boats were moored, crews headed to the pub for a drink, with some eating in the pub and the others returning to eat on board, which was followed by entertainment from Ranger 3 via hand shadow animals and a voice over by SG2!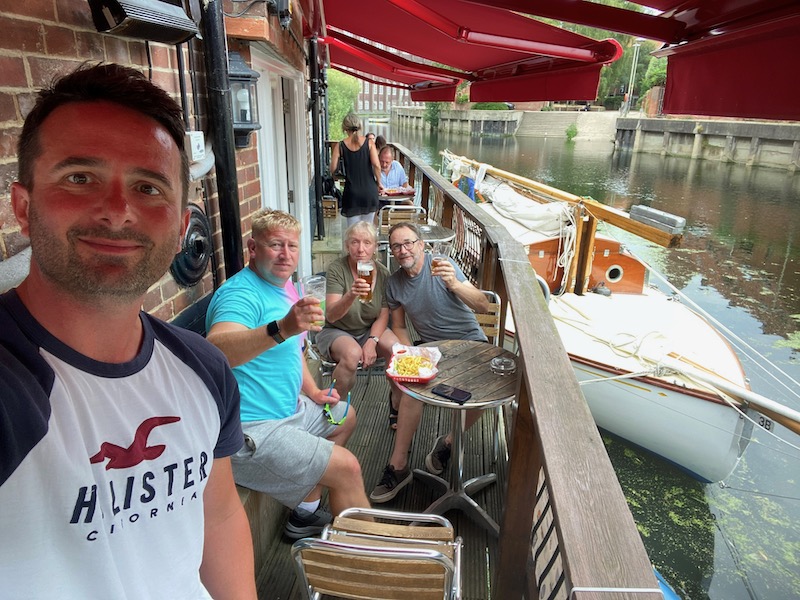 SG2 and Ranger 3 enjoying a pint at the Ribs of Beef by Jamie Bennett-Martin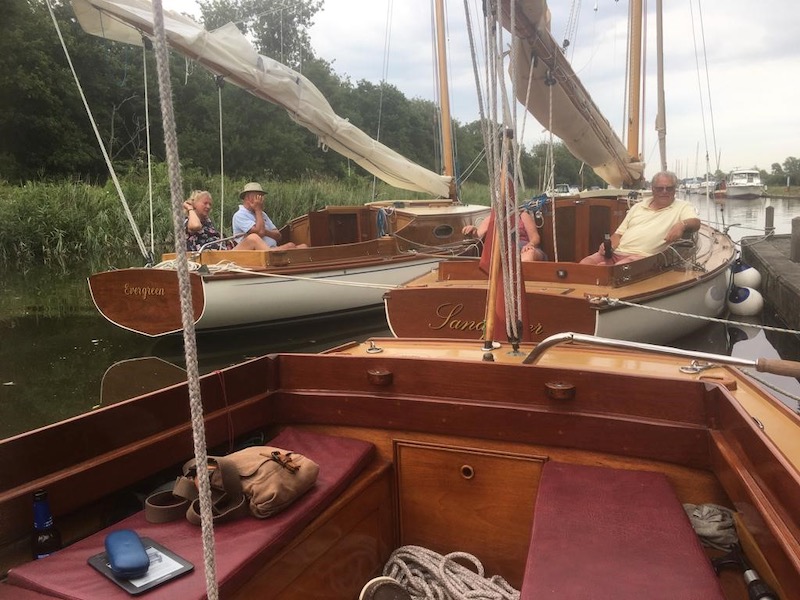 Lunch at Langley Dyke before heading back to Rockland by Paul Stevens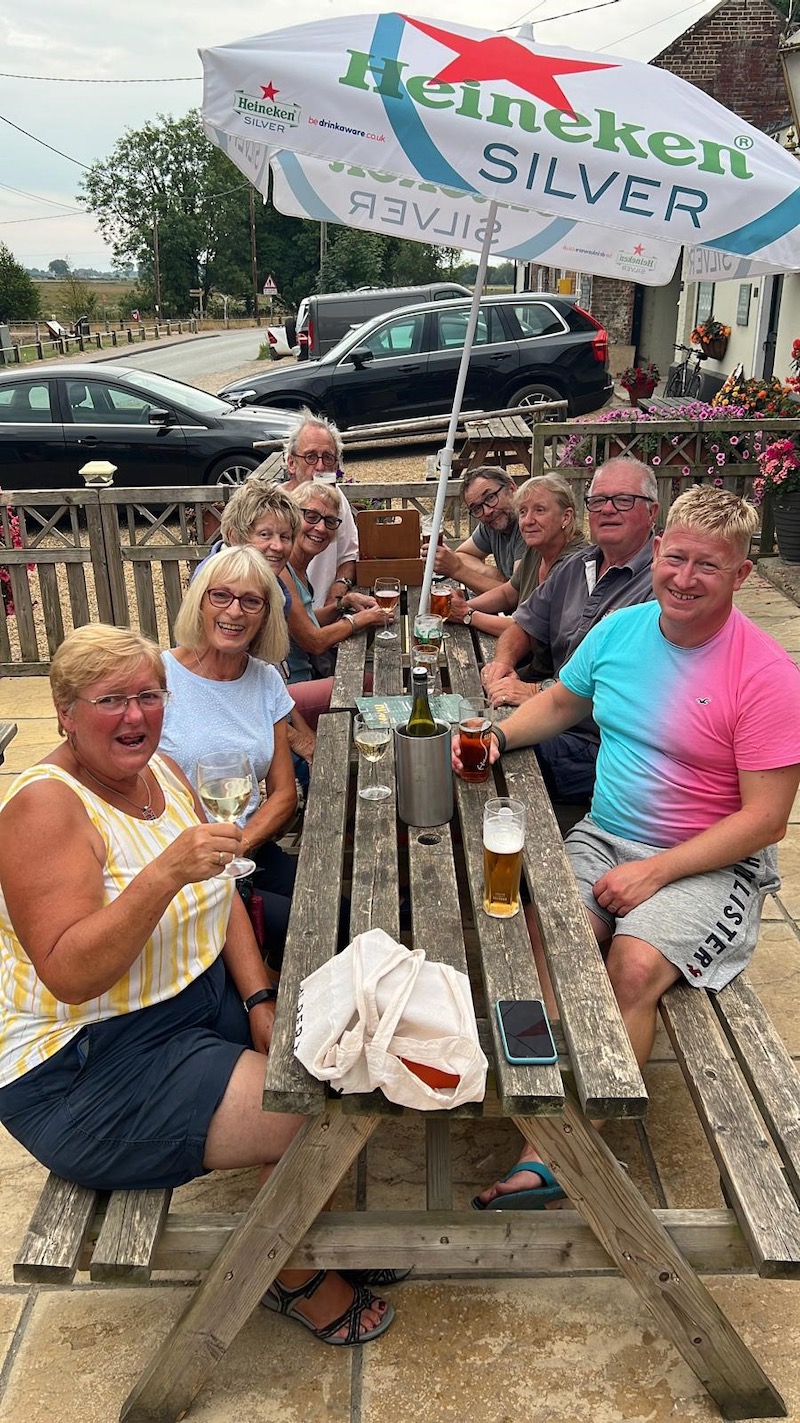 Crews enjoying a drink at the New Inn in Rockland by Jamie Bennett-Martin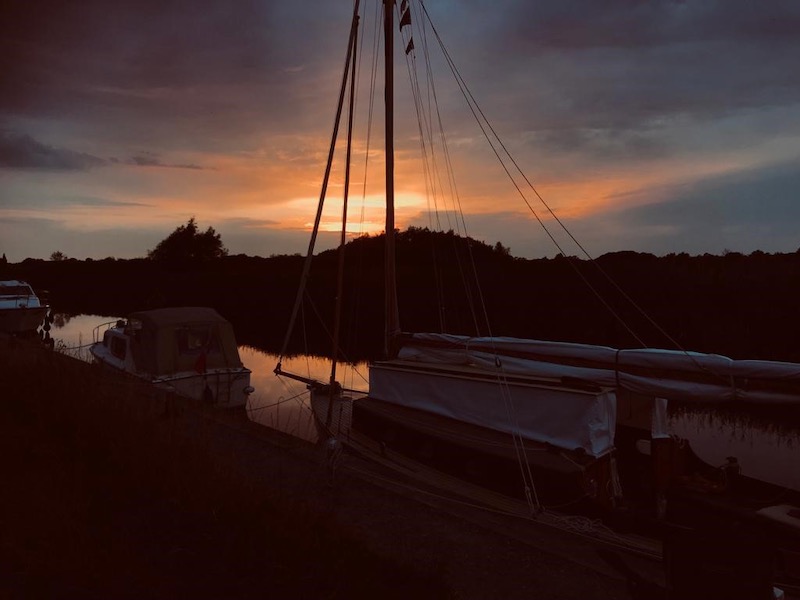 Sunset over Rockland Dyke by Colin Chett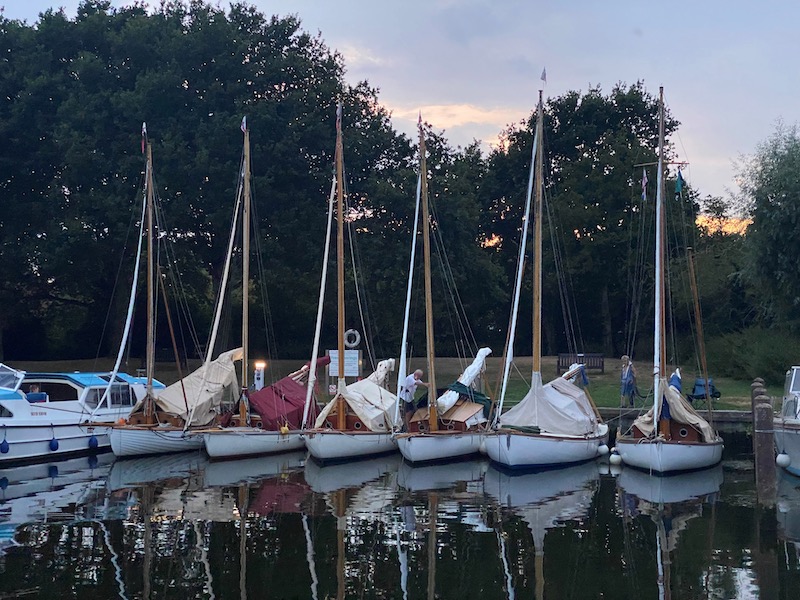 Boats mooring in Rockland Basin by Jamie Bennett-Martin
Tuesday
The fleet woke to a dry but not overly sunny morning with not much wind, so most motored down the River Yare to head to the River Waveney except Ceres who gallantly floated down with their sails up on the outgoing tide.
Boats stopped off at various locations en-route for showers or lunch, but forecasts of an imminent downpour resulted in some boats preparing to shelter to ride out the storm with others continuing in waterproofs. The downpour was very heavy but rather localised, with SG2 getting a particularly substantial and sustained downpour and others getting away with a shorter soaking. After such a long dry spell the heavy water reminded some crews of forgotten leaks, resulting in some boats needing to dry out their bedding before night-time!
Overnight stops were at Waverney River Centre, with Ranger 3, Sandpiper, Pippinjack, Dove and Evergreen moored there, and Somerleyton, with Bewitched, Come Along, Ceres and SG2, and Kobweb who had missed the late tide on Monday so crossed Breydon on Tuesday morning to join up with the cruise.
The Somerleyton crews went for a lovely long walk on the Anglers Way in the afternoon, and then dinner was on board for the WRC crews whilst the Somerleyton crews enjoyed a lovely meal in Dukes Head.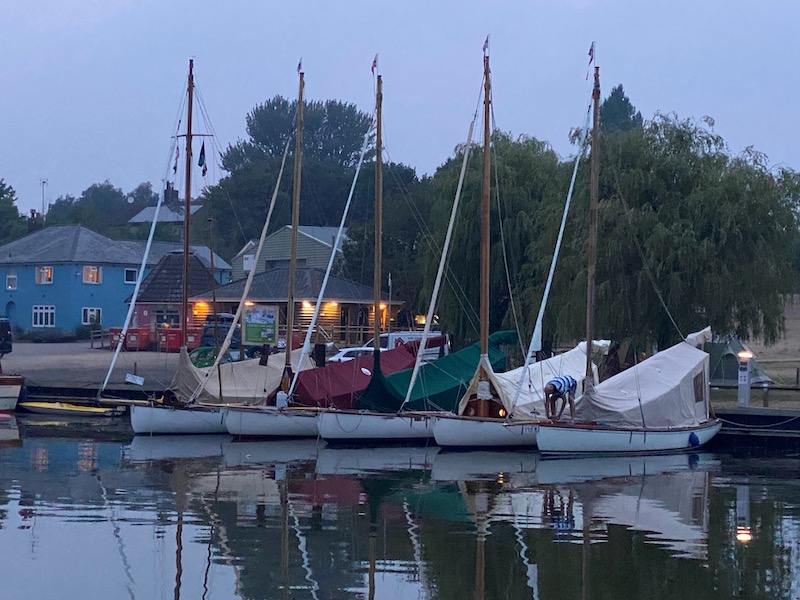 Boats moored up at Waverney River Centre by Jamie Bennett-Martin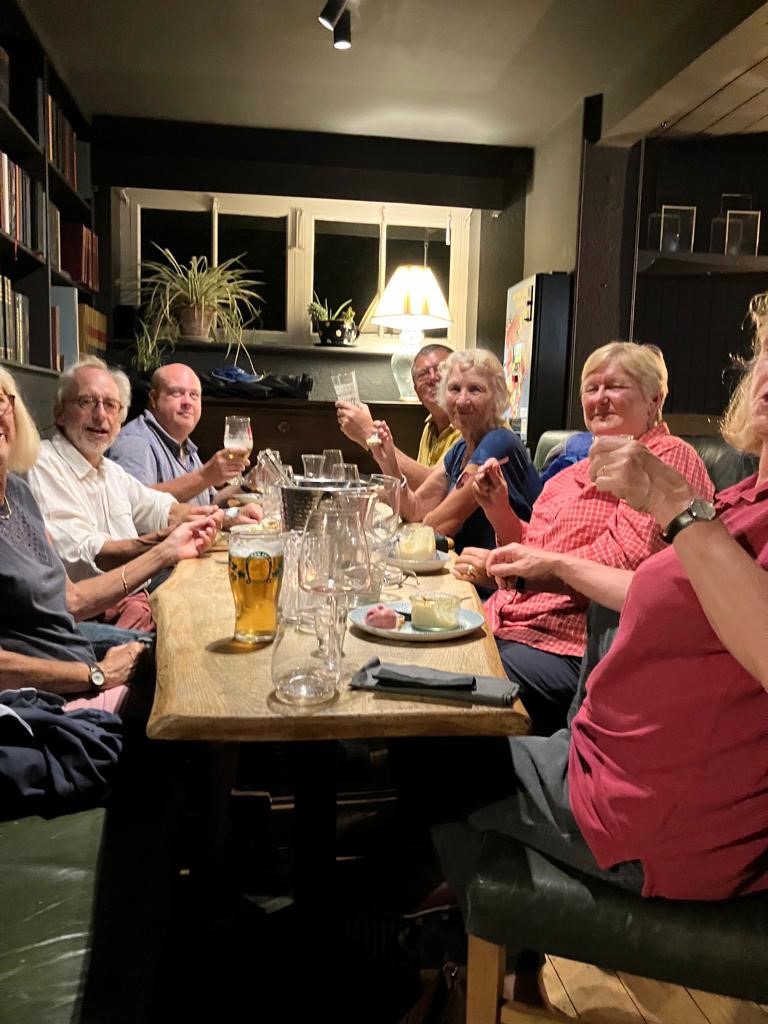 Crews enjoying a meal at the Dukes Head in Somerleyton by Jo Edye
Wednesday
The fleet woke to a dry, cloudy morning but with a slight breeze, so after breakfast sails were raised by both fleets as everyone headed down to Beccles to moor over night at the yacht station, passing Lily who were heading in the opposite direction to Hardley Cross for the night having over-nighted at Geldeston.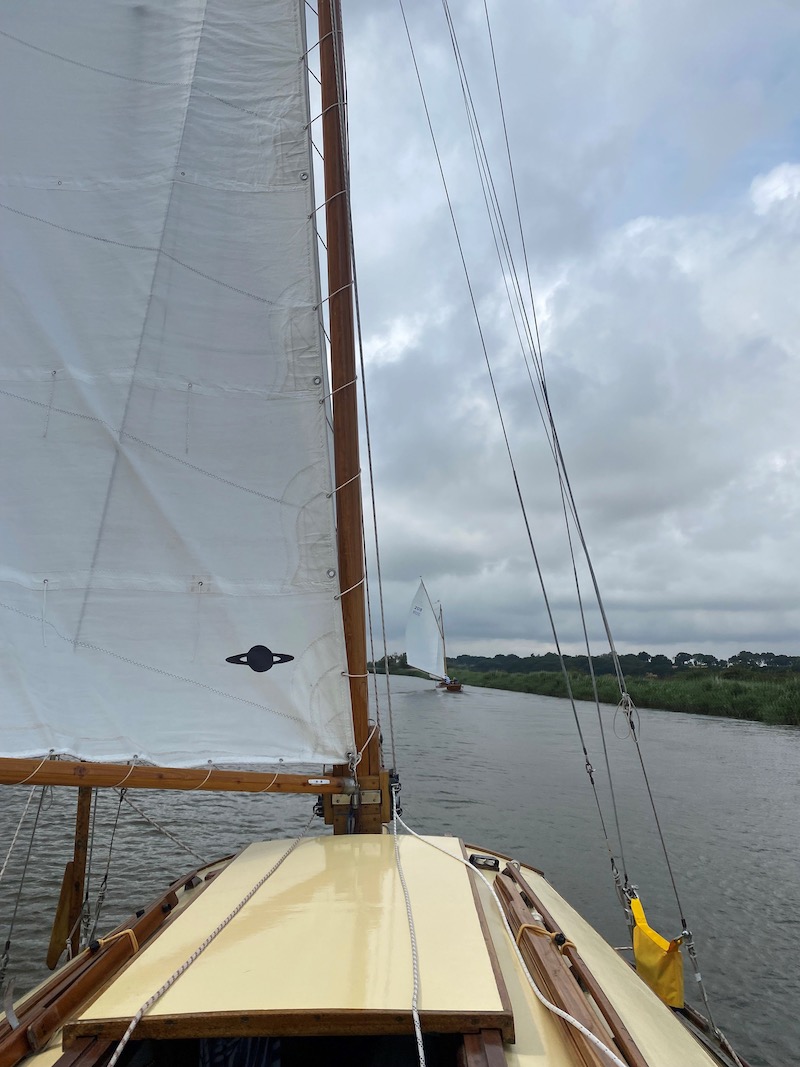 Ranger chasing Evergreen by Jamie Bennett-Martin
Moondream re-joined the cruise again in Beccles along with Pippa after overnighting in Geldeston with Lily, and so once all the boats had arrived in Beccles EACC took over most of the yacht station on the town side with 12 boats on the quay.
Dinner was booked in the Bear & Bells for anyone not eating on board, where the crews were hosted to a fantastic evening by the team in the pub, with SG2 joining the crews for a drink after their Italian dinner in the town.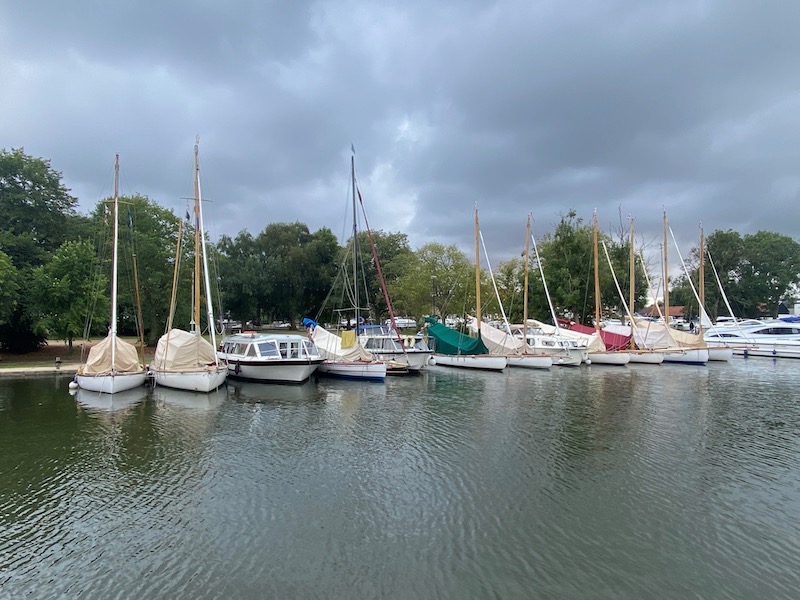 Boats moored at Beccles Yacht Station by Jamie Bennett-Martin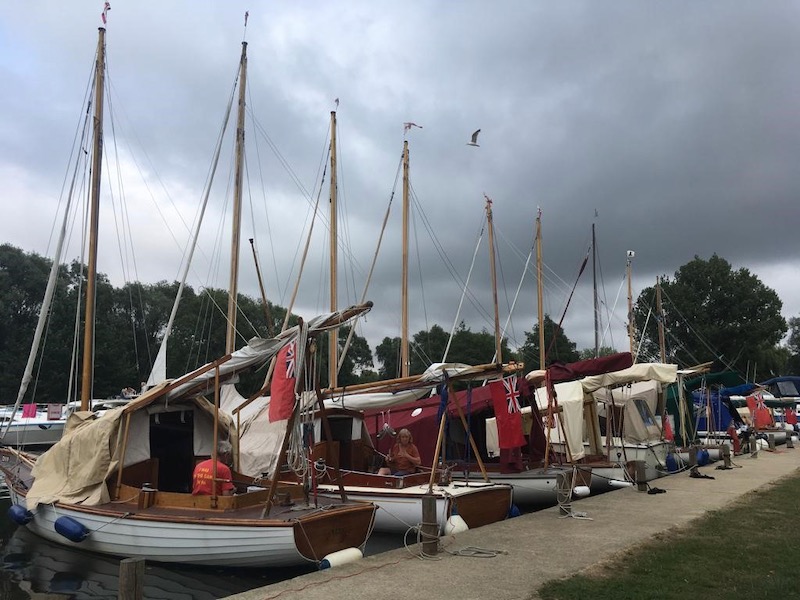 Boats stern-to at Beccles Yacht Station by Susie Spivey
Colin checking out the instruments in the Bear & Bells by Soozie Hopwood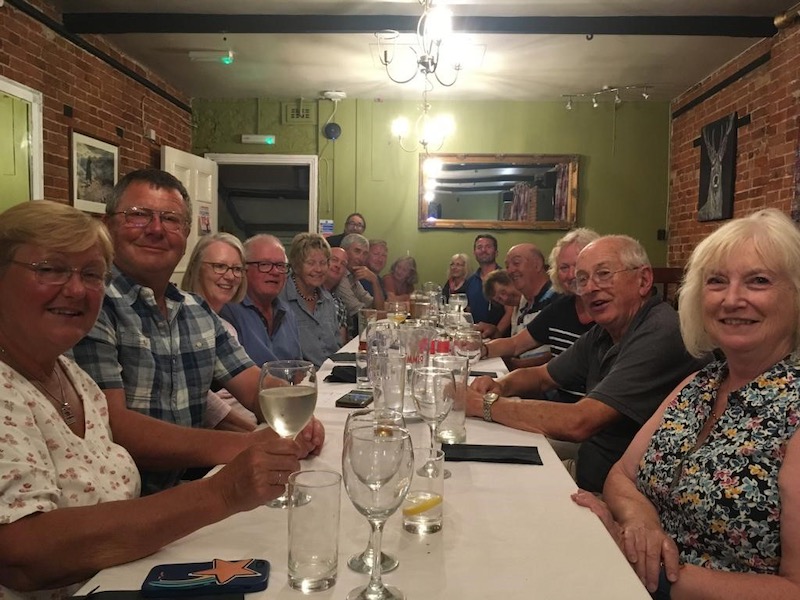 Crews enjoying dinner in Bear & Bells by the barman
Thursday
The fleet woke to a dry but cloudy morning, and whilst some crews went for a swim at the Lido, others had breakfast, completed any shopping in the town, and then prepared their boats for a motor to Dutch Tea Gardens, with the exception of Ceres who managed to sail there in very light winds (and the occasional push from their engine!) where we were also joined by May and Khamsin (after returning Pippa to her moorings).
Once on the moorings, Bewitched fancied a sail on Oulton, so along with crews from Ranger 3, May and Pippa, she headed down for a few laps of Oulton Broad before heading back to the moorings.
Ranger 3 had a surplus of gin that needed drinking, so offered to host a G&T gathering on the DTG moorings which was thoroughly enjoyed by all, with a range of plain and flavoured gins served with tonic, ice and a slice. Particular favourites were the Tarquins Cornish gin, Slingsby marmalade gin and a Sicilian lemon gin kindly donated by Come Along.
Kobweb was supporting the power boat racing on Oulton, and so joined the boats later in the evening, and thanks to some innovative EACC-style mooring was helped in to moor stern-on between 4 boats, resulting in 13 EACC boats in total on the moorings!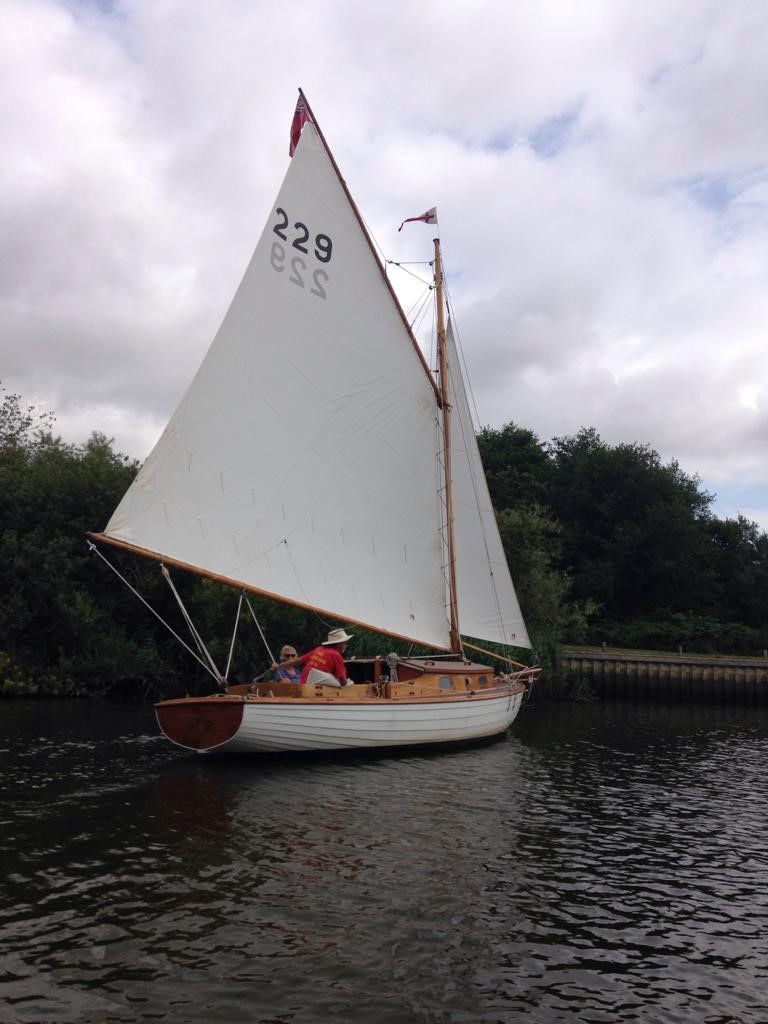 Ceres drifting to the Dutch Tea Gardens by Jane Stevens
The G&T range by Jamie Bennett-Martin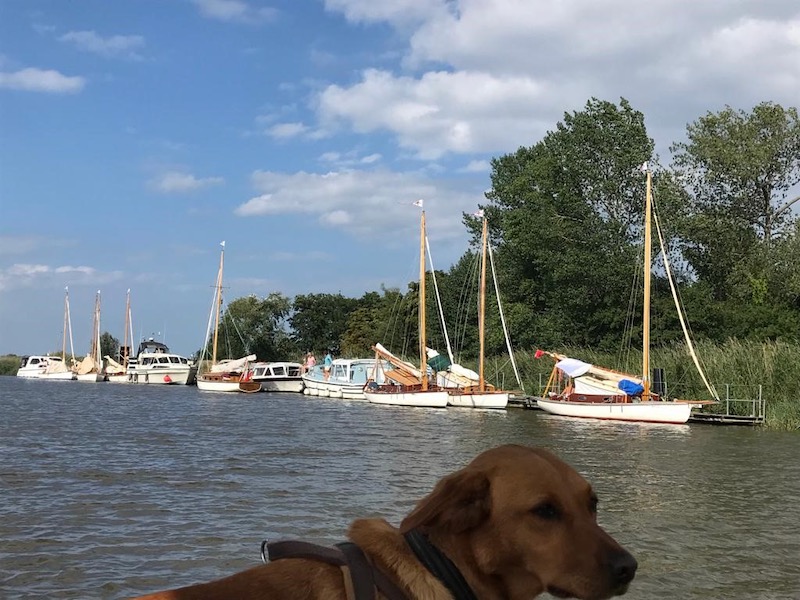 Boats moored at Dutch Tea Gardens by Liz Chett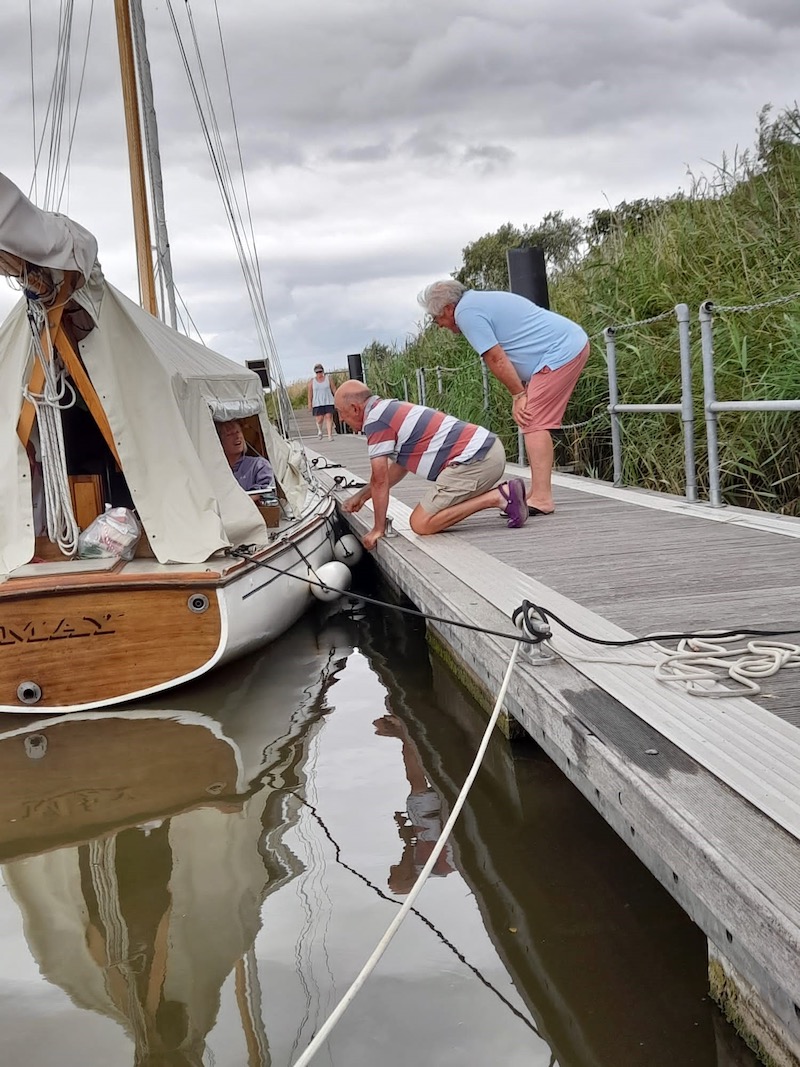 A great debate on May by Ruth Thompson
Friday
The fleet woke to a cloudy morning, but with sun forecast it wasn't long before it was another sunny day. With this being the last full day boats were heading off in various directions depending on their preferences and weekend plans, with Come Along setting off early to cross Breydon on the morning low tide in order to be home by Friday evening.
Ranger 3, Dove and SG2 had secured limited moorings outside Lord Nelson so headed in that direction, with Bewitched hoping to moor outside Reedham Ferry. Upon arrival, Ranger 3 was able to moor on the public mooring, leaving ample space for Dove and SG2 to moor outside the pub.
After a quick stop at Herringfleet, Ceres and Moondream decided to head for Burgh Castle for a pint in the Fishermans Inn, while May headed for Beccles and then onto Geldeston, Khamsin came up to Somerleyton before heading back to Oulton, Kobweb stopped at St Olaves and Sandpiper, Evergreen and Pippinjack stopped at Herringfleet for the night.
A lovely dinner was enjoyed by the Reedham crews in Lord Nelson, while Ceres and Moondream enjoyed their meal in Fishermans Inn, Kobweb ate in The Bell and the Herringfleet crews ate on-board, all whilst enjoying a beautiful evening sunset over Reedham on our last night South.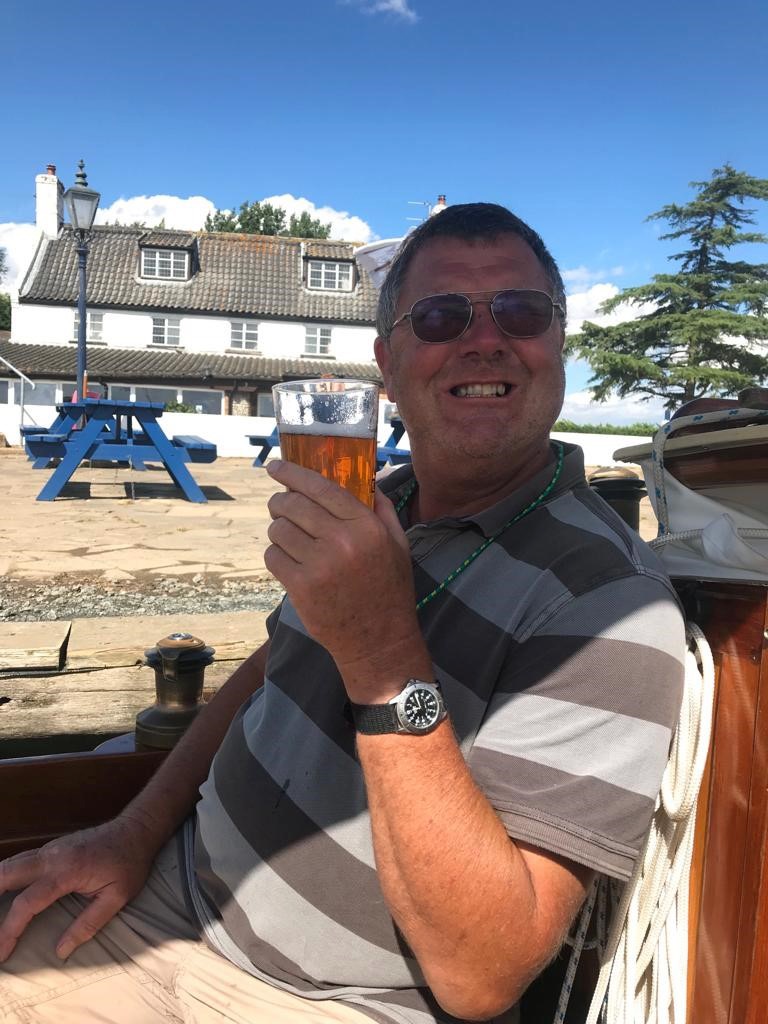 Colin gets a beer at Reedham Ferry by Liz Chett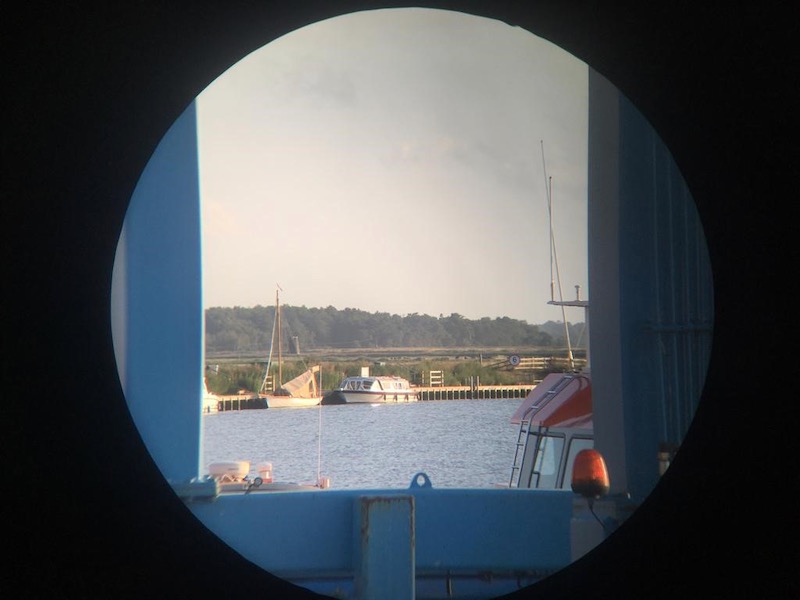 Ceres and Moondream moored for the night at Burgh Castle by Susie Spivey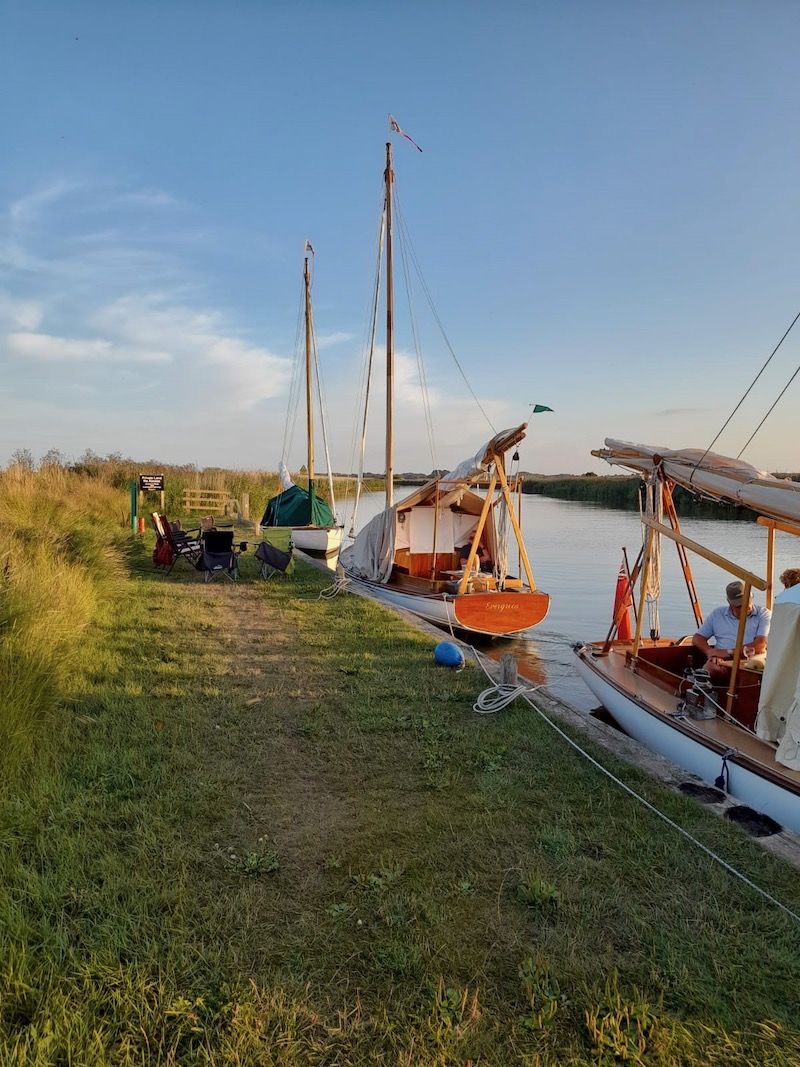 Sandpiper, Evergreen and Pippinjack moored at Herringfleet by David Thompson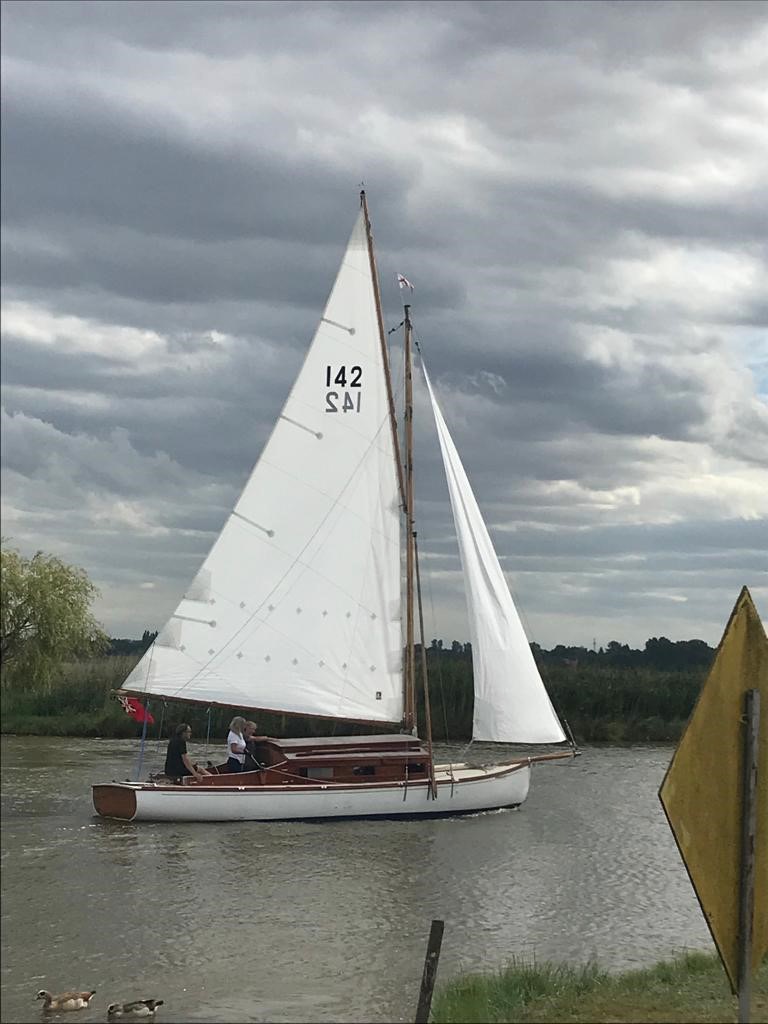 SG2 heading past Reedham for more sailing by Jamie Bennett-Martin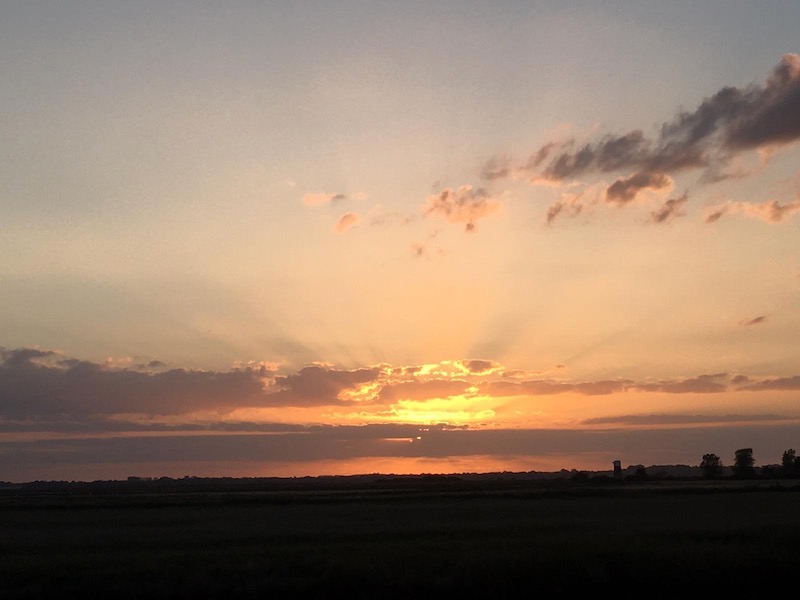 Reedham sunset by John Thornicroft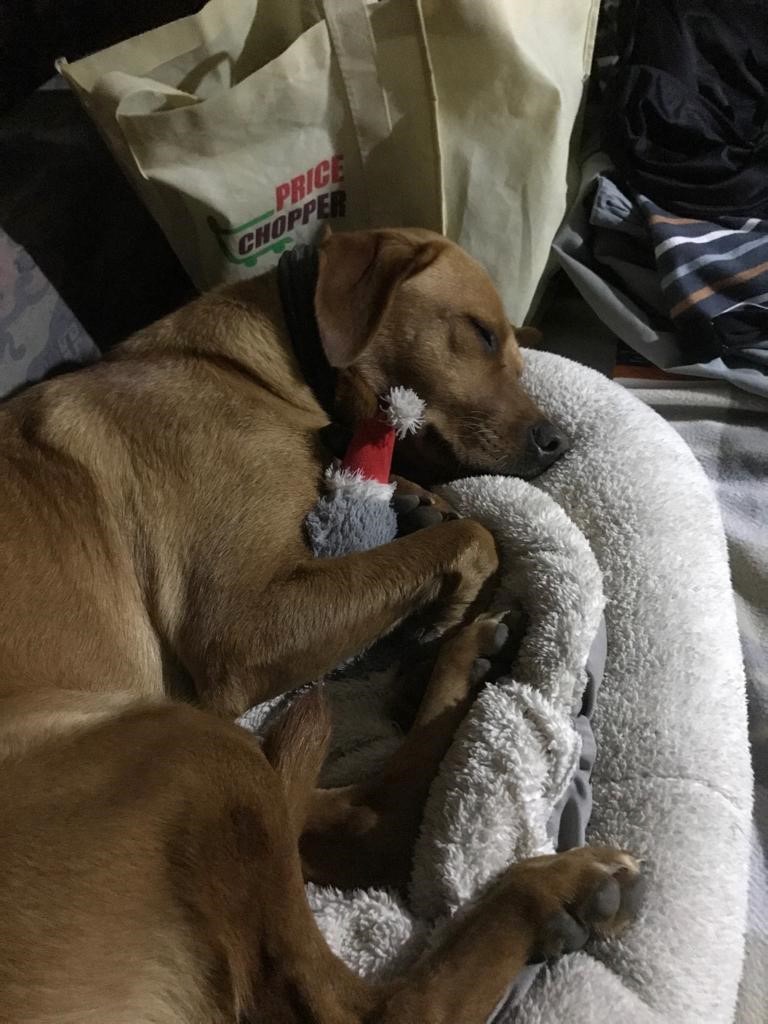 An exhausted bramble by Colin Chett
Saturday
The fleet woke to a beautiful sunny morning, and with plans to be at Great Yarmouth Yacht Station for 11:30am, breakfast was completed and boats were readied for the sail or motor across Breydon and up the River Bure to head home.
Bewitched set sail from Reedham Ferry and came past Reedham quay picking up SG2 and Ranger 3, who both hoisted sails once through the bridge and headed for Breydon with Dove under motor in convoy.
On the River Waveney Kobweb, Moondream and Ceres set off, with Evergreen, Sandpiper and Pippinjack following behind.
Glorious skies and a light South Westerly wind blew the boats across Breydon to the sounds of avocets, where some of the fleet arrived a little early at the bridge so had to wait for the tide to turn before heading up the River Bure. Most boats motored from Great Yarmouth, except Ceres and SG2 who valiantly sailed as far as they could on their last day of the SRC, before stopping in a pub for celebratory liquid refreshments.
Most boats had returned to their home moorings by Saturday evening, with the exception of Ceres and Dove who joined Moondream for a meal in Lion before returning to their moorings in the following morning.
Overall a thoroughly enjoyable and relaxed cruise, with great weather, no drama's or breakages, fabulous company and lovely sailing on the rather quiet Southern Waters. Plans are already under way for the SRC 2023, with a proposal to move it to earlier in the year to avoid school holidays, so watch this space!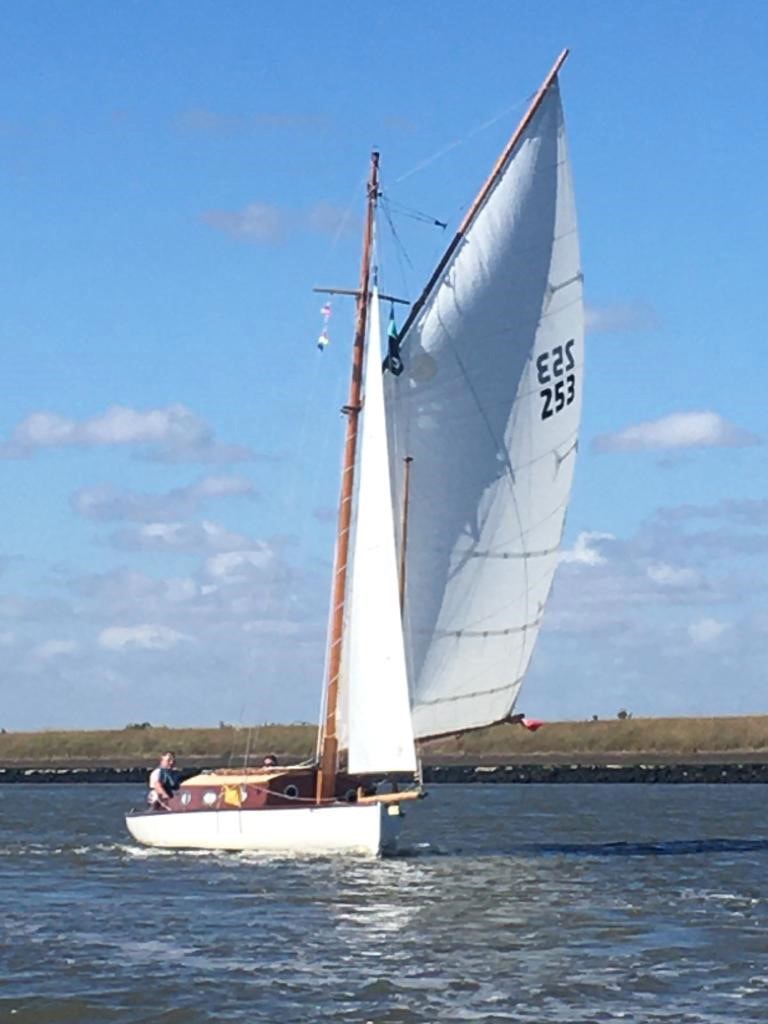 Ranger sailing across Breydon by Soozie Hopwood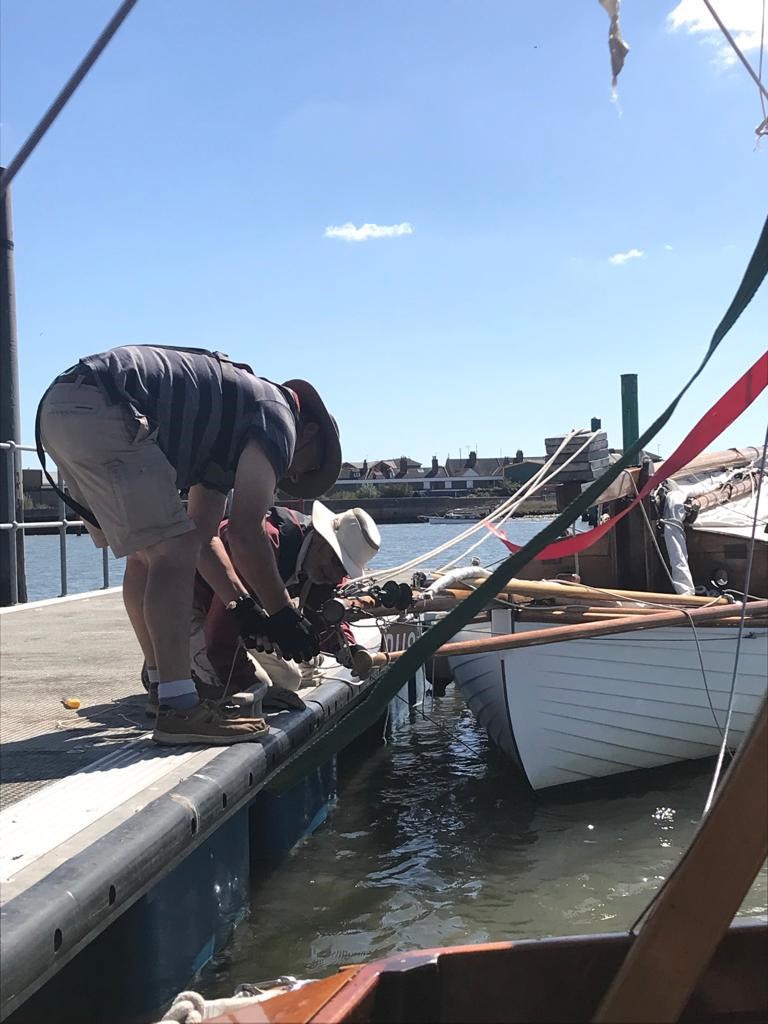 Running repairs to Ceres on the pontoon by Liz Chett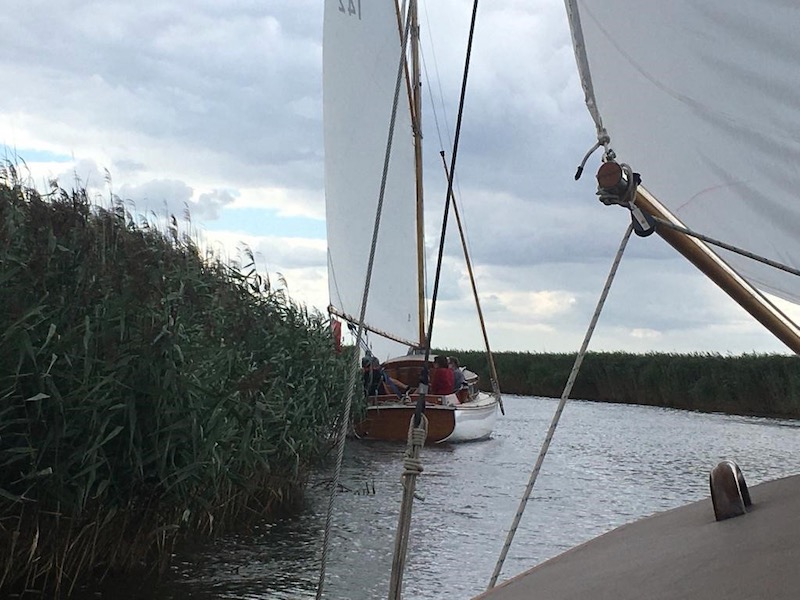 SG2 and Ceres ditch crawling up the River Bure by Susie Spivey
Participating boats over the duration of the week were:
Bewitched, Ceres, Come Along, Dove, Evergreen, Khamsin, Kobweb, Lily, May, Moondream, Pippa, Pippinjack, Ranger 3, Sandpiper and Sun Glory 2 (SG2).
Jamie