Summer Regatta 2015
Click here for some photos with captions from Roger Everett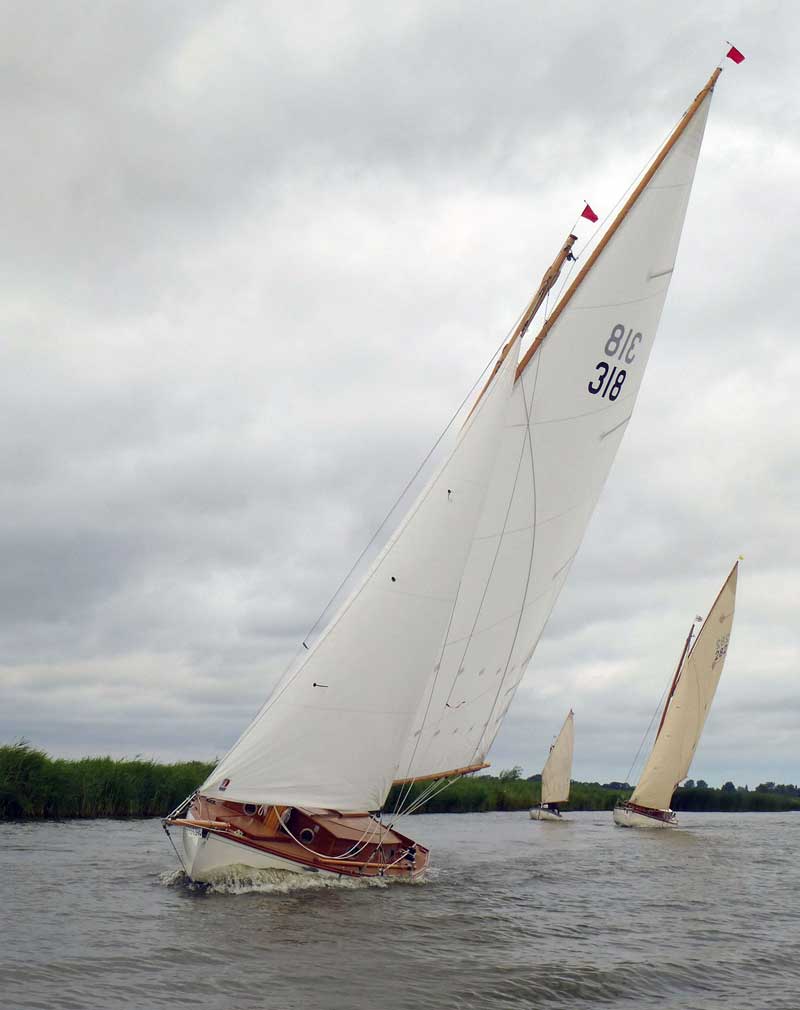 Photo: copyright Andrew Wolstenholme
Pippinjack and Sandpiper on the Acle leg
Below is a selection of Sue Hines' photos of the event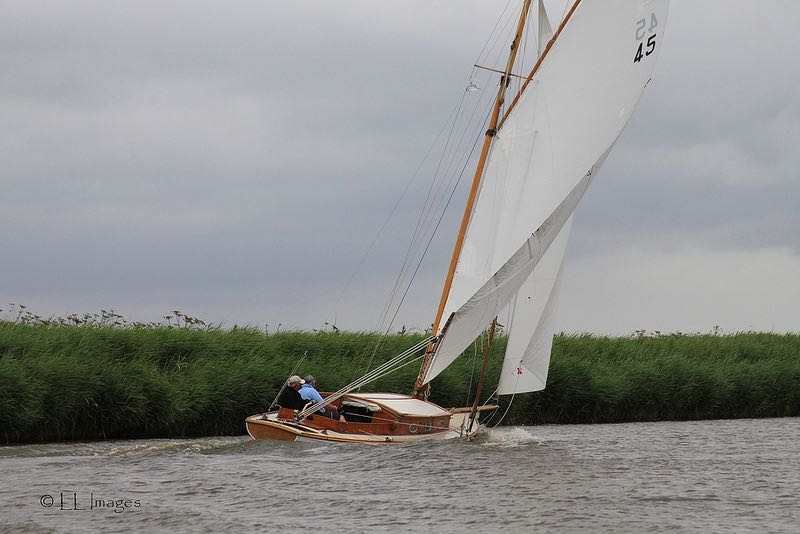 Photo: Sue Hines
Buccaneer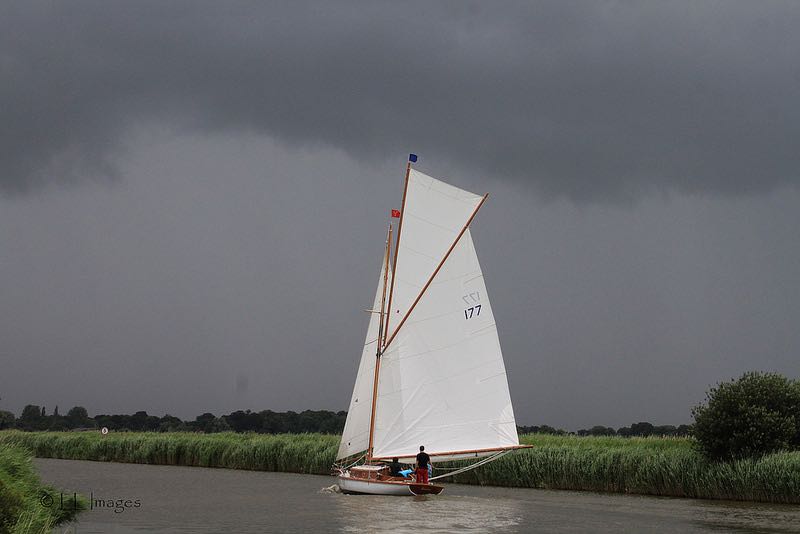 Photo: Sue Hines
Breeze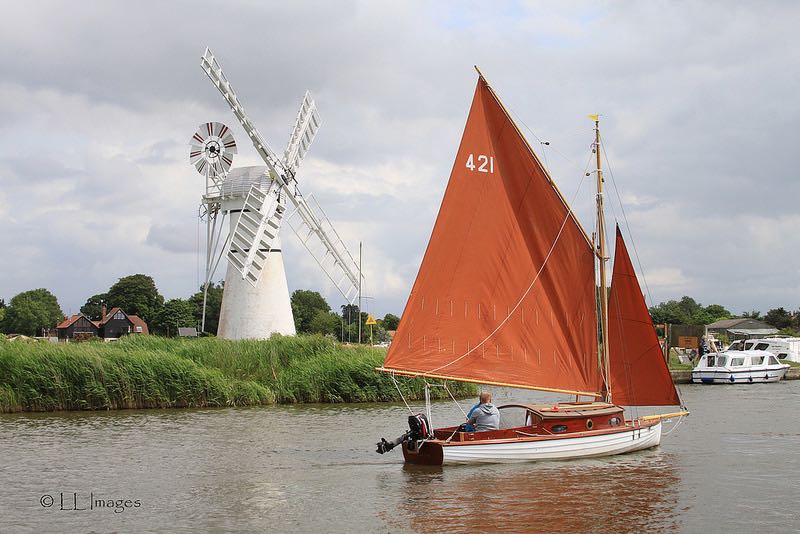 Photo: Sue Hines
Crocus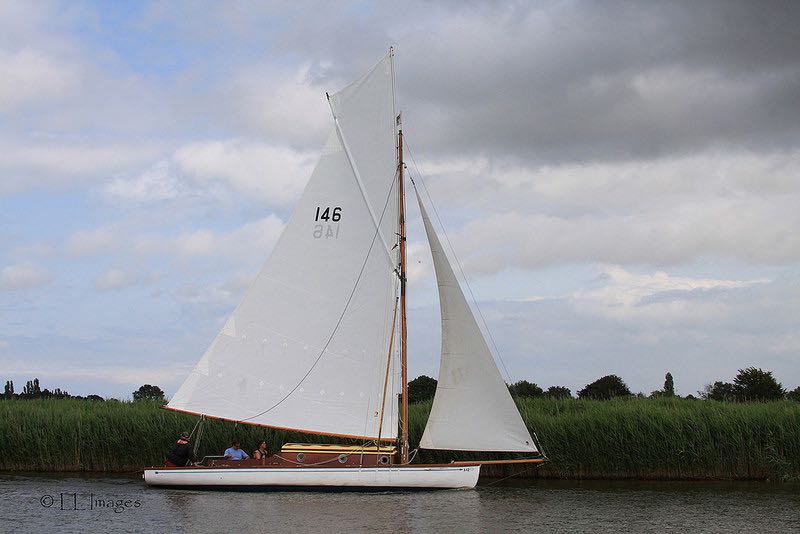 Photo: Sue Hines
Sally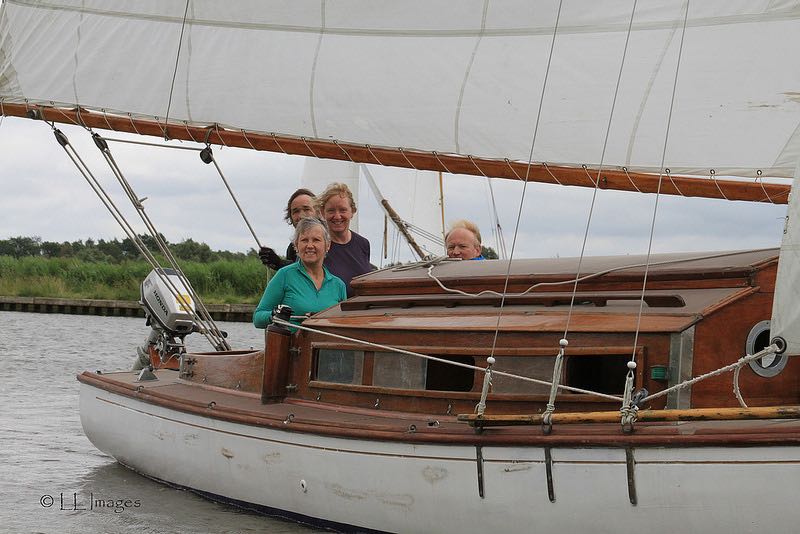 Photo: Sue Hines
Sun Glory crew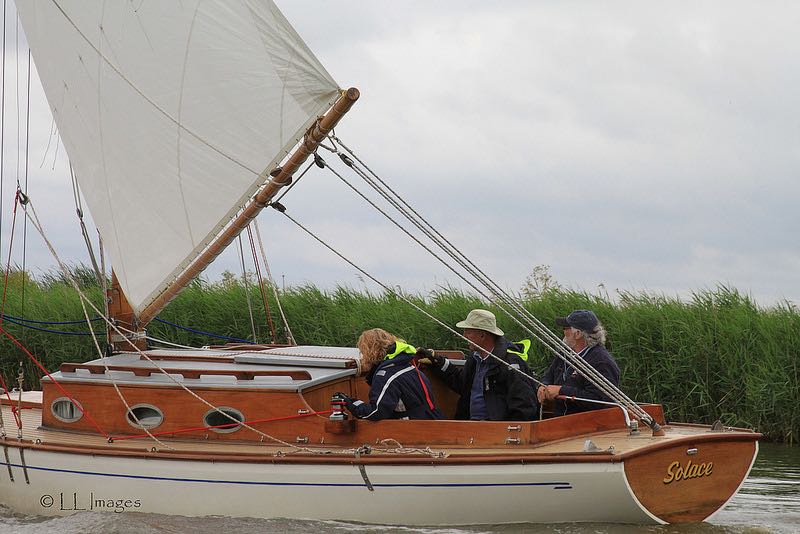 Photo: Sue Hines
Solace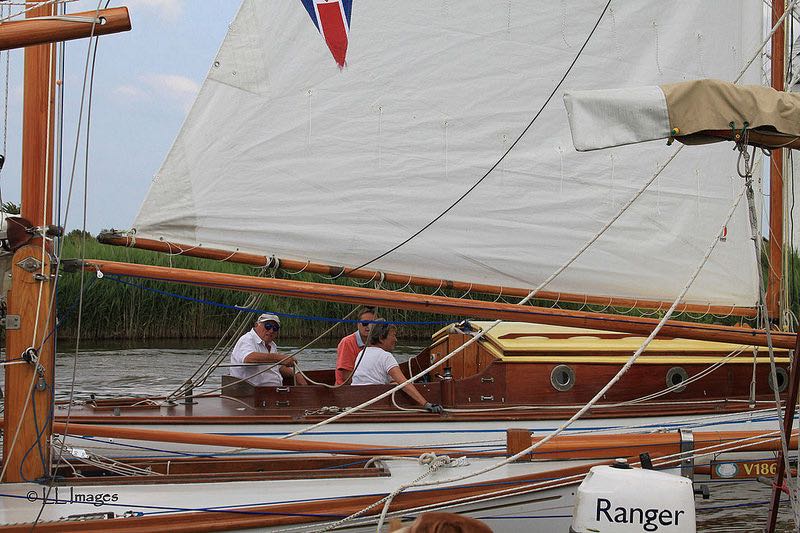 Photo: Sue Hines
Buccaneer crew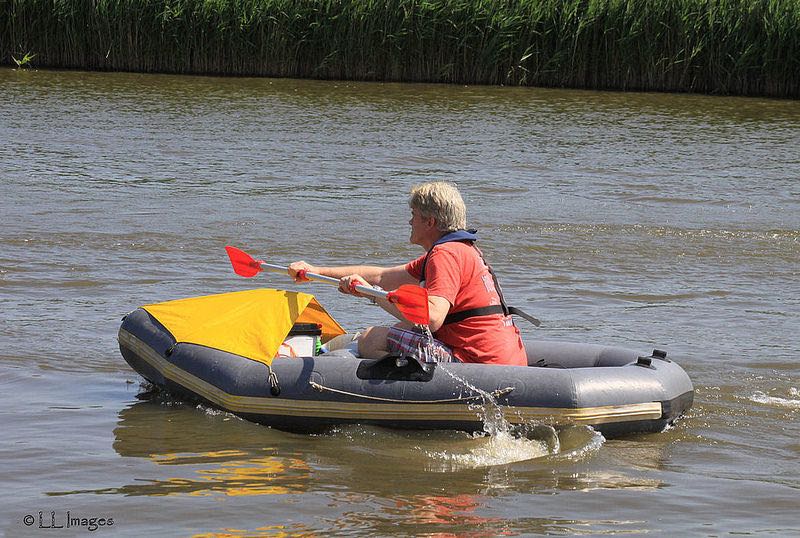 Photo: Sue Hines
T/T Inseinity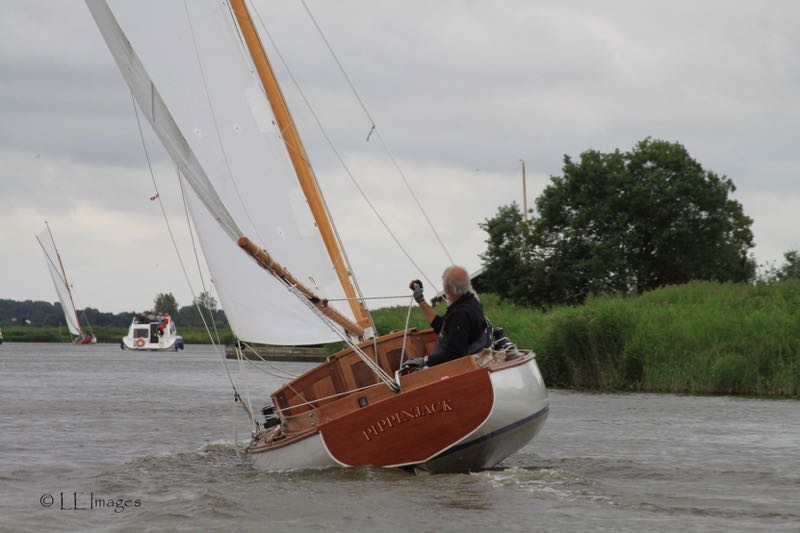 Photo: Sue Hines
Pippinjack
Race 1 Saturday – Roundabout
RCC - Cook Cup
| | | | | | | | | | |
| --- | --- | --- | --- | --- | --- | --- | --- | --- | --- |
| Sail | | | | | Start | Finish | Elapsed | Corrected | |
| No | Boat Name | Helm | Handicap | | Time | Time | Time | Time | Position |
| 146 | Sally | C Markham | -14% | | 12:44:56 | 13:40:52 | 00:55:56 | 00:48:06 | 1 |
| 287 | Solace | D Thompson | -14% | P | 12:42:41 | 13:39:01 | 00:56:20 | 00:48:26 | 2 |
| 307 | Mischief | S Seeney | -7% | | 12:36:12 | 13:29:31 | 00:53:19 | 00:49:35 | 3 (1)* |
| 146 | Sally | S Burton | -14% | | 11:17:22 | 12:16:25 | 00:59:03 | 00:50:46 | 4 (2)* |
| 45 | Buccaneer | R Everitt | -13% | | 12:26:10 | 13:24:50 | 00:58:40 | 00:51:02 | 5 |
| 318 | Pippinjack | J Stevens | -10% | | 12:30:22 | 13:28:30 | 00:58:08 | 00:52:19 | 6 |
| 282 | Sandpiper | C Little | -10% | | 13:29:50 | 14:28:02 | 00:58:12 | 00:52:22 | 7 (3)* |
| 153 | Sun Glory | M Duffield | -14% | P | 12:42:08 | 13:43:48 | 01:01:40 | 00:53:02 | 8 |
| 146 | Sally | J Burton | -14% | | 14:44:26 | 15:49:25 | 01:04:59 | 00:55:53 | 9 |
| 318 | Pippinjack | P Stevens | -10% | | 11:27:48 | 12:30:22 | 01:02:34 | 00:56:18 | 10 (4)* |
| 122 | Martlet | H Franzen | -17% | | 11:46:27 | 12:55:30 | 01:09:03 | 00:57:18 | 11 (5)* |
| 223 | Snowbird | P Stevens | -10% | | 14:48:19 | 15:52:48 | 01:04:29 | 00:58:02 | 12 |
| 287 | Solace | J Aves | -14% | P | 11:18:30 | 12:25:46 | 01:07:16 | 00:57:50 | 13 (Prov) |
| 307 | Mischief | J Ebbage | -7% | | 13:38:30 | 14:41:36 | 01:03:06 | 00:58:40 | 14 |
| 177 | Breeze | C Chettleburgh | 0% | | 11:42:06 | 12:41:01 | 00:58:55 | 00:58:55 | 15 (6)* |
| 45 | Buccaneer | J Burton | -13% | | 11:15:03 | 12:23:48 | 01:08:45 | 00:59:48 | 16 (7)* |
| 122 | Martlet | O Franzen | -17% | | 14:34:00 | 15:48:13 | 01:14:13 | 01:01:35 | 17 |
| 45 | Buccaneer | S Burton | -13% | | 14:31:17 | 15:43:36 | 01:12:19 | 01:02:54 | 18 |
| 153 | Sun Glory | J Edye | -14% | P | 11:12:22 | 12:34:47 | 01:22:25 | 01:10:52 | 19 (Prov) |
| 421 | Crocus | J Bennet | -25% | P | 11:24:20 | 13:38:16 | 02:13:56 | 01:40:27 | 20 (Prov) |
Allcomers - Ebbage Cup
| | | | | | | | | | |
| --- | --- | --- | --- | --- | --- | --- | --- | --- | --- |
| IOI | Inseinity | C Gibbon | -10% | | | | | | 1 |
| | Never Can Tell | C Gibbon | | | | | | | |
* Denotes boats normal helm and position to be used for calculating the results for the John Bradnock Trophy
Race 2 Sunday am
RCC - Roy Pike Trophy
| | | | | | | | | | |
| --- | --- | --- | --- | --- | --- | --- | --- | --- | --- |
| Sail | | | | | Start | Finish | Elapsed | Corrected | |
| No | Boat Name | Helm | Handicap | | No | Time | Time | Time | Position |
| 318 | Pippinjack | P Stevens | -10% | | 1 | 12:17:03 | 01:17:03 | 01:09:20 | 1 |
| 282 | Sandpiper | C Little | -10% | | 1 | 12:17:36 | 01:17:36 | 01:09:50 | 2 |
| 122 | Martlet | H Franzen | -17% | | 2 | 12:30:10 | 01:25:10 | 01:10:41 | 3 |
| 177 | Breeze | C Chettleburgh | 0% | | 1 | 12:10:52 | 01:10:52 | 01:10:52 | 4 |
| 45 | Buccaneer | J Burton | -13% | | 2 | 12:27:20 | 01:22:20 | 01:11:37 | 5 |
| 146 | Sally | S Burton | -14% | | 2 | 12:29:01 | 01:24:01 | 01:12:15 | 6 |
| 287 | Solace | J Aves | -14% | P | 2 | 12:25:49 | 01:20:49 | 01:09:30 | |
| 421 | Crocus | J Bennett | -25% | P | 2 | RTD | 00:00:00 | 00:00:00 | |
Allcomers - Greyhound Cup
| | | | | | | | | | |
| --- | --- | --- | --- | --- | --- | --- | --- | --- | --- |
| IOI | Inseinity | C Gibbon | -10% | | 1 | 12:29:29 | 01:29:29 | 01:20:32 | 1 |
Race 3 Sunday pm
RCC - Filibuster Cup
| | | | | | | | | | |
| --- | --- | --- | --- | --- | --- | --- | --- | --- | --- |
| Sail | | | | | Start | Finish | Elapsed | Corrected | |
| No | Boat Name | Helm | Handicap | | No | Time | Time | Time | Position |
| 177 | Breeze | C Chettleburgh | 0% | | 1 | 14:42:11 | 00:42:11 | 00:42:11 | 1 |
| 318 | Pippinjack | P Stevens | -10% | | 1 | 14:47:23 | 00:47:23 | 00:42:38 | 2 |
| 122 | Martlet | H Franzen | -17% | | 2 | 14:57:01 | 00:52:01 | 00:43:10 | 3 |
| 146 | Sally | S Burton | -14% | | 2 | 14:56:39 | 00:51:39 | 00:44:25 | 4 |
| 282 | Sandpiper | C Little | -10% | | 1 | 14:50:06 | 00:50:06 | 00:45:05 | 5 |
| 421 | Crocus | J Bennett | -25% | P | 2 | 15:37:43 | 01:32:43 | 01:09:32 | |
| 287 | Solace | J Aves | -14% | P | 2 | 14:56:25 | 00:51:25 | 00:44:13 | |
| 45 | Buccaneer | J Stamps | -13% | | 2 | RTD | 00:00:00 | 00:00:00 | |
| | | | | | | | | | |
Allcomers - International 14 Trophy
| | | | | | | | | | |
| --- | --- | --- | --- | --- | --- | --- | --- | --- | --- |
| IOI | Inseinity | C Gibbon | -10% | | 1 | 14:51:29 | 00:51:29 | 00:46:20 | 1 |
Some Photos from Roger Everett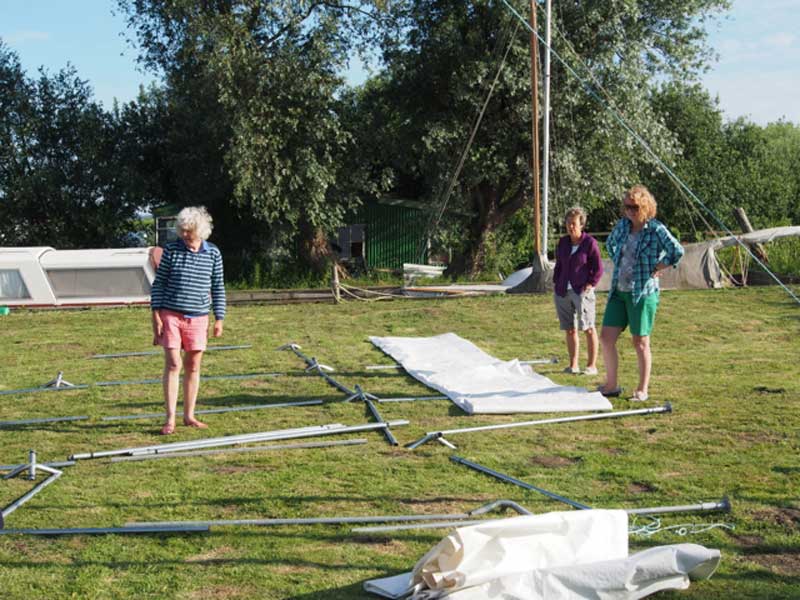 We'll just stand and watch Lesley. Let's see how long it takes her to work it out!
With suitable refreshment things do begin to get sorted..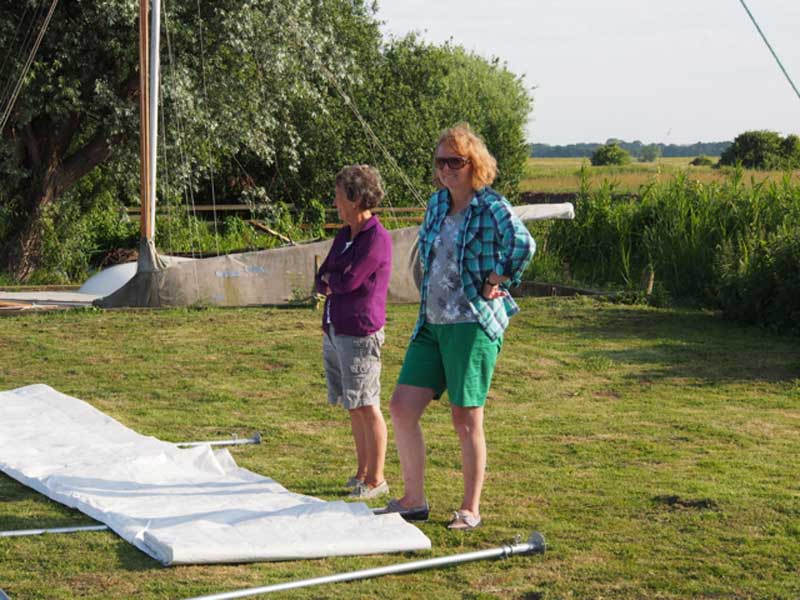 She's doing quite well now. Let's keep watching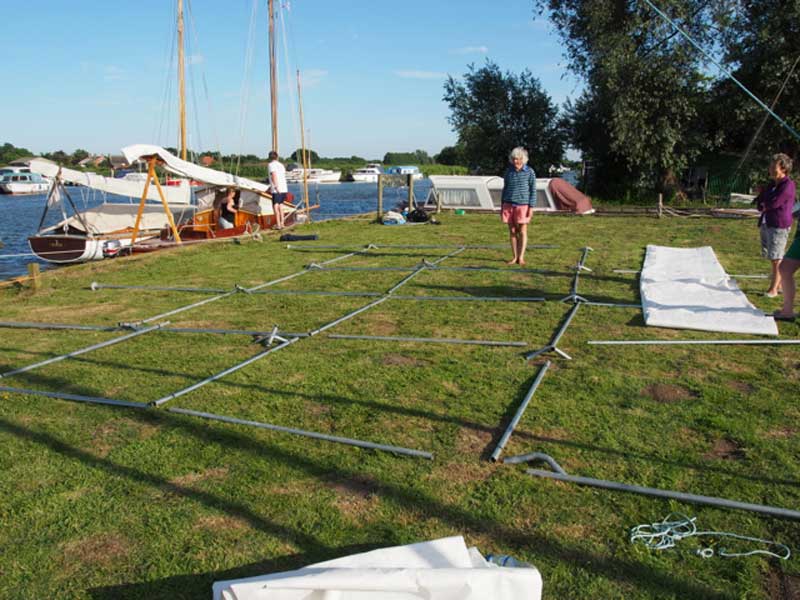 Right Jane. Remember the rules. Throw the stone and then one hop in each square.
The men, meanwhile, were engaged in more serious matters!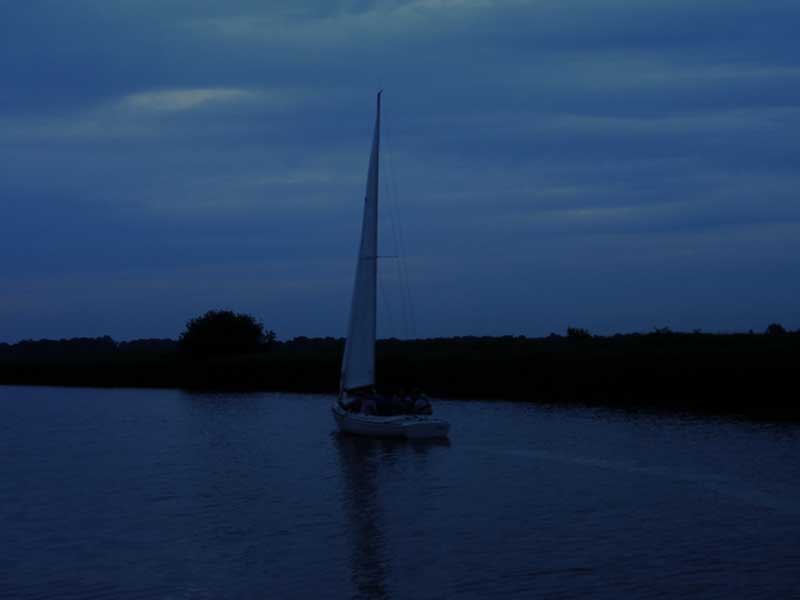 The 'responsible adults' in the party went for a sail at 10:30pm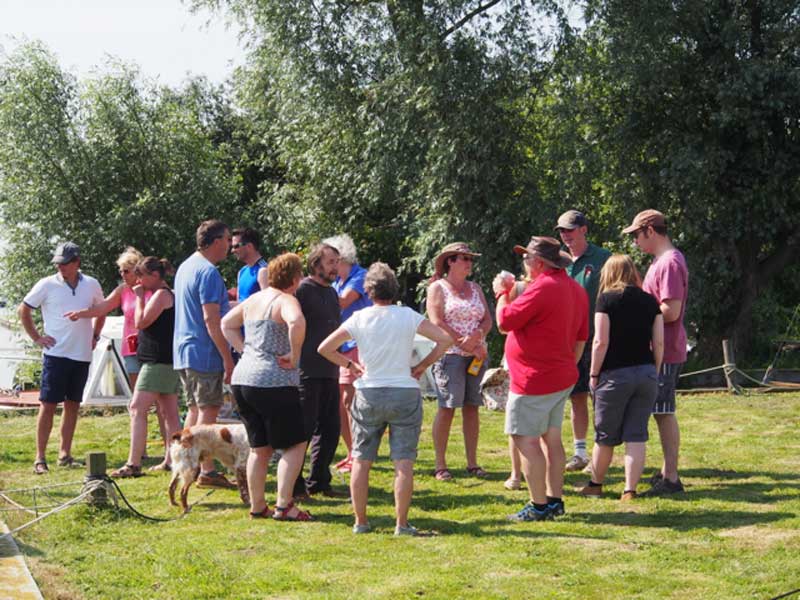 Time for a mardle before the racing begins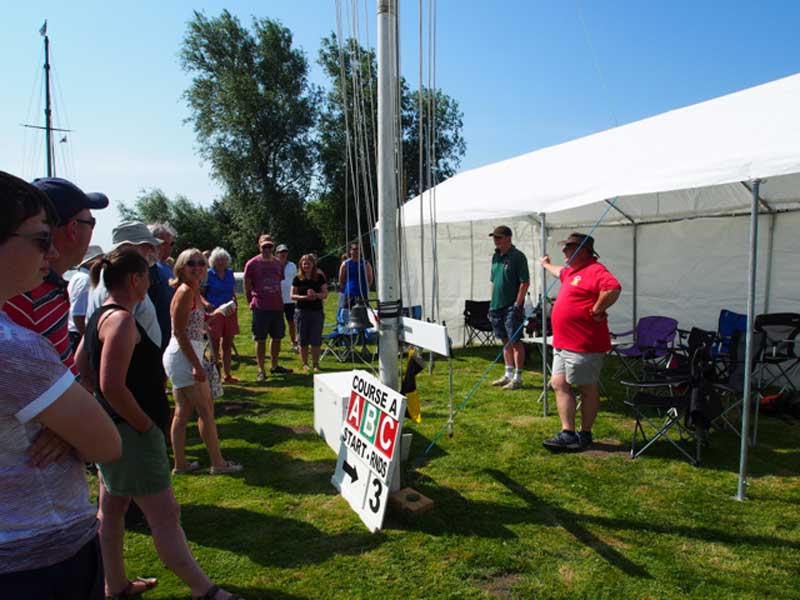 OODs briefing and a chance for EACC to try out the new extra strength tent support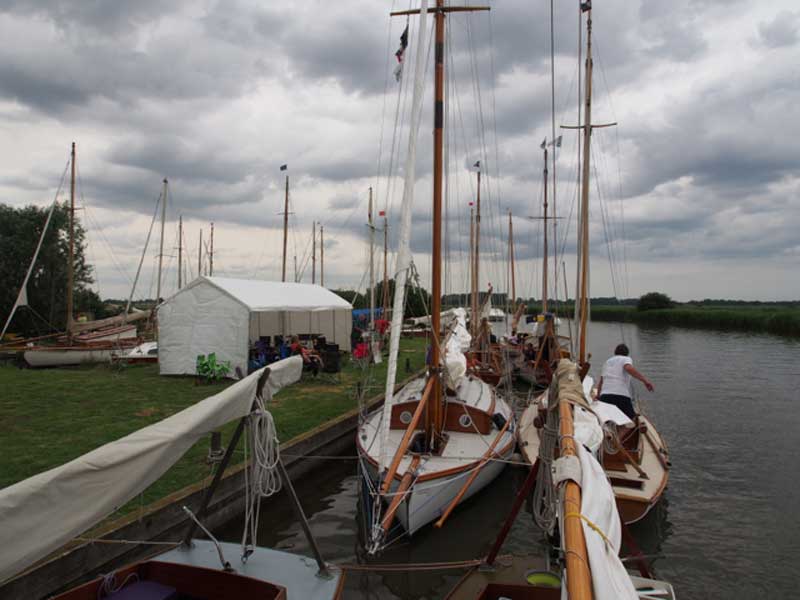 A good turnout of boats for the summer regatta
MALCOLM'S BLOG
Some people sail for the enjoyment of the wind upon the sails. Some for the fellowship of their fellow crew members (something alien to me I admit). Some just to be on the water and have lots to drink. Me, I sail for the (Sun) Glory of it all.
For some reason HJ can not make the weekend (but could the Thursday and Friday just before) and because I knew well in advance I made other arrangements. Mr SG had asked me some time ago if I would do the Roundabout with him and said it was the end of June, so I said yes. It turned out that he did not mean the RCC open after all but the Summer Regatta. So again I said yes.
It turned out that CTJ (see RCC open report) was also short of a crew, apparently too many keel haulings had started to put people off, and in desperation asked me. I explained that I was already committed to a Gloryous Saturday but was not sure if it would carry on to the Sunday. As it happens SG will be cruising on the Sunday.
I contacted cabin boy Steve to let him know and to pass this on to CTJ, who was apparently trying to find his lost treasure in Jersey.
As usual the weekend started on the Friday evening. I spent the day sailing on Wherry Yacht Olive with Dr Tom, some crew and a mystery passenger. We went from Wroxham to Ranworth. It was a lovely day. On return to Thurne Snowbird was at Thurne Staithe loading cargo. When it reached the gunnels they put the rest of the Buds back into the bond warehouse for next time. I was invited over but could not go as I wanted to be up early. Nick said something about I could be up early in the morning over on site.
Saturday arrives and I go to the Hunter Yard to collect my life jacket as I had left it there. Here I meet the present Mr & Mrs Moss Rose who were putting a new halyard on. On return I get a lift over from people who have used the wonderful Thurne facilities. It turns out there had indeed been an early morning. A good number of boats are present, which is good to see. Pixie crew are race officers and for something different we have A near Black Mill, B up towards St Benet, and C towards Cold Harbour. All to be taken to Port.
Sun Glory Arrives and we decide to start as soon as possible to get 2 rounds in at least. Mr Glory helms first round when the wind was a bit here and there. I helm 2nd round when the wind is stronger and more consistent (I think that's what Jo told me to write). Mossy has a slight rig failure and has to retire. Luckily Nick has a sort of replacement which he gets whilst Paul heads off to Norfolk Mortgage Services to get a new bit.
I thought I was bad enough. As Paul Brent and others sweat and curse and get the new gaff sorted out Ms Nuneaton jumps ship to Sally and goes off sailing. Only came in first, she must try harder. I managed a creditable 8th on Sun Glory which I was well pleased with
In the afternoon the Cabin boy asks if I will crew him on Buccs. It was suggested that perhaps he could crew me, but he was not too keen on that idea. Still a sail is a sail.............
It turns out that CTJ's crew are unable to join us on Sunday so I will be rejoining. As I leave the moorings the BBQ is being got ready, and it looks like it will be a long night.
Apparently there was fun and frivolity and lots of out of tune singing, spoilt by a couple of people singing in harmony. How many times can you sing Edelweiss and Hey Jude?
Sunday comes and it is a bit wet to start with. 9 boats are racing today, in 2 starts. We are in start 2. There was some close sailing and only one loud shout of starboard which could be heard over the running commentary provided by Mr Pixie on Sally.The wind was quite steady although there were one or two strong gusts to make it interesting. One or two boats got close together at B mark which was fun.
In between races we have lunch CTJ invites me for a beer, and to show there is no hard feelings about yesterday produces an empty bottle, charming. It is also CTJ's 3/4 birthday on Wednesday and he kindly produces 2 cakes and some wine which is shared around between us.
Race 2 is the same course, and we therefore started in the same manner, behind most of our start and getting the dirty air from them. The rain came back towards the end of the afternoon race and as Buccs headed up to the C mark I noticed a quant gently swaying in the breeze like a pendulum, and then saw it was attached to a shroud which was also gently swaying. Into the reeds, sail down and get the shroud back into position without any damage. Not to worry CTJ says I we weren't winning anyway.
Back on the moorings the tent which would have provided shelter from the rain had been put away. The results were given out individually and so please see the results section.
That is it until the October regatta so far as racing is concerned. See you in 3 months.