SPRING REGATTA REPORT 2015
Scroll down for full results
All photos by Sue Hines. Click here to see more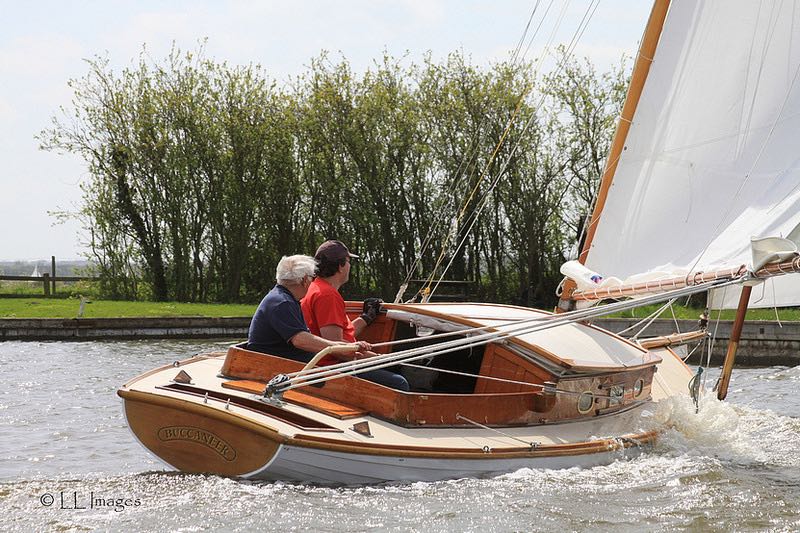 For a change the first competitive event of the season wasn't blown off, even in part, not that we were short of wind which built up during the day to marginal reefing conditions. Thirteen River Cruisers and a Dragon made it one of the best turnouts for a Spring Regatta for some years. In addition to the two normal Trophy races for the Morning Tankard and Afternoon Tankard for River Cruisers and the allcomers' Thurne Challenge Cup for the morning and afternoon races combined, we staged a third race back to back with Race 2 in order to help two of our members with newly acquired River Cruisers on provisional handicaps to have them ratified in time for Thurne Mouth Open Regatta. Colin Little in Sandpiper completed all three races with some success, and would have won the second race and taken second place to Steve Seeney in Mischief in the third had he not been on a provisional. John Burton in Buccaneer completed two races and will hope to complete a representative race at Acle next weekend in order to be ratified.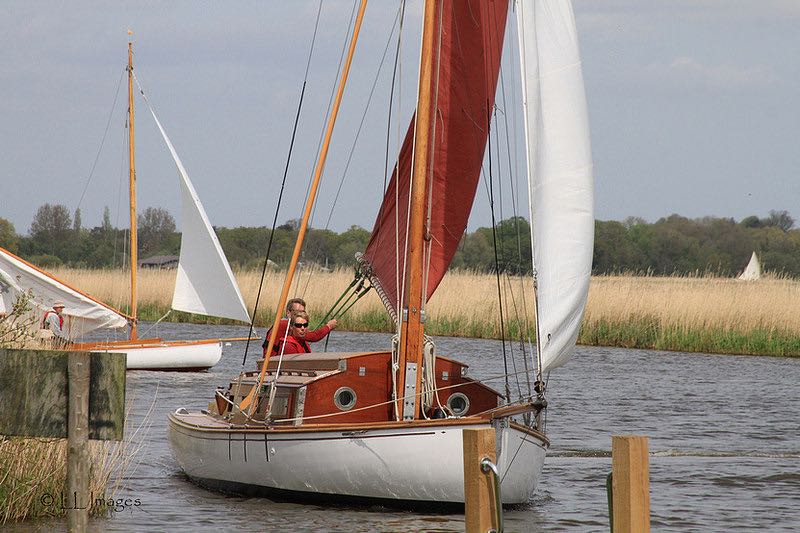 In the first race which was made more interesting with Horning Sailing Club competing for a down river race on the same water, a challenging breeze built up and with all boats under full rig, a couple of mishaps put Nick Wiggins with Snowbird and John Burton in Buccaneer out of the race. It was won by Adrian Lincoln in Pixie taking the Morning Tankard, second David Thompson in Cordon Rouge and third Tom Moore in Pirate.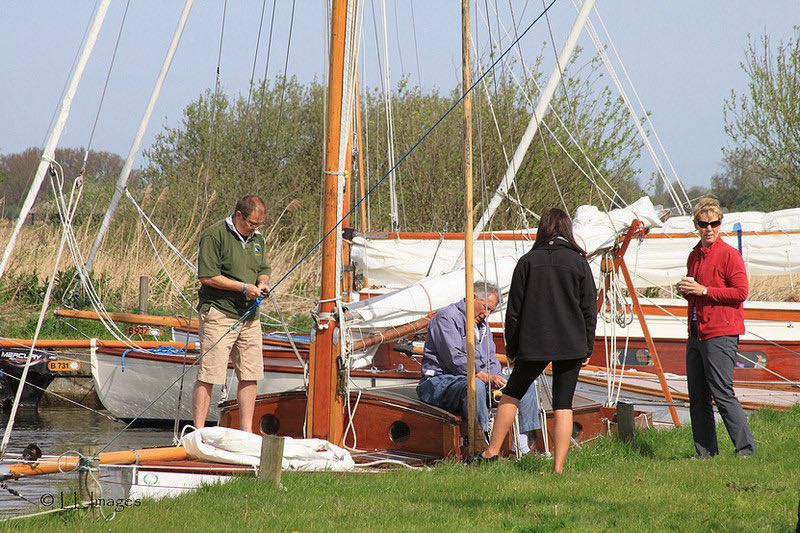 After lunch reefs were employed by some of the fleet for the second race which was delayed by 15 minutes to allow Horning Sailing Club to to clear the water. Mischief having made some running repairs forgot to tie the main to the top of the gaff and was forced to retire soon after the start. Sandpiper carried her full rig to what would have been victory from David Thompson in Cordon Rouge who took the Afternoon Tankard as the first ratified boat and John Holmes in Sabrina II third.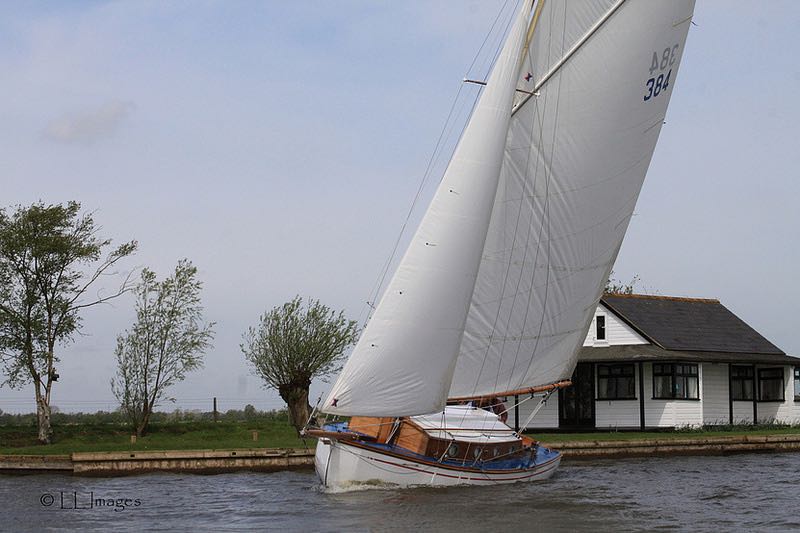 The third race for which beer prizes were presented was won by Mischief just 12 seconds ahead of Sandpiper on corrected time with Cordon rouge in third.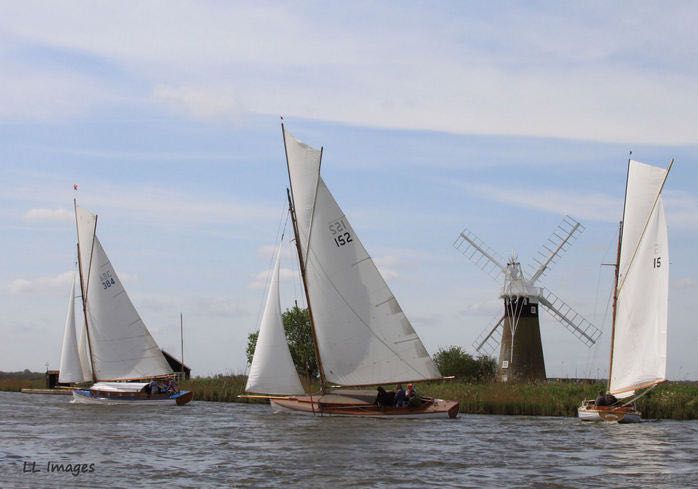 It was gratifying to have an entry for the allcomers Thurne Challenge Cup. Andrew Gill in his Dragon, A Momentry Lapse of Reason, who sailed with the River Cruisers on a handicap of 10% in the first race. This was subsequently adjusted to 8% following a convincing win. Never-the-less he would still have won in the subsequent two races had he been a River Cruiser. He wins the Thurne Challenge Cup for his efforts and it is hoped we can encourage more of our allcomers to turn out for the Summer and Autumn Regattas.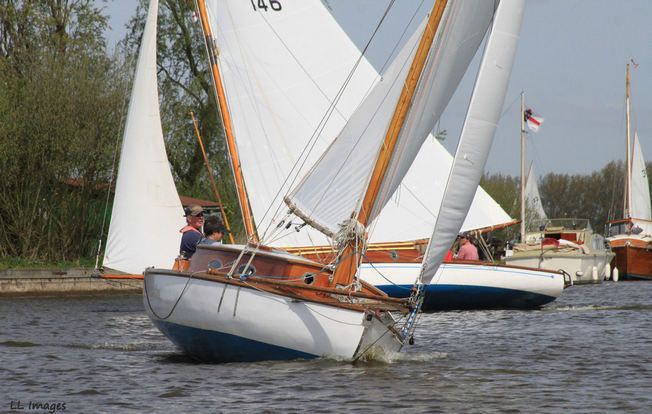 All in all a good days sailing in good wind on a relatively warm and bright spring day. Thanks for all the help given by everyone in setting up and and clearing away. And to Lisa Burton for help in getting the flagpole down. Hope the bump is not too sore Lisa.
Paul Stevens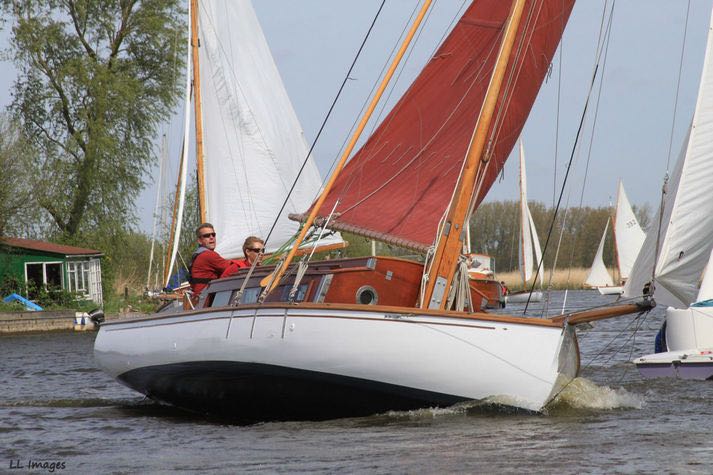 RESULTS
RACE 1

RIVER CRUISERS - MORNING TANKARD

Sail

No

Boat Name

Helm

Handicap

Start

No

Finish

Time

Elapsed

Time

Corrected

Time

Position

151

Pixie

A Lincoln

-16%

3

12:28:08

01:18:08

01:05:37

1

384

Cordon Rouge 1

D Thompson

-8%

1

12:11:47

01:11:47

01:06:02

2

15

Pirate

T Moore

-8%

1

12:13:14

01:13:14

01:07:22

3

307

Mischief

S Seeney

-7%

1

12:12:50

01:12:50

01:07:44

4

146

Sally

S Burton

-14%

3

12:31:41

01:21:41

01:10:14

5

106

Westward V

C Markham

-11%

2

12:24:23

01:19:23

01:10:39

6

152

Sabrina 2

J Holmes

-7%

1

12:16:17

01:16:17

01:10:56

7

142

Bishy Barnabee

J James

-19%

3

12:39:11

01:29:11

01:12:14

8

392

Barney Too

R Culling

-25%

3

12:52:17

01:42:17

01:16:42

9

421

Crocus

S Bennett

-25%

P

3

13:05:51

01:55:51

01:26:53

282

Sandpiper

C Little

-11%

P

2

12:21:16

01:16:16

01:07:52

45

Buccaneer

J Burton

-13%

P

2

RTD

00:00:00

00:00:00

223

Snowbird

N Wiggins

-10%

2

RTD

00:00:00

00:00:00

ALLCOMERS - THURNE CHALLENGE CUP (1st of two races)

F148

Dragon MLOR

A Gill

-8%

2

12:17:19

01:12:19

01:06:31

1
RACE 2

RIVER CRUISERS - AFTERNOON TANKARD

Sail

No

Boat Name

Helm

Handicap

Start

No

Finish

Time

Elapsed

Time

Corrected

Time

Position

384

Cordon Rouge 1

D Thompson

-8%

1

14:56:33

00:41:33

00:38:13

1

152

Sabrina 2

J Holmes

-7%

1

14:57:29

00:42:29

00:39:30

2

106

Westward V

P Markham

-11%

2

15:06:41

00:46:41

00:41:32

3

151

Pixie

A Lincoln

-16%

3

15:15:47

00:50:47

00:42:39

4

146

Sally

S Burton

-14%

3

15:15:26

00:50:26

00:43:22

5

142

Bishy Barnabee

J James

-19%

3

15:22:30

00:57:30

00:46:34

6

282

Sandpiper

C Little

-11%

P

2

15:02:06

00:42:06

00:37:28

45

Buccaneer

J Burton

-13%

P

2

15:06:18

00:46:18

00:40:16

307

Mischief

S Seeney

-7%

1

RTD

00:00:00

00:00:00

ALLCOMERS

F148

Dragon MLOR

A Gill

-8%

2

15:00:43

00:40:43

00:37:27

1
RACE 3

RIVER CRUISERS - Beer Prizes

Sail

No

Boat Name

Helm

Handicap

Start

No

Finish

Time

Elapsed

Time

Corrected

Time

Position

307

Mischief

S Seeney

-7%

1

16:19:03

00:49:03

00:45:36

1

282

Sandpiper

C Little

-11%

P

2

16:26:28

00:51:28

00:45:48

2

384

Cordon Rouge 1

D Thompson

-8%

1

16:20:14

00:50:14

00:46:12

3

45

Buccaneer

J Burton

-13%

P

2

16:28:35

00:53:35

00:46:37

4

146

Sally

S Burton

-14%

2

16:32:35

00:57:35

00:49:31

5

ALLCOMERS

F148

Dragon MLOR

A Gill

-8%

2

16:23:13

00:48:13

00:44:21

1