AUTUMN CRUISE 2015
A report by Lisa Burton with photos by Roger Everett except where otherwise stated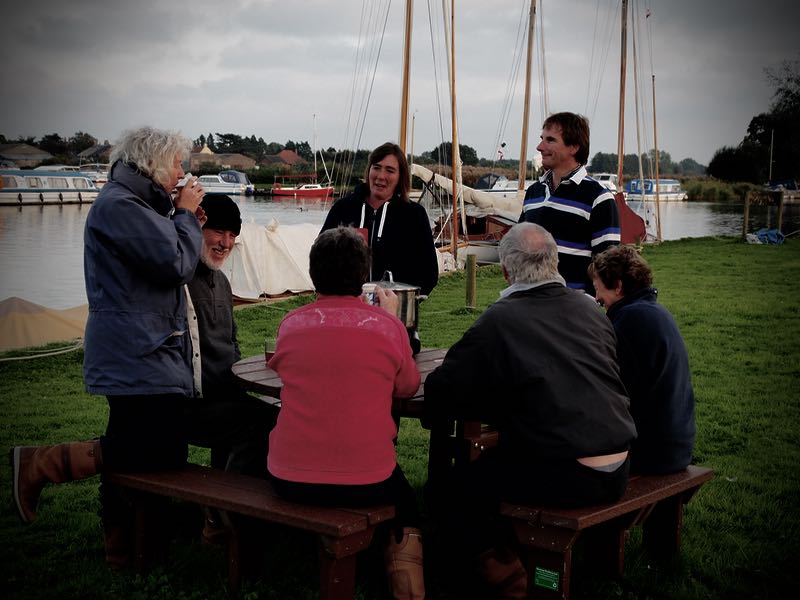 This year's Autumn Cruise began much as has done in previous years with a few hardy sailors meeting at the EACC moorings. On Sally's arrival Ranger and Pippinjack looked like they had been there a while waiting for cruise leaders to arrive. Once moored, Paul did make a gentle enquiry about the promise of mulled cider. Steve duly got the pan of cider mulling nicely. Pixie's arrived as soon as they could smell the cider across the river bank. An evening of general good natured banter commenced. As the darkness and the damp arrived Rangers decided they would retreat to their boat and watch a DVD (all mod cons on Ranger).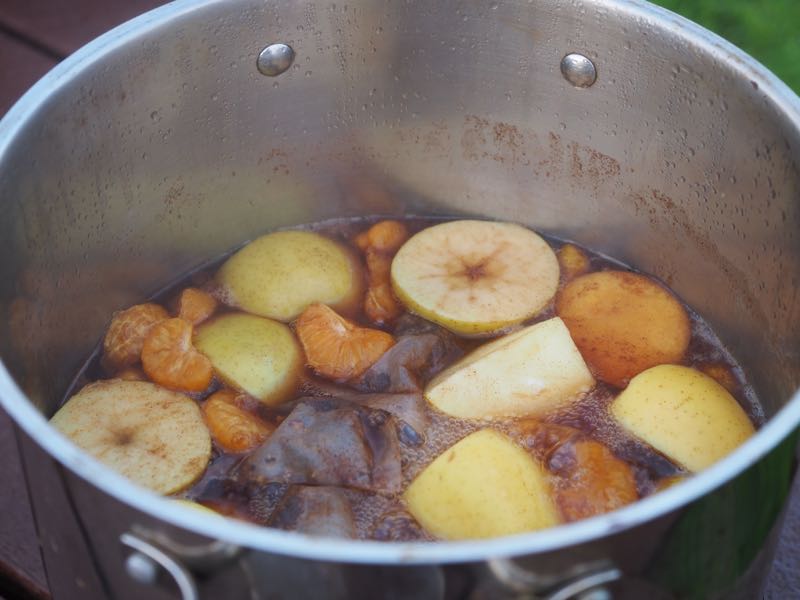 The mulled cider had all disappeared so we had no option but to begin on wine and beers. During the evenings conversation it was established that it was very difficult to overtake Pixie as she sails with her elbows sticking out! That's a new way to describe overtaking a sailing boat.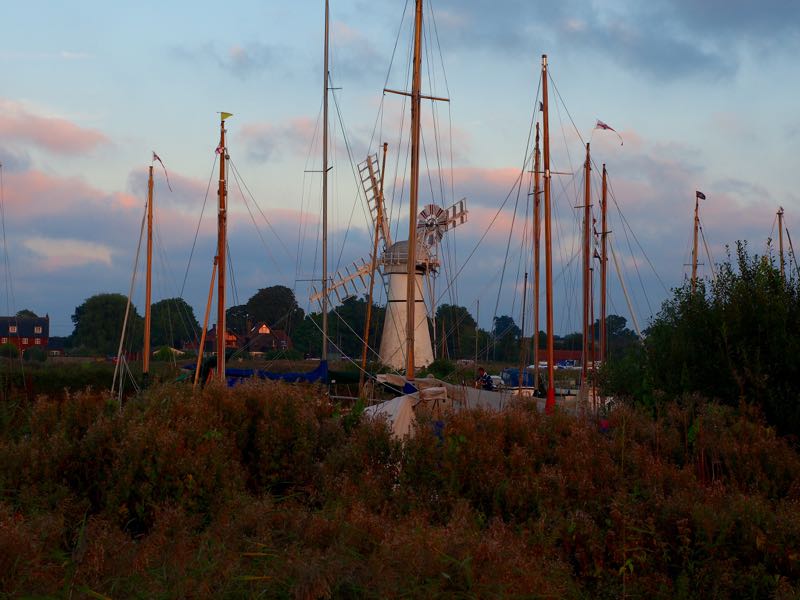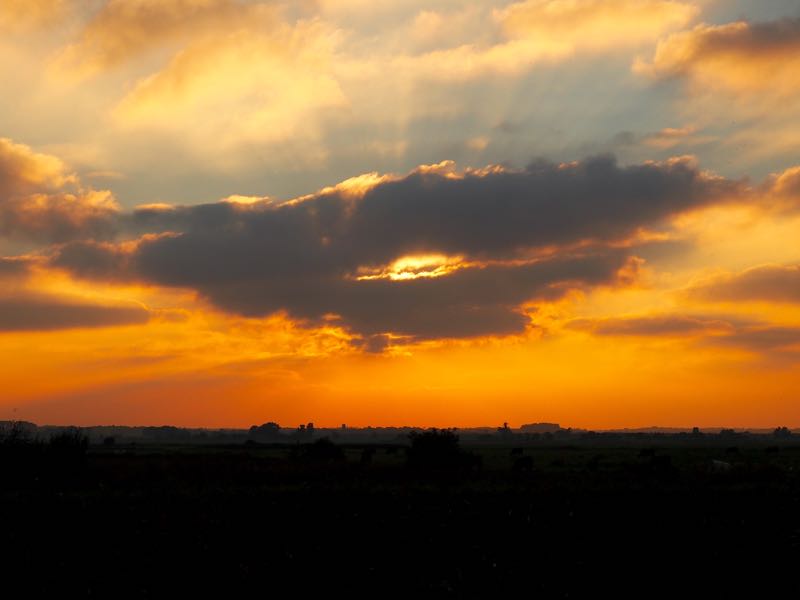 Saturday morning dawned with a beautiful misty sunrise and Pixie's preparing to sneak back home to shower in the warmth!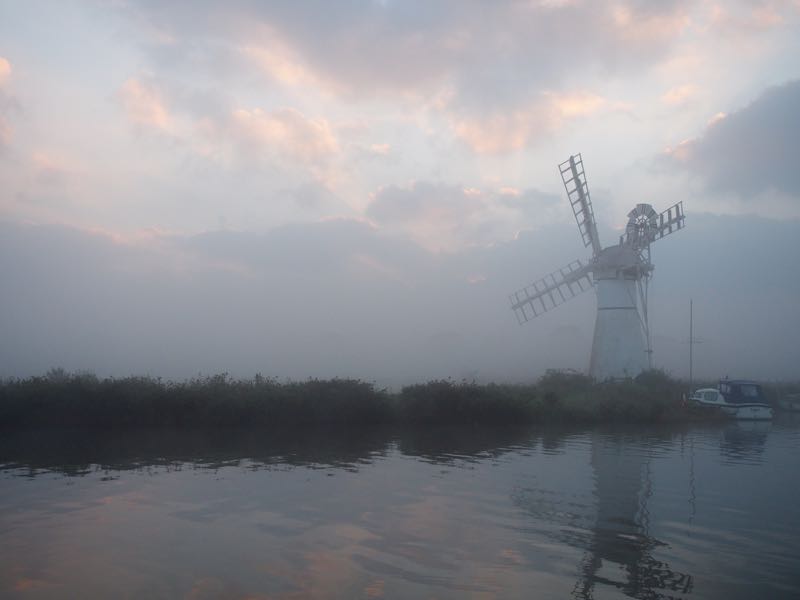 Buccaneer arrived with his crew Mr & Mrs Duffield. Great to see Liz enjoying the cruise and Malcolm's banter for the weekend! Mischief helm and crew arrived a short while later. Once all on the EACC moorings a very brief briefing was given to those preparing to take advantage of the little wind we had and set sail for Ludham Bridge.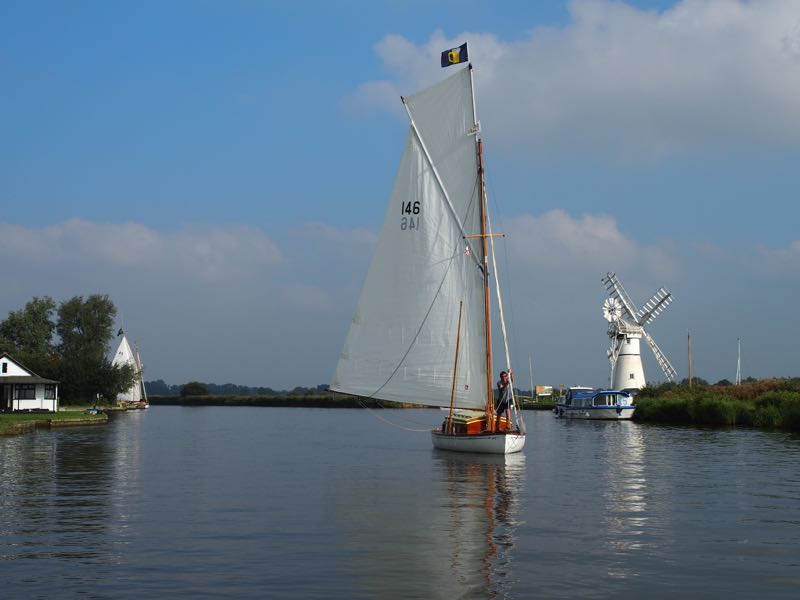 The task set was for all boats heading off to Gay's Staithe to spot the birds that had been left en route. We explained that they may need green books to identify the birds. With confused looks, off we all set. Some stopping at St Benets and others opting to carry on through to Ludham Bridge.
At St Benets Sally moored up to await the arrival of the rest of the cruise. Bishy Barnaby moored badly to ensure space for other boats wanting to moor. Sandpiper motored down and said he would carry on through Ludham Bridge. Hanging from the shrouds of Sally I attempted to brief Colin and Frankie on the task set for the day. Slantendicular attending their first EACC cruise sailed up towards St Benets with Snowbird, Moss Rose, Mischief and Buccaneer all in hot pursuit. Again I was briefing boats as they sailed (rather slowly past St Benets).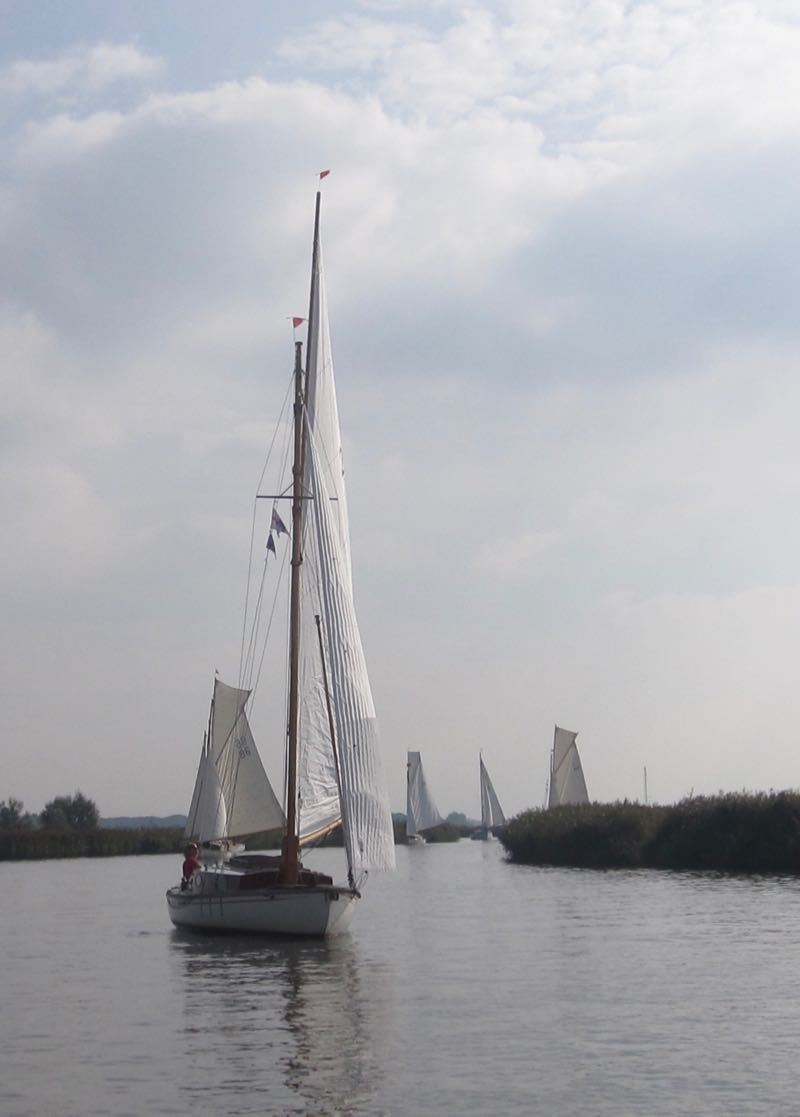 Photo: Jane Stevens
Looks like Sally and Bishy didn't need to moor badly as all sailed past catching the little wind that was available.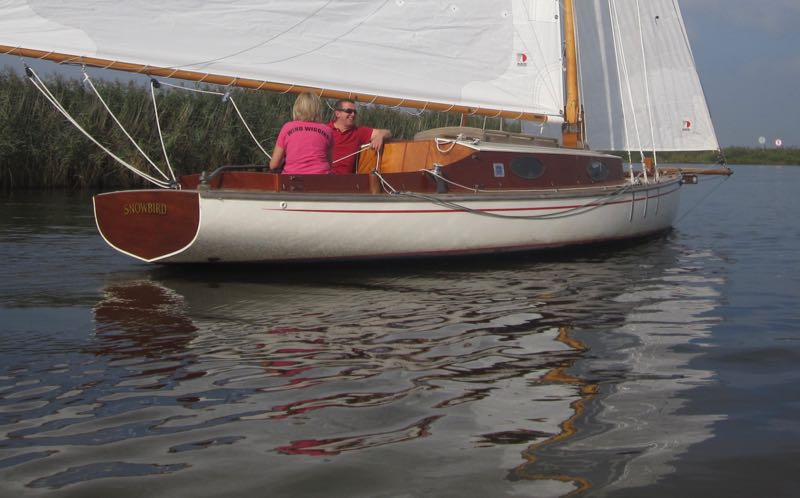 Photo: Jane Stevens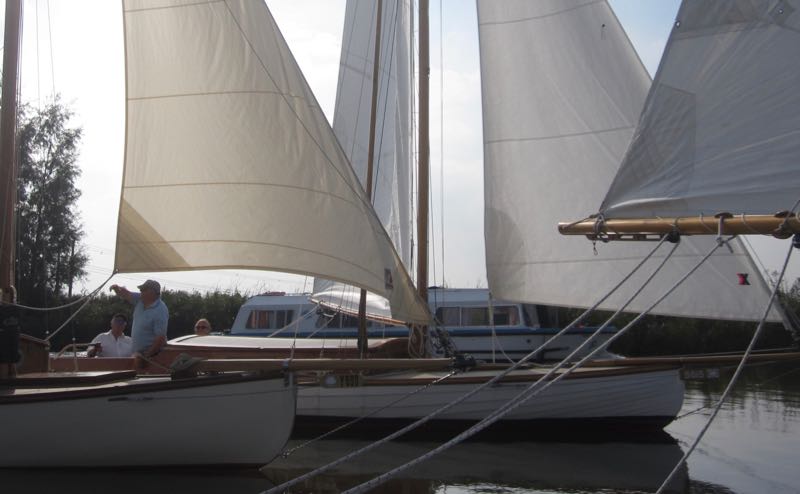 Photo: Jane Stevens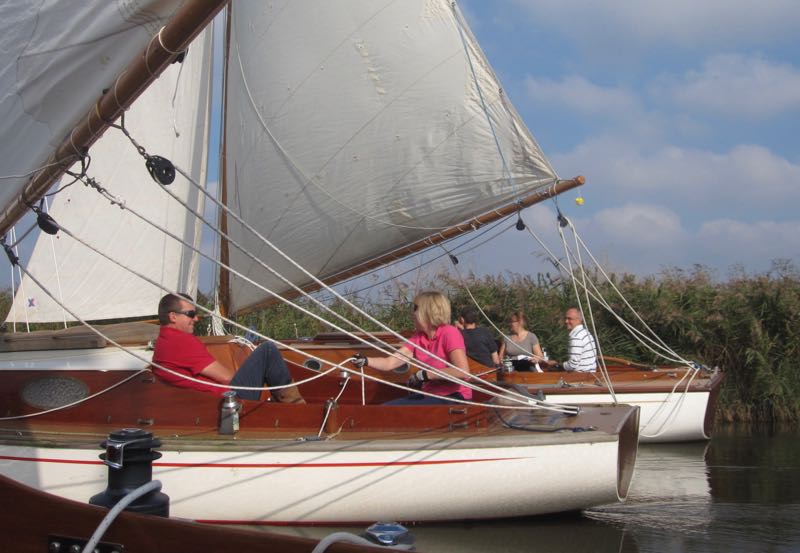 Photo: Jane Stevens
Once through Ludham Bridge some boats moored to raise masts and others continued on their way to destination. Some made further enquiries about the birds and how they would find them; on realising that some clues had been missed Frankie took a stroll back through Ludham Bridge to see if she could locate some missing birds. Pixie motored back towards the bridge asking if one of the birds had fallen off its perch. We confirmed that it had unfortunately fallen from its post.
Word had reached us that Brunette had gone on ahead and Saskia (aka Cordy Rouge) would meet us at Gay's Staithe. A good attempt was made by some boats to sail from Ludham Bridge others motored enjoyed the scenery and searched for birds.
As we got to Barton Broad some took advantage of a little breeze and had a sail around the broad. Others went straight to Gay's staithe to bag moorings.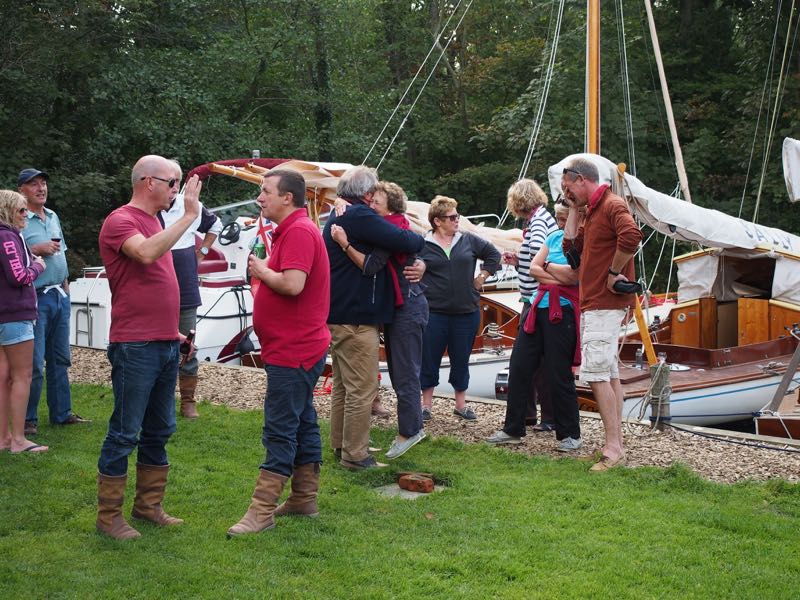 In true EACC style Saskia and Brunette had moored badly ensuring that all boats were able to moor with ease. Sails were put away and the wine, beer, tea and coffee commenced.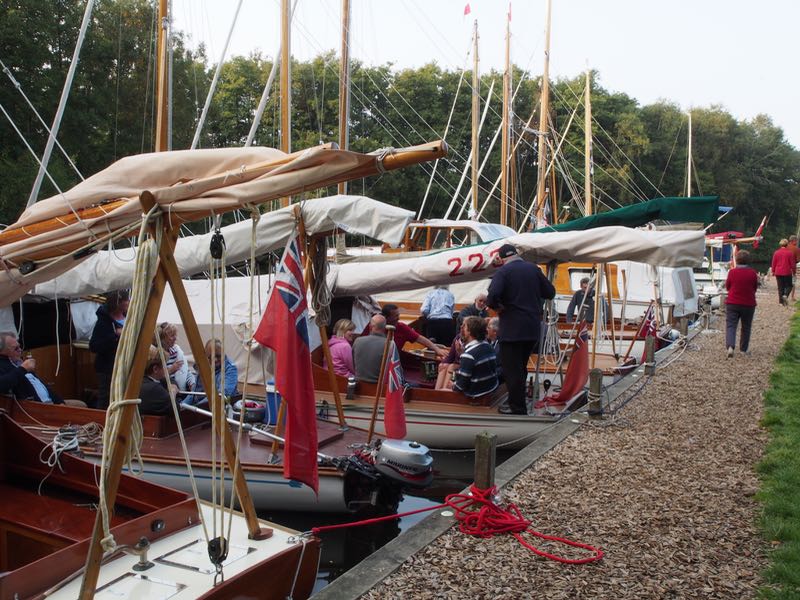 During the afternoon more boats arrived with Swallowtail, Breeze and Sun Glory arriving to join the already full moorings. But there is always room to moor another few boats no matter how full the moorings look.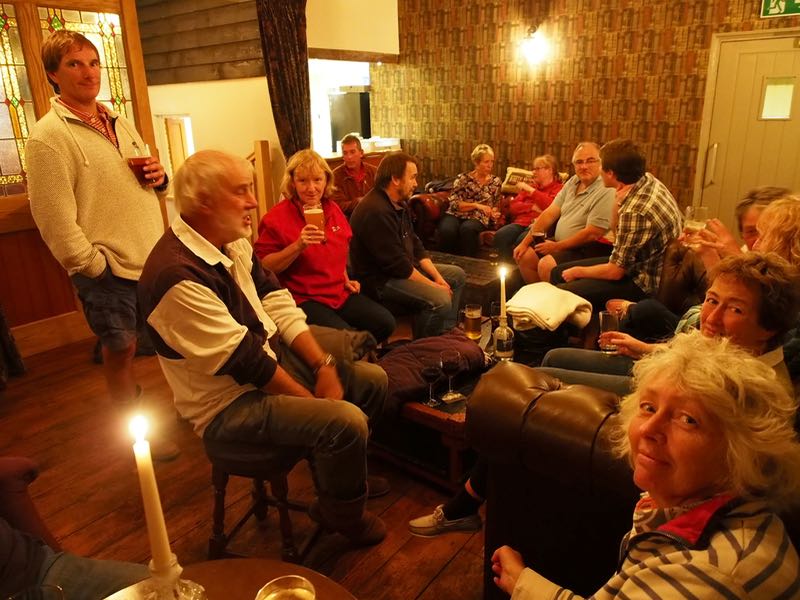 As darkness began to fall it was time to head off to the pub. A few people managed to bag a lift but most enjoyed a lovely walk to The White Horse in Neatishead.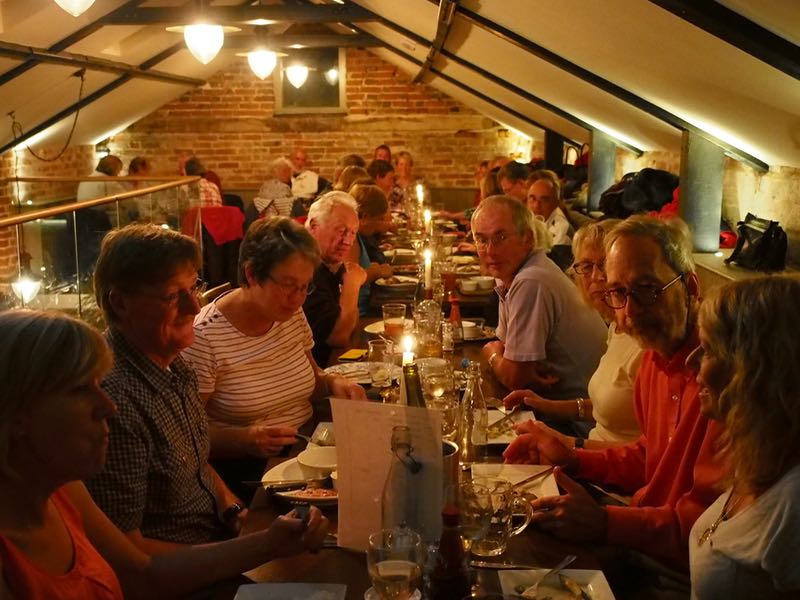 A great evening of banter, great food and great service began.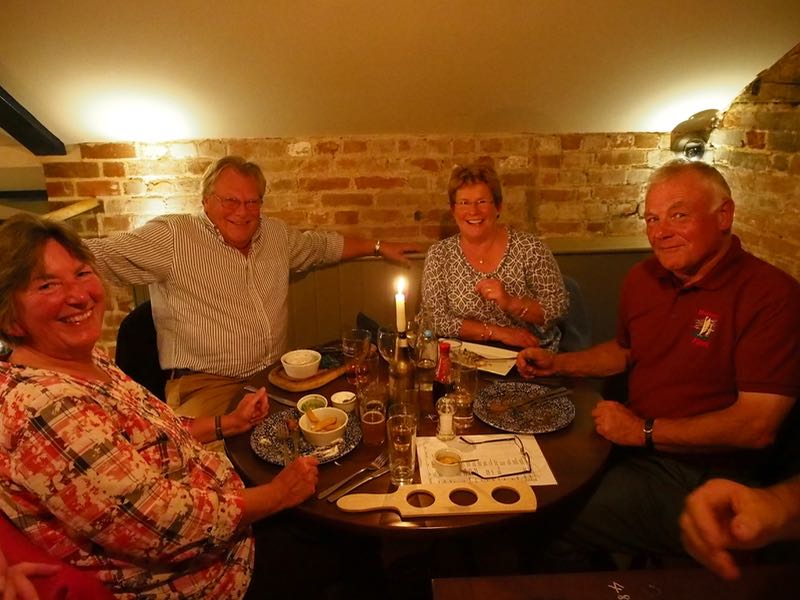 Skipper gave his usual speech and informed the group that there would be a briefing on Sunday morning. A walk back to the moorings after plenty of food and drink did cause a bit of tacking by some members of the group. When we arrived back at the moorings all was quiet from the EACC boats. Off to bed ready for the briefing next morning.
Woke up Sunday morning hoping for strong breezes which were never going to happen! At precisely 10.15 am a sharp blast on Nick's horn, everyone gathered round in anticipation of the days racing.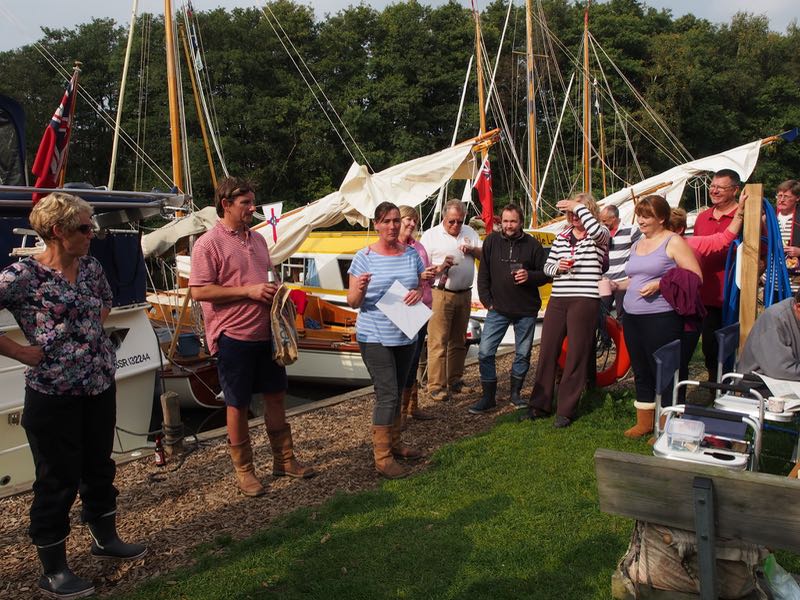 Little did anyone think they would be split into groups of 8 to build Tower Bridge. Lots of ooh's and aah's later the teams got into their huddles and the building began.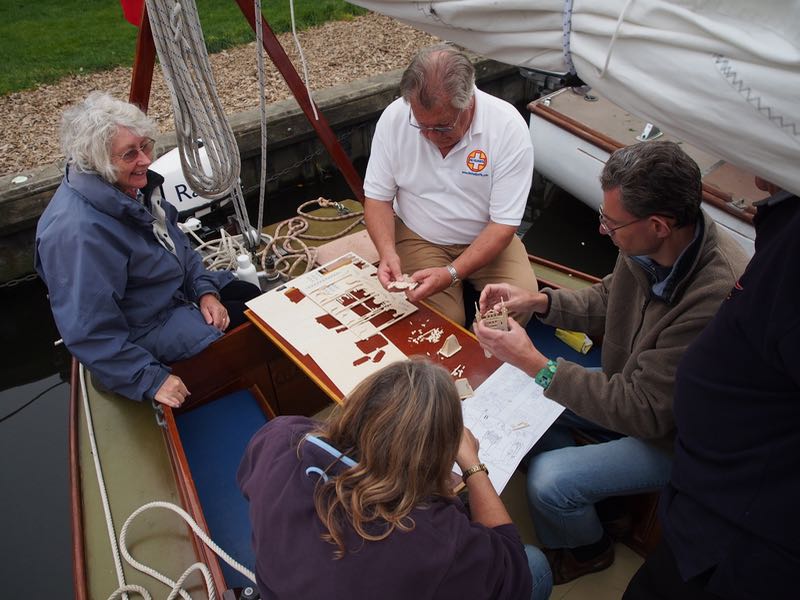 Competition was in true EACC style!!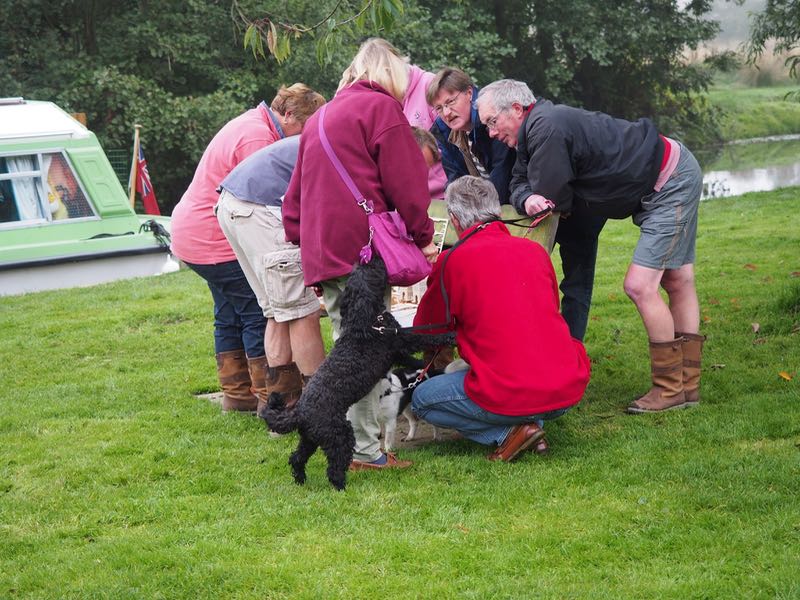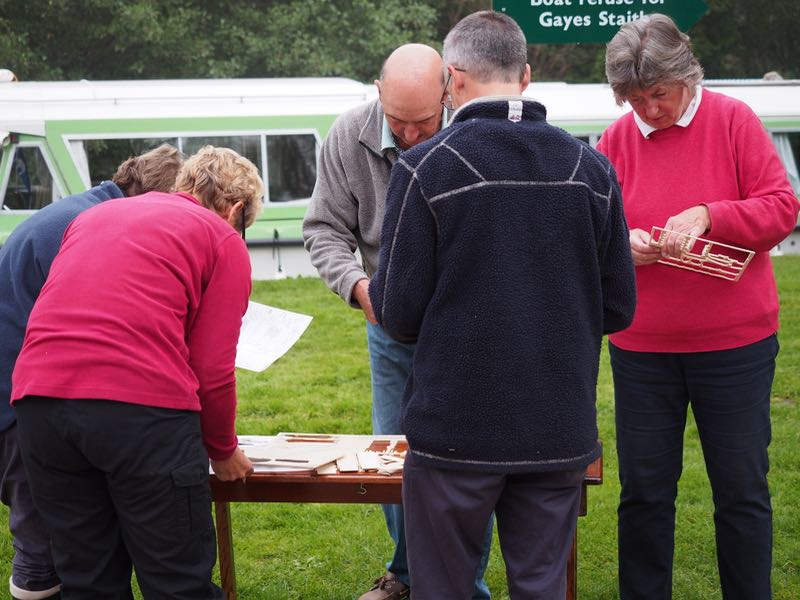 Much to our surprise the teams built their models pretty much as they should be (with a few additions added to some) and boats were prepared to quant, paddle and sail to The Punt Club pontoon, where all 4 teams took photographic evidence that their models made it to the pontoon in one piece.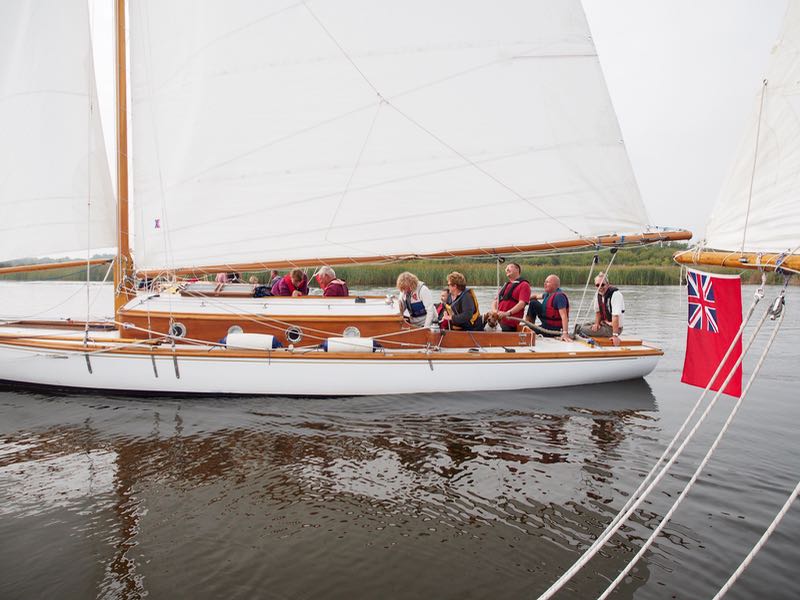 Rumours were that Slantendicular wanted to lighten their load by throwing a crew member overboard, only to realise it were their best quanter they had and had to retrieve him again. Order of return was Breeze, Slantendicular, Ranger and Snowbird. A short quiz took place by all teams on their return.
An independent adjudicator judged the models - thank you to the boat moored on the opposite side of Gay's Staithe.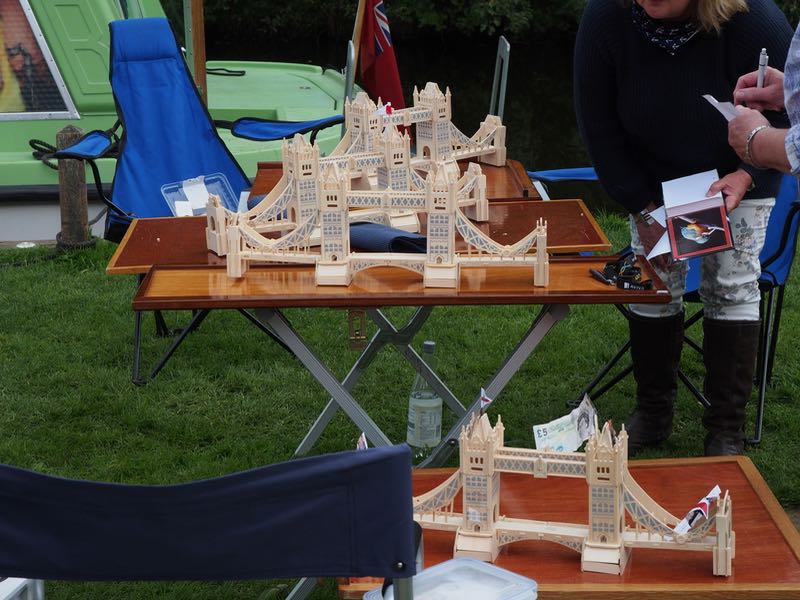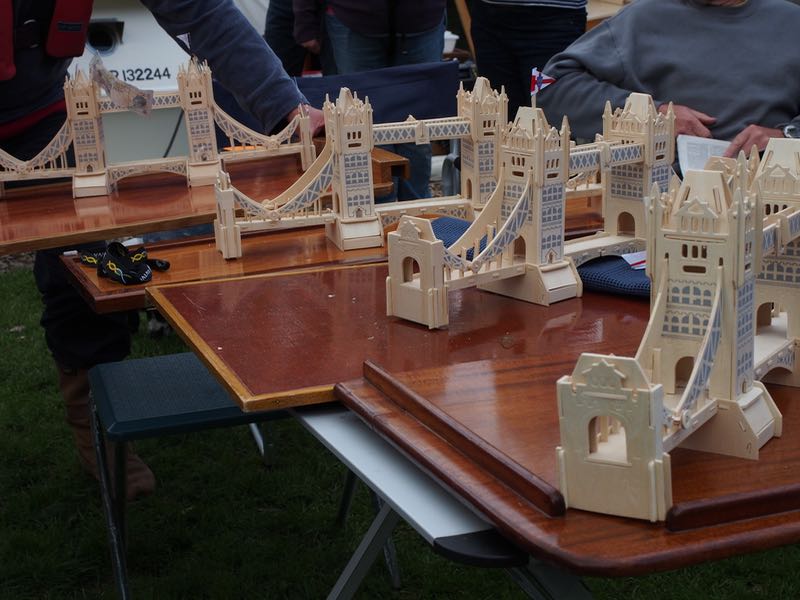 After a tally up Team B won - well done to them!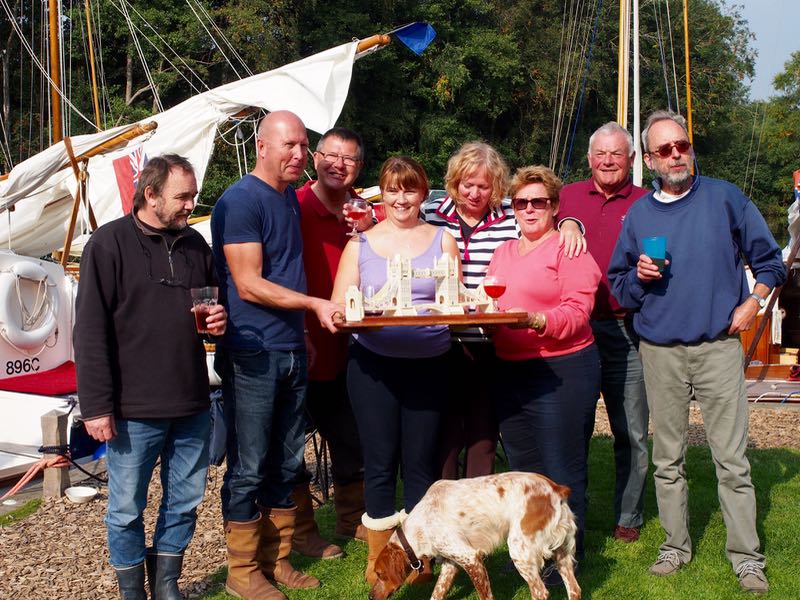 After lots of congratulations between the teams most decided to have a leisurely lunch before heading off back to their own moorings.
A big thank you to everyone who joined the cruise and created the huge cruise spirit that made the weekend so easy and such a pleasure. As we have always agreed EACC is one big family and long may this continue!!
Steve and Lisa. (Sally)
On behalf of all the participants a huge thank you to Steve and Lisa for organising a most memorable cruise.