CRUISING RECIPES
This is the place to share those amazing recipes that those culinary geniuses
amongst us produce when we go cruising.
If you have one to share please send it to Newsletter. If you have a photo I will add that too.
---
Gin and Tonic
As served in Cally's Pop Up Gin Bar, Southern Rivers Cruise 2016
Blackwoods (Shetland) served with Fever-Tree Indian Tonic Water, Mint and Lime
Blackfriars served with Fever-Tree Indian Tonic Water and Lemon
Bloom served with Fentimans Tonic Water and Strawberry
Gin Mare (Spain) served with Fever-Tree Mediterranean Tonic Water and Rosemary
209 (San Francisco) served with Fever-Tree Indian Tonic Water and Pink Grapefruit
Haymans Old Tom served with Fever-Tree Indian Tonic Water and Lime Wedge
Tanqueray No 10 served with Fever-Tree Mediterranean Tonic Water and Pink Grapefruit
Submitted by Cally Smith: Sun Glory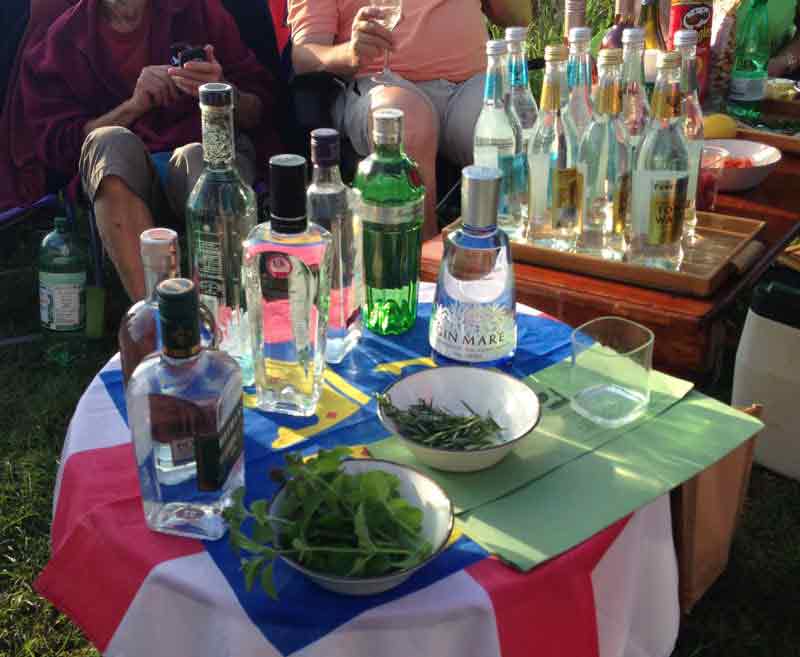 ---
Roger's Nuts
Here is the promised recipe for the nuts. I am still playing around with it
(chaps do that!) so feel free to adapt and improve.
Ingredients
250g nuts

1 tbs egg white

2 tsp dark brown sugar

2 tsp salt,

¼ tsp of cayenne

¼ tsp smoked paprika

1 tbs of finely chopped rosemary.
Instructions
Turn oven on to 150

℃

.

Spread 250g of nuts in a single layer on an oven tray and roast until lightly golden (about 10 - 15mins) shaking when you think about it. I use a mix of cashew, peanut & blanched almonds but use whatever you like.

Meanwhile, in a bowl, mix the egg white, brown sugar, salt, cayenne, smoked paprika and rosemary.

Tip your golden nuts into this mix and stir until well covered.

Return to oven and roast for approx 20 mins (but keep a beady eye on them as they can burn quite quickly)

Allow to cool and store in an airtight container
Submitted by Roger Everett: Ranger lll
Does anyone have a photograph of Roger's Nuts?
Not to worry Roger has photographed his own nuts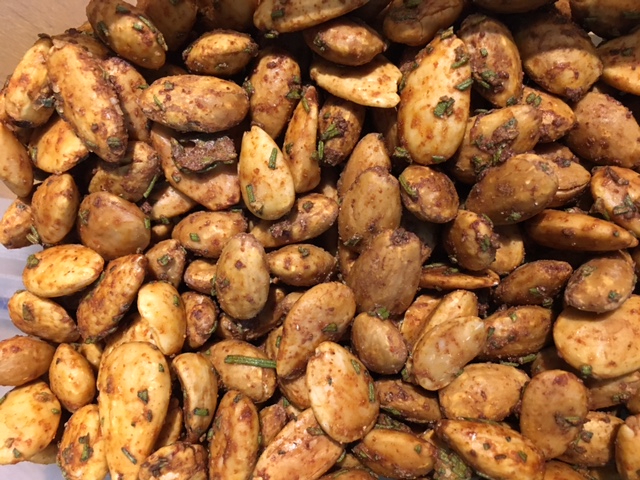 ---
FRUIT TEA LOAF
This keeps well on a boat as it has no fat and if the amount of sugar
is reduced could be a healthy option!
Ingredients:
175 gm mixed fruit/cherries/dates/crystallised ginger/nuts – whatever takes your fancy!

100 gm soft brown sugar (or less to taste)

135 gm self raising flour

1 small cup of fresh tea, without milk (a drop of whisky or brandy can also be added if desired – not tried gin!) and/or -

Vanilla /almond/orange/lemon essence if liked

Pinch of salt

Cinnamon if liked

1 egg – well beaten

1 x 6ins loaf tin
Instructions:
Make the tea and pour over the fruit and sugar and leave for minimum a couple of hours, or overnight.

Grease and line a 6ins loaf tin or if using non-stick, just grease or don't use 'grease' if you don't like it – I don't!

Warm the oven, gas mark 2/150C.

Mix the flour and the well beaten egg with the fruit and cook for approximately 1 hr 12 mins

Test with a knife and if knife comes out clean, it is cooked.
Submitted by Sue Hines: Lady Louise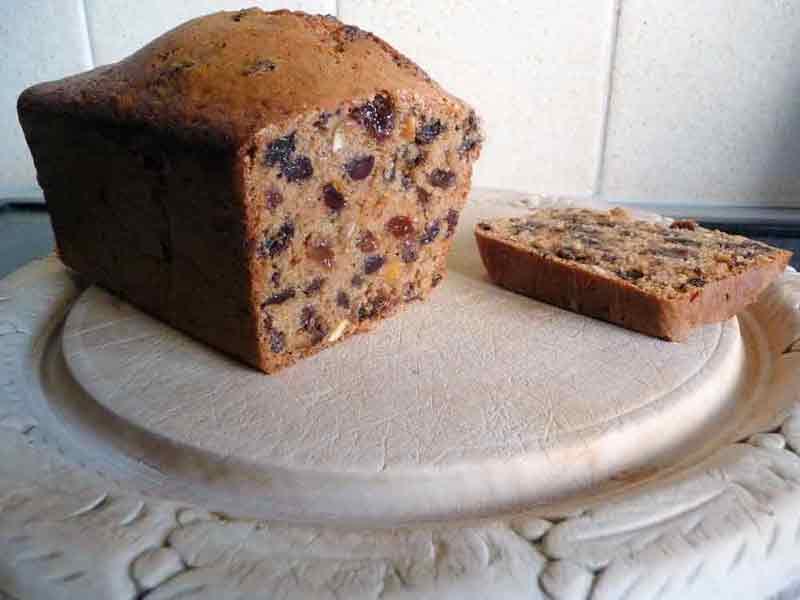 ---
Sue's Sirloin Stir Fry
As I was cooking supper last night, it occurred to me that this meal could easily be prepared on a boat, even on the more limited facilities of a river cruiser. I guess most people have a hob and a frying pan/small wok which is all that's needed, apart from a sharp knife!
Ingredients
Chicken breast, cut into strips OR

Beef, cut into strips (I used sirloin on this occasion)

Onion, sliced

Peppers, cut into strips

Oil

Soy sauce

Wraps – warmed in the sun when possible!
Instructions
Heat the oil in the frying pan/small wok, soften the onion.

Add the meat and brown, then add the peppers.

Stir fry until meat cooked, splash of soy sauce and wrap!
Submitted by Sue Hines: Lady Louise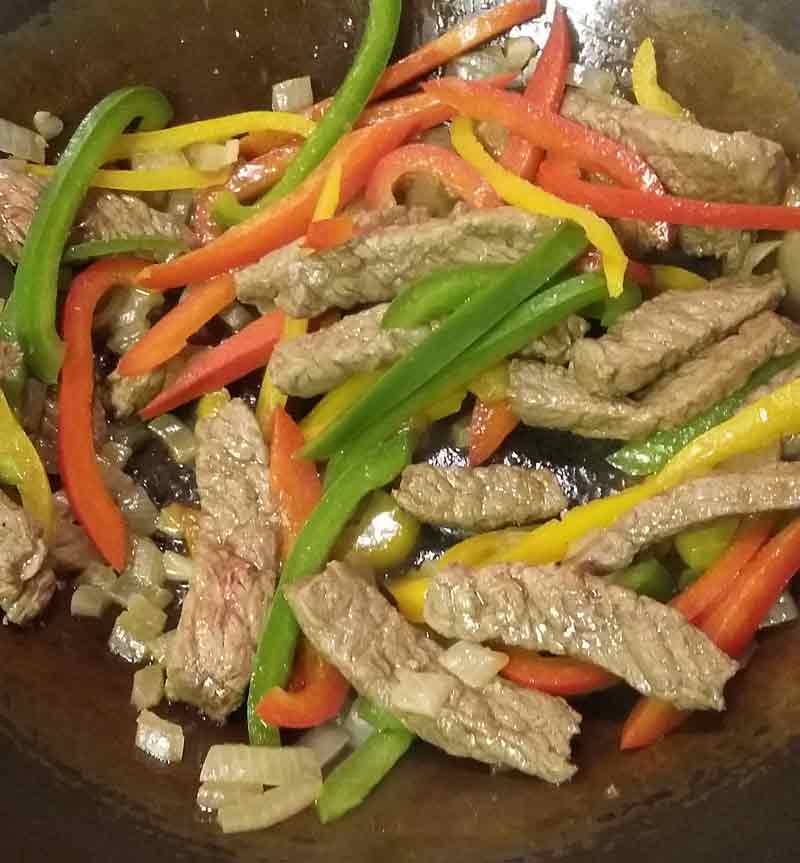 ---