Summer Regatta 2019
Thanks to Jane Stevens, Mike Barnes and Susie Spivey for their photos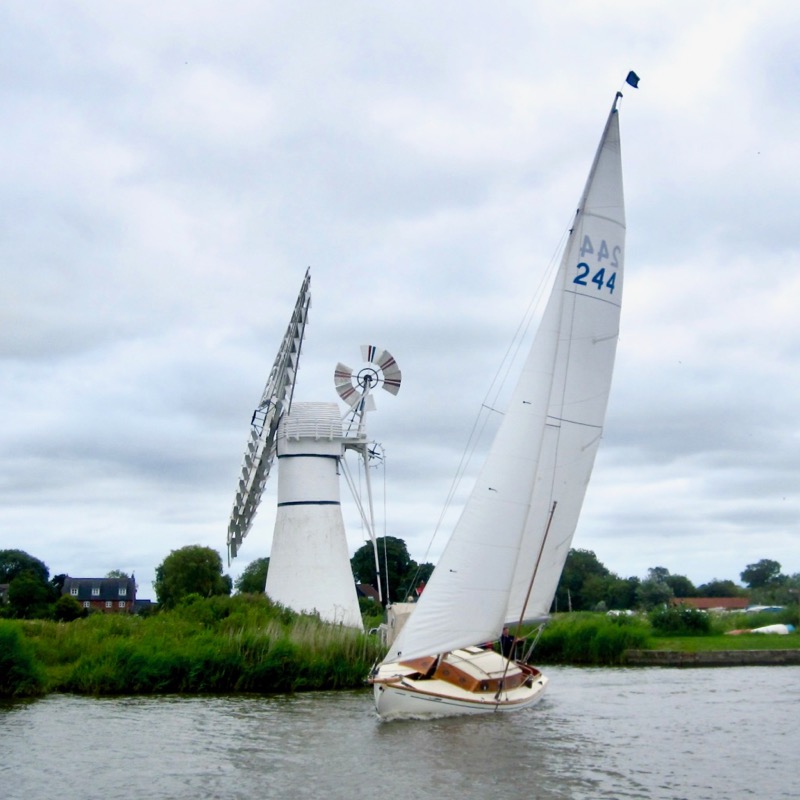 The Thurne Roundabout on the Saturday of EACC's annual Summer Regatta has in recent years become one of the club's main charity events, with a suggested entry fee of £1 minimum per race/helm
Earliest start time was 11am and all rounds had to be completed by the cut off time of 4pm.
Three marks were laid. The first, (c) up the Thurne at Coldharbour, the second (B), up the Bure towards St Benets and the third (A), down the Bure towards Acle. Starting and finishing from the club site, the marks could be taken in any order, starting at any time after 11:00 and finishing by 16:00.
A boat was permitted to compete more than once during that period but must have a different helm each time. The same helms may compete in different boats.
It was a mostly cloudy day with a cool brisk northerly breeze. Each round was completed in around an hour. There were 28 entries in total raising an amazing £81.43 for the club's charity NANSA.
The quickest laps were completed before lunch when the wind was at its strongest. The fastest by Brian Wilkins in Catspaw on a corrected time of 44 mins 24 seconds winning him the Cooke Cup with Joe Farrow in "Corsair" just 28 seconds longer in second place and Paul Markham "Moss Rose" in third. A shame that there was only one Allcomer Geoff and Rose Angell in their white boat Nennen but by virtue of both taking a turn on the helm Geoff took the Ebbage Trophy.
As always, the event was a lot of fun. The club's barbeque was put to good use in the evening and when darkness fell and it began to get cold many adjourned to The Lion.
On Sunday morning there was no let up in the wind and by the time of the briefing at 10.30 it was drizzling steadily, but dried up by the time we departed for the 11.15 committee boat start at Thurne Mouth. It was a challenging race with a long beat from the A mark just short of the Black mill up to the C mark at Coldharbour. Cygnet, Mike Riley led from Thurne Mouth with Paul Stevens in Pippinjack close on his heels up the beat. Pippinjack broke through on the second beat to win the Roy Pike trophy with David Thompson in Evergreen second and Corsair third.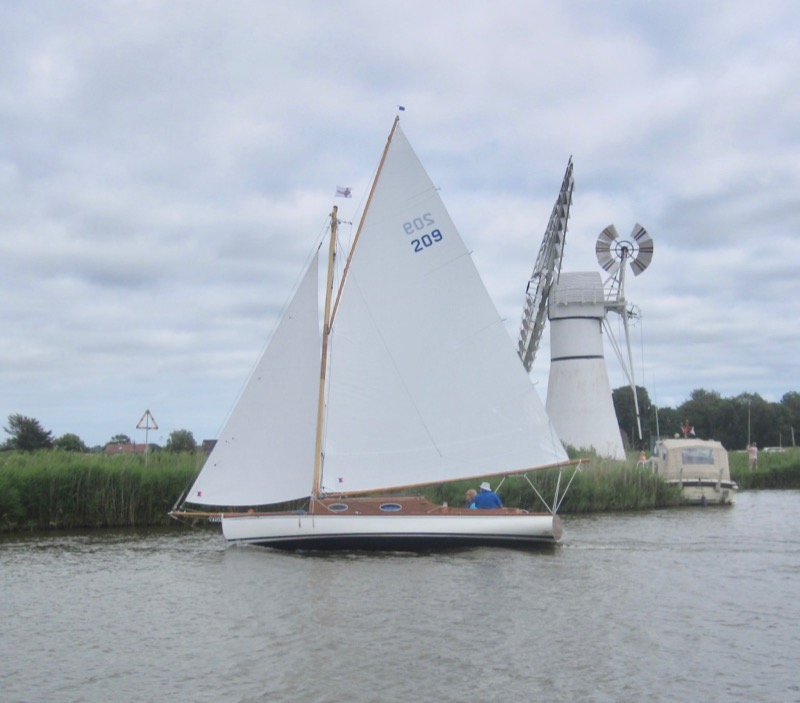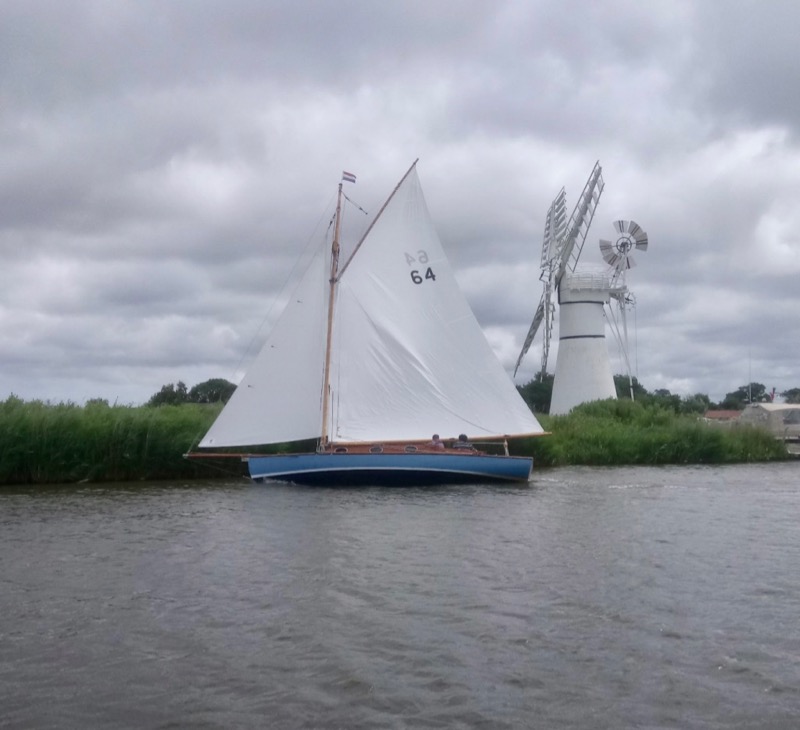 By the time of the afternoon race the wind had reached reefing conditions and with just 5 Cruisers and the white boat competing just a single start was needed in the race for the Fillibuster Cup. An unfortunate incident put Hassle, Glynn Howarth, and Evergreen out of the race leaving Pippinjack, Nennen. Hilary Franzen in Martlet, and John Thornicroft in Ceres, as the only finishers and in that order.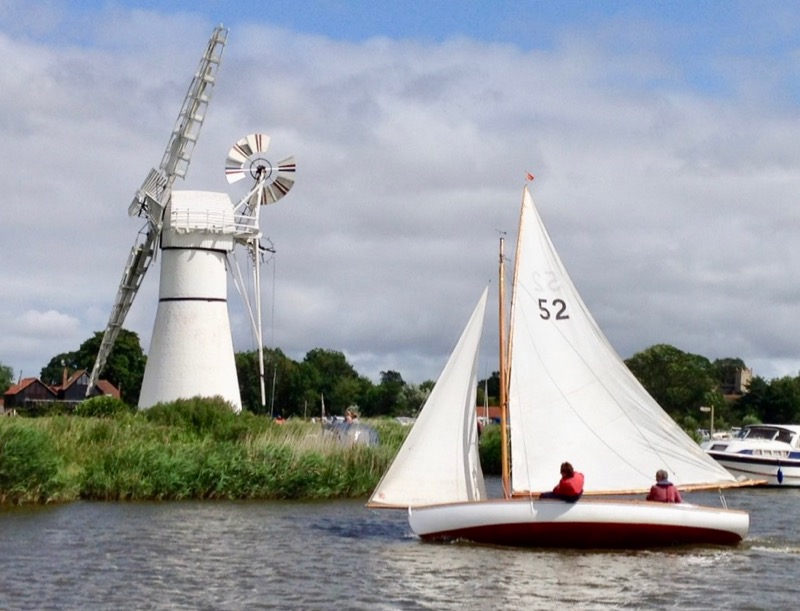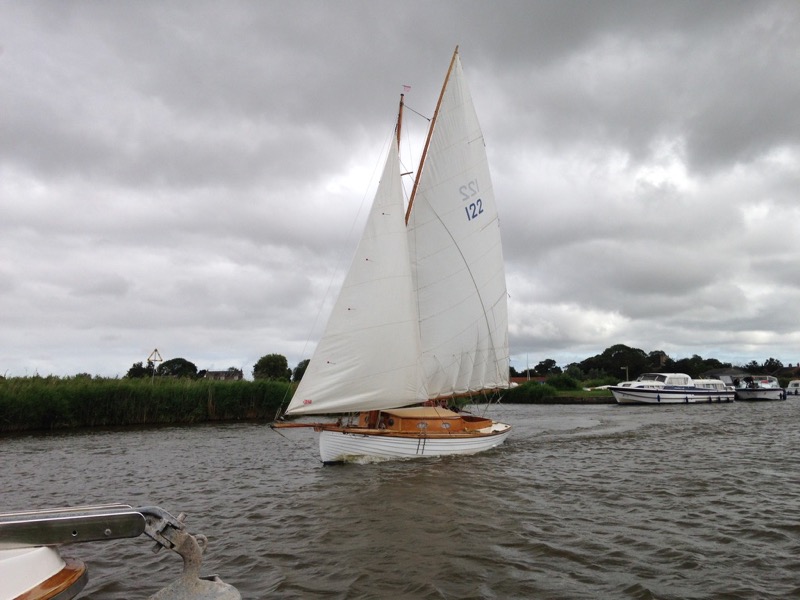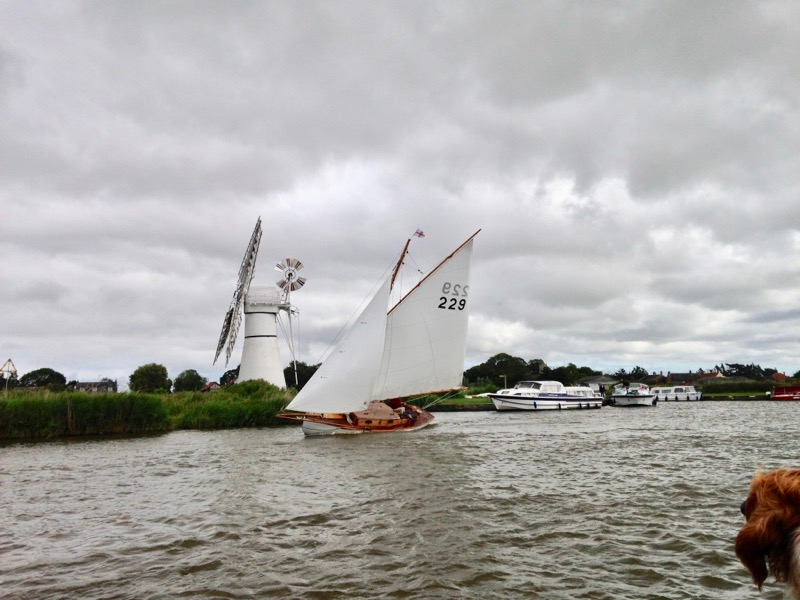 Race 1 Saturday 13th July - Thurne Roundabout

RCC - Cooke Cup

Sail No

Boat Name

Helm

Handicap

Start

Time

Finish

Time

Elapsed

Time

Corrected Time

Position

244

Catspaw

B Wilkins

-5%

12:09:29

12:56:13

00:46:44

00:44:24

1

64

Corsair

J Farrow

-17%

11:02:26

11:56:29

00:54:03

00:44:52

2

86

Moss Rose

P Markham

-9%

12:53:41

13:43:32

00:49:51

00:45:22

3

15

Pirate

T Moore

-8%

11:42:17

12:32:06

00:49:49

00:45:50

4

209

Evergreen

D Thompson

-10%

11:19:15

12:10:19

00:51:04

00:45:58

5

64

Corsair

A Miles

-17%

11:58:50

12:54:43

00:55:53

00:46:23

6

307

Mischief

S May

-7%

12:49:05

13:38:58

00:49:53

00:46:23

7

266

Dove

D Hopwood

-11%

11:12:41

12:05:20

00:52:39

00:46:52

8

307

Mischief

S Seeney

-7%

11:46:41

12:37:35

00:50:54

00:47:20

9

282

Sandpiper

C Little

-10%

13:21:33

14:14:11

00:52:38

00:47:22

10

218

Mystery

M Ford

-10%

12:53:16

13:46:43

00:53:27

00:48:06

11

266

Dove

D Thompson

-11%

12:30:13

13:25:08

00:54:55

00:48:53

12

393

Hassle

G Howeth

-6%P

13:28:18

14:20:19

00:52:01

00:48:54

-

229

Ceres

S Spivey

-16%

11:35:12

12:33:28

00:58:16

00:48:57

13

122

Martlet

H Franzen

-18%

12:28:42

13:28:56

01:00:14

00:49:23

14

86

Moss Rose

C Markham

-9%

13:47:34

14:42:02

00:54:28

00:49:34

15

209

Evergreen

D Hopwood

-10%

12:20:26

13:15:31

00:55:05

00:49:35

16

15

Pirate

J Farrow

-8%

13:49:34

14:44:12

00:54:38

00:50:16

17

218

Mystery

G Angell

-10%

14:16:23

15:13:17

00:56:54

00:51:13

18

122

Martlet

O Franzen

-18%

14:49:42

15:57:24

01:07:42

00:55:31

19

229

Ceres

J Thornicroft

-16%

14:02:24

15:08:48

01:06:24

00:55:47

20

307

Mischief

J Ebbage

-7%

14:45:59

15:46:03

01:00:04

00:55:52

21

142

Sun Glory 2

J Edye

-19%P

11:47:37

13:01:24

01:13:47

00:59:46

P

142

Sun Glory 2

C Smith

-19%P

14:21:30

15:40:47

01:19:17

01:04:13

P

244

Catspaw

Crispin?

-5%

RTD

393

Hassle

Stuart?

-6%P

DNF

Allcomers - Ebbage Cup

52

Nennen

G Angell

-13%

11:27:00

12:19:21

00:52:21

00:45:33

1

52

Nennen

R Angell

-13%

12:22:25

13:19:15

00:56:50

00:49:27

2
Results in red indicate that of the boat's normal helm and, as such, is the result
for this race to be counted towards the Bradnock trophy
Race 2 Sunday 14th July am - Around the Cans

RCC - Roy Pike Trophy

Sail No

Boat Name

Helm

Handicap

Start

Time

Finish

Time

Elapsed

Time

Corrected Time

Position

318

Pippinjack

P Stevens

-7%

1

12:09:23

00:54:23

00:50:35

1

209

Evergreen

D Thompson

-10%

1

12:12:42

00:57:42

00:51:56

2

64

Corsair

J Farrow

-17%

2

12:22:39

01:02:39

00:52:00

3

86

Moss Rose

P Markham

-9%

1

12:12:13

00:57:13

00:52:04

4

122

Martlet

H Franzen

-18%

2

12:24:12

01:04:12

00:52:39

5

259

Cygnet

M Reilly

-7%

1

12:11:52

00:56:52

00:52:53

6

393

Hassle

G Howarth

-6%P

1

12:12:31

00:57:31

00:54:04

-

266

Dove

D Hopwood

-11%

2

12:23:31

01:03:31

00:56:32

7

229

Ceres

J Thornicroft

-16%

2

RTD

00:00:00

00:00:00

RTD

Allcomers - Greyhound Cup (missing)

52

Nennen

G Angell

-13%

2

12:17:26

00:57:26

00:49:58

1
Race 3 Sunday 14th July pm - Around the Cans

RCC - Filibuster Cup

Sail No

Boat Name

Helm

Handicap

Start

Time

Finish

Time

Elapsed

Time

Corrected Time

Position

318

Pippinjack

P Stevens

-7%

1

14:55:12

00:55:12

00:51:20

1

122

Martlet

H Franzen

-18%

1

15:04:52

01:04:52

00:53:11

2

229

Ceres

J Thornicroft

-16%

1

15:07:03

01:07:03

00:56:19

3

393

Hassle

G Howarth

-6%P

1

RTD

00:00:00

00:00:00

RTD

209

Evergreen

D Thompson

-10%

1

RTD

00:00:00

00:00:00

RTD

Allcomers - International 14 Trophy

52

Nennen

G Angell

-13%

1

14:59:17

00:59:17

00:51:35

1