Spring Cruise 2015
Except where otherwise labelled all photos are by Sue Hines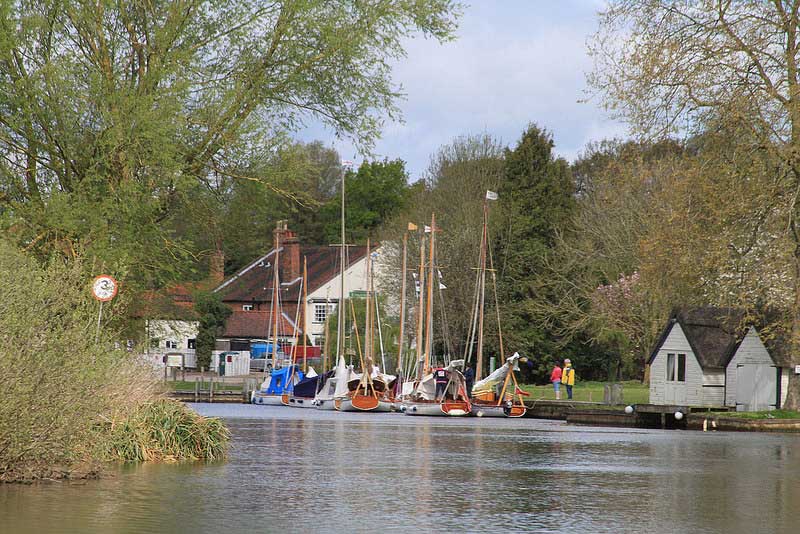 Well, we beat all records this year for the first sailing event of the season, 15 river cruisers and one motor cruiser headed for Coltishall intent on enjoying the long weekend and the EACC Spring Cruise. It started on Friday afternoon at the moorings when the first three boats Brunette (Philip and Pat), Cordon Rouge (David and Ruth) and Pippinjack (Paul and Jane) arrived and crowded into Pippinjack's cabin to celebrate the first birthday of the weekend, Jane's, with candle, cake and all.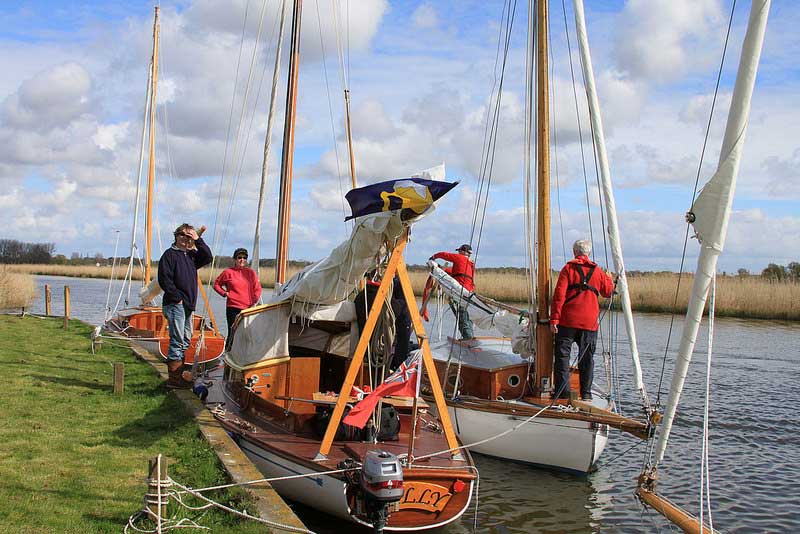 As the evening started to turn chilly Sally (Steve and Lisa) and Buccaneer (John Burton, later to be crewed by Sue and Robin) showed up and Steve reported that Snowbird (Nick and Amanda) was launching as he spoke and sure enough a few minutes later she was seen motoring down Thurne Dyke towards the moorings.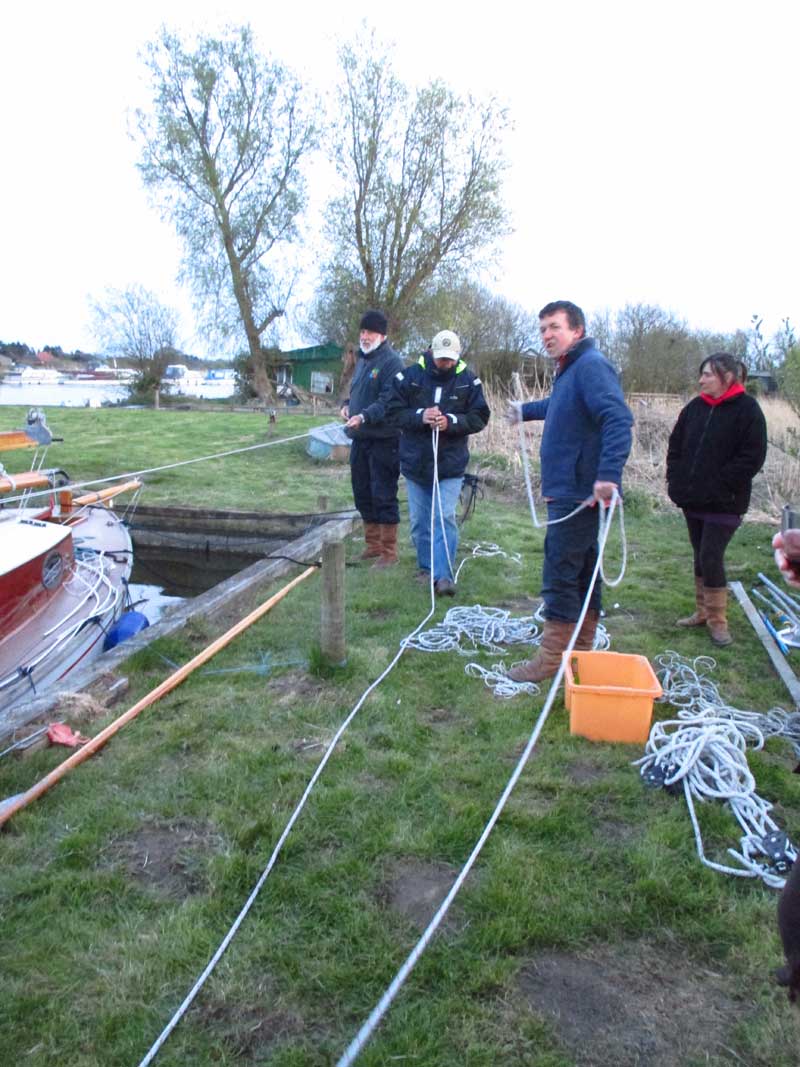 Photo: Pat Bray
Many hands and lots of pairs of eyes made short work of rigging her and it was all but done as darkness fell and those that had not by now eaten actually lit Steve and Lisa's BBQ and started cooking.
Steve got up at 5am, I didn't ask why, but he reported that there was a thick layer of white frost on Sally's cover. No wonder we were a bit cold with no cover at all on Pippinjack. Ranger and Westward's crews Roger and Lesley and Paul and Claire respectively, spent the night on their moorings at Hunters. By 10 am all those expecting to start from Thurne including Westward, Adrian, Ruth, Jenny and Michael in Pixie and Richard and Lauren in Barney Too, left for Cockshoot Dyke.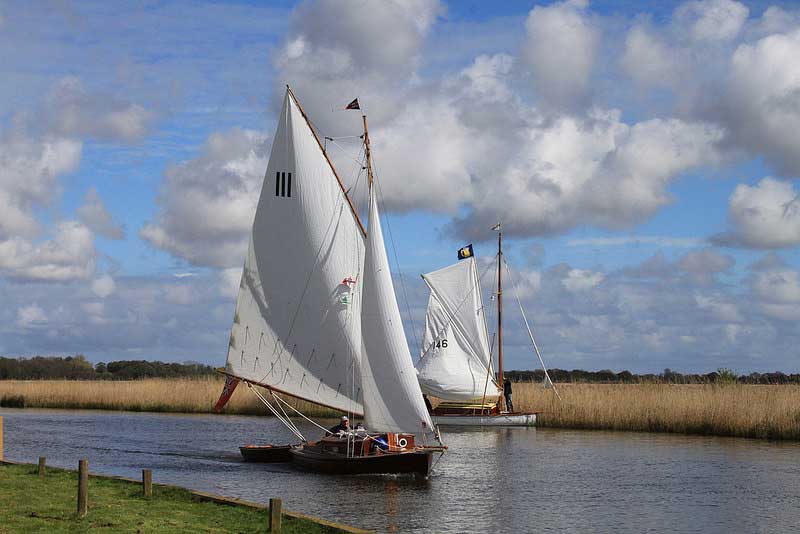 We were slightly concerned by one report that Yare Valley Sailing Club were having a meet at Cockshoot but we needn't have worried because with a following breeze and the tide under us we arrived by about 11.30 and had the dyke virtually to ourselves.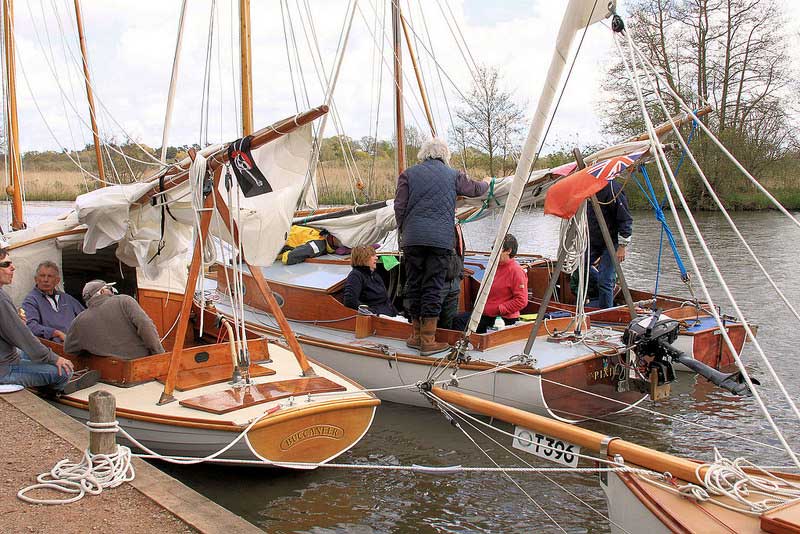 It wouldn't have been the first time we had shared the dyke with the YVSC but if they were coming it was after we left at about 1.30. The fleet now included Jamie and Phill in their newly restored Crocus.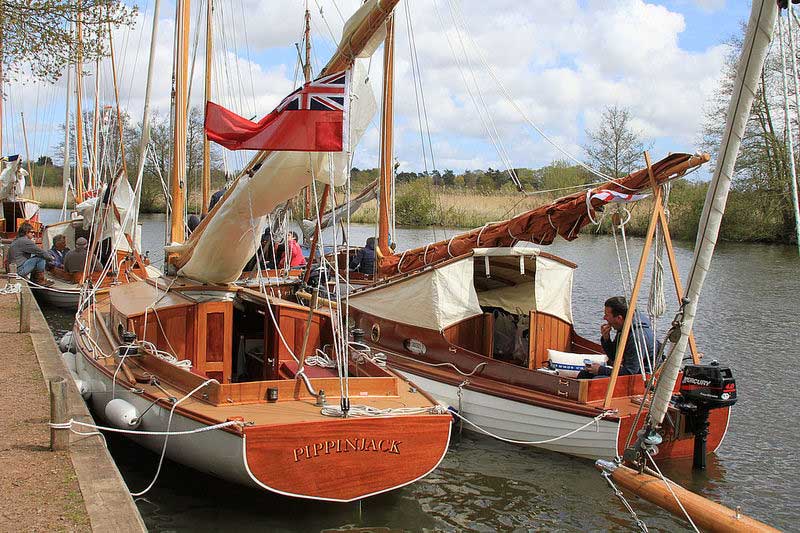 As we sailed along Horning Street, Horning Boat show was in full swing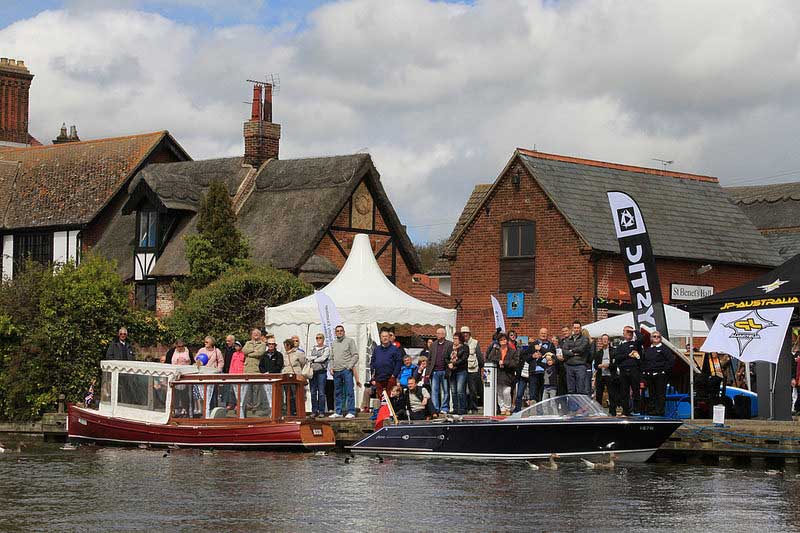 and we were treated to a frighteningly daring aerobatic display almost directly overhead.
Moorings at Salhouse Broad were reserved for us and we were soon joined by Colin and Frankie in their newly restored Sandpiper, Snowbird, Ranger and Jo and Cally in Sun Glory and John and Susie in Swallowtail. 14 boats in all.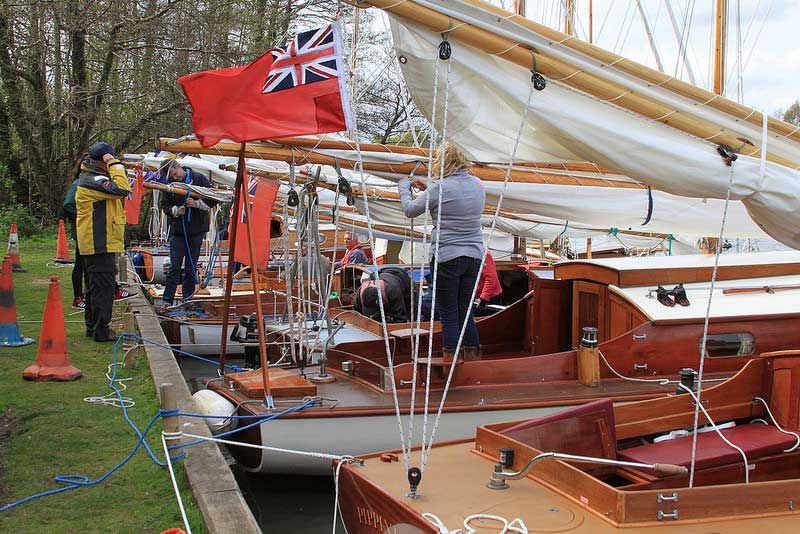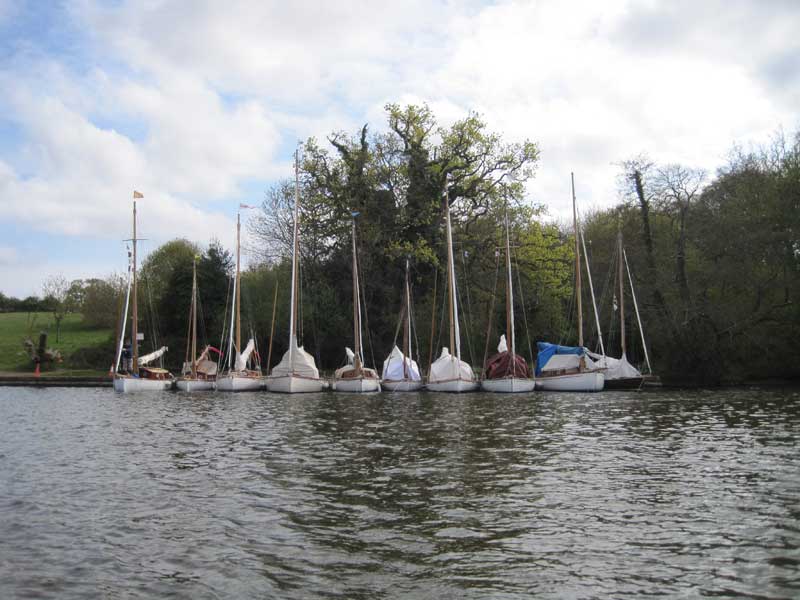 Photo: Philip Bray
There were at least two incognito expeditions to the Fur and Feather in the afternoon and evening supposedly to warm up. There was a cold wind but most sat out and BBQed never the less.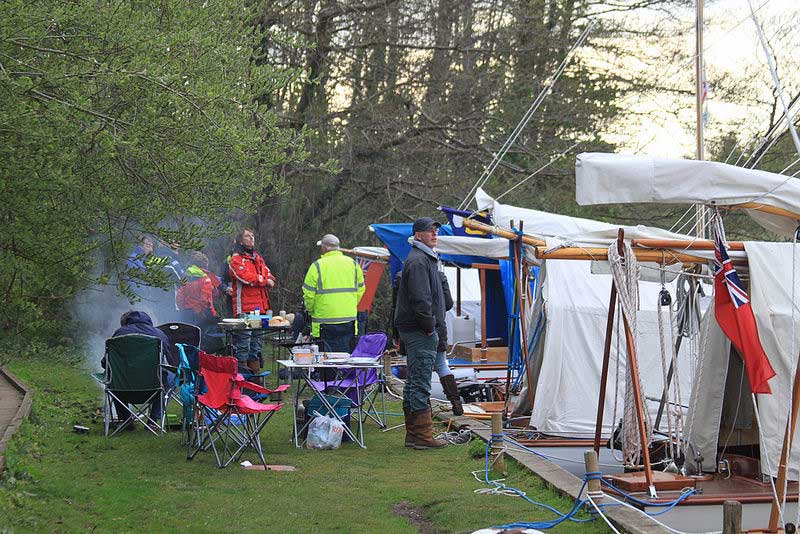 Rain was forecast through the night and it persisted through most of the following morning so nobody was in a hurry to get their covers off and make a start. The plan had been to raft up on Wroxham Broad and watch the racing whilst we had some lunch but that was shelved in view of the weather, just as well as there were only three river cruisers racing on the broad for the NBYC's spring regatta as we motored up the river towards Wroxham Bridge. Brunette had returned to base as planned and so did Barney Too too as he had an unplanned mishap with his outboard somewhere around Ant mouth. (Hope you and your Scuba diving friends find it Richard). Some stopped for shopping at Wroxham. As we made our way up through Belaugh it brightened up and by the time we arrived at Coltishall Common the sky was clear and blue at it actually felt warm.
We all found moorings, no more than two abreast, by employing our now well practiced technique of 'mooring badly'. A few went for a 'walk' to the Norfolk Mead hotel whilst others found a bar somewhat closer.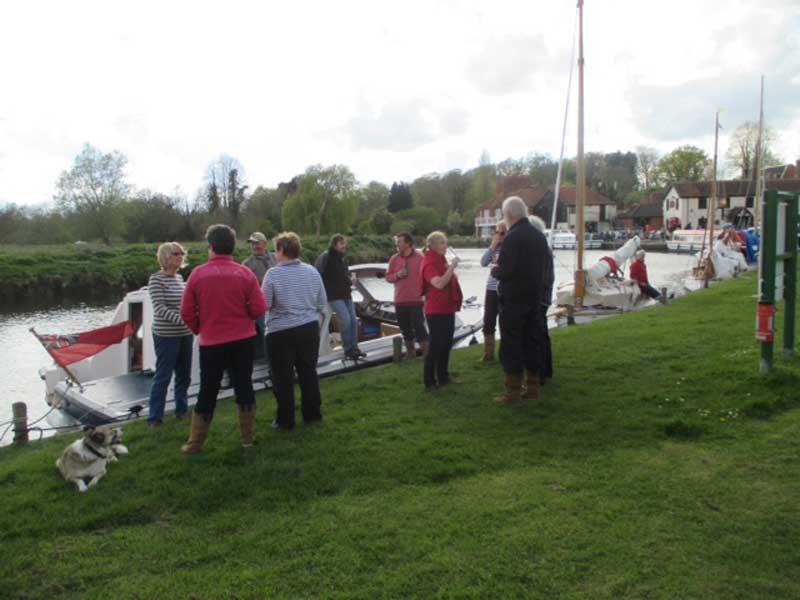 Photo: John Thornicroft
We relaxed drank Champagne in the sunshine in celebration of Susie's birthday. Jimmy and Carolyn arrived in Bishy Barnybee as did David and Claire in Glider. and at 7pm we all adjorned to the Kings Head where 35 of us took over the bar area for what proved to be probably the best EACC pub meal ever.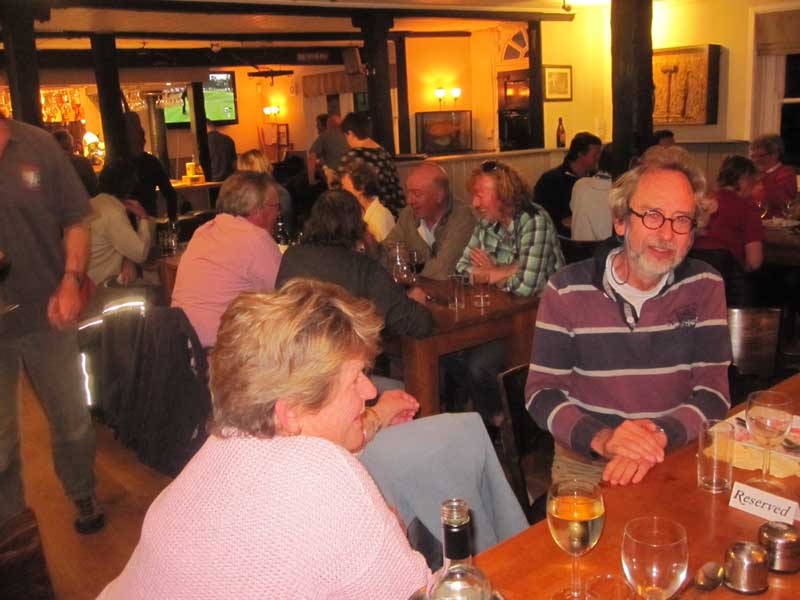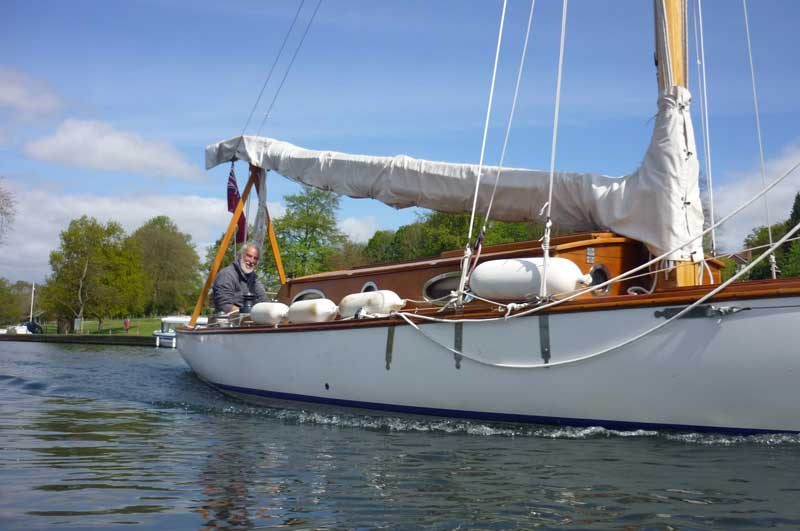 Photo: Jimmy James
On Monday morning there were one or two attempts to sail through the trees down to Wroxham but everyone eventually motored that far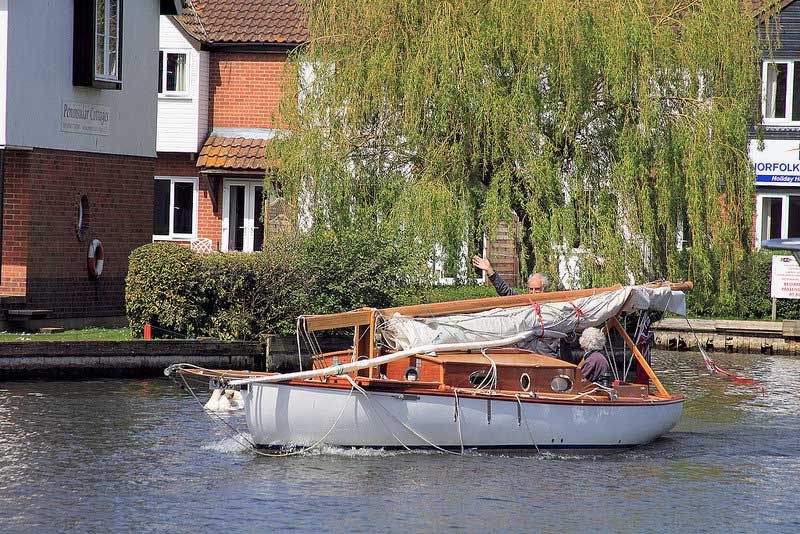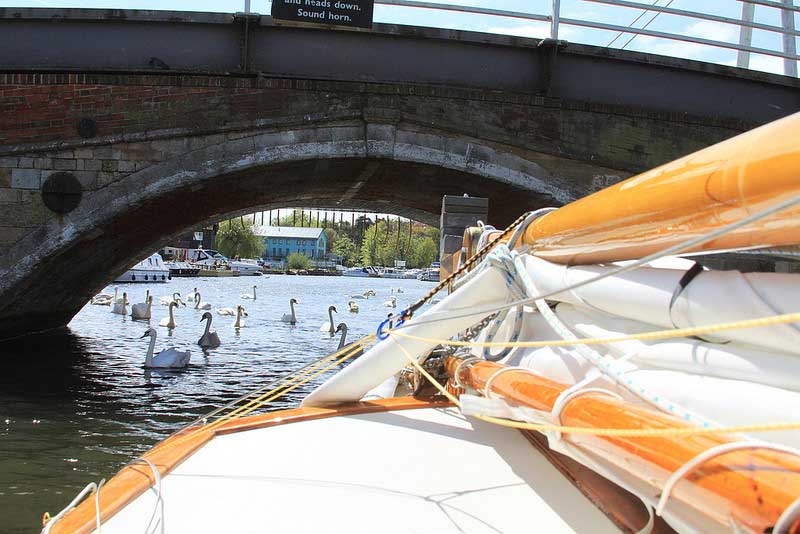 and on to Salhouse for lunch.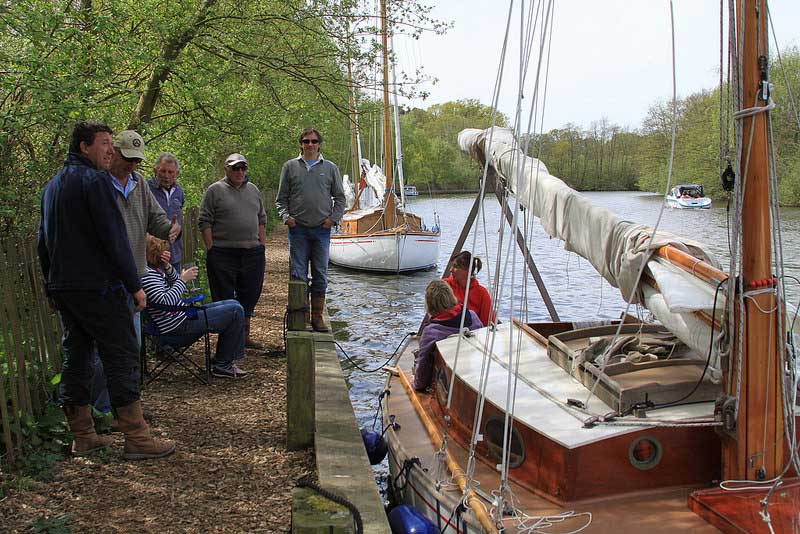 Most sailed from there. For those that then sailed all the way back to Thurne it proved to be the best sail of the weekend as the wind strengthend the closer we came to Thurne Mouth,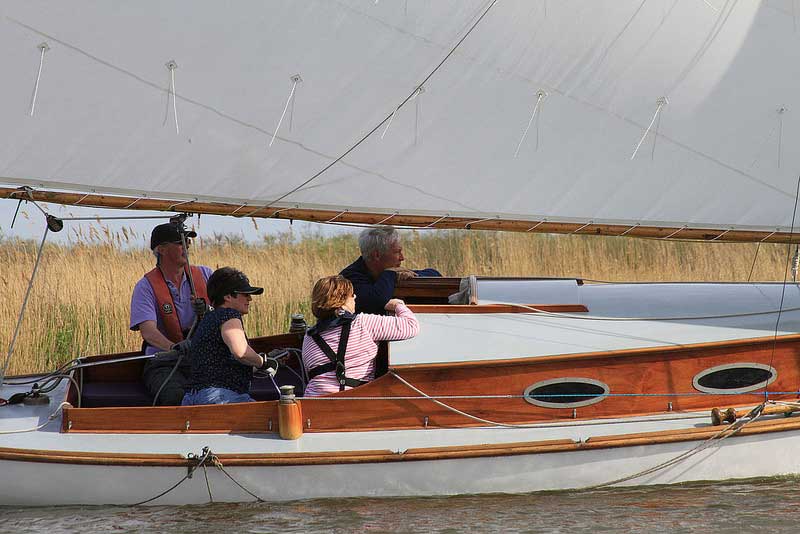 reminding us how lucky we are in our home waters.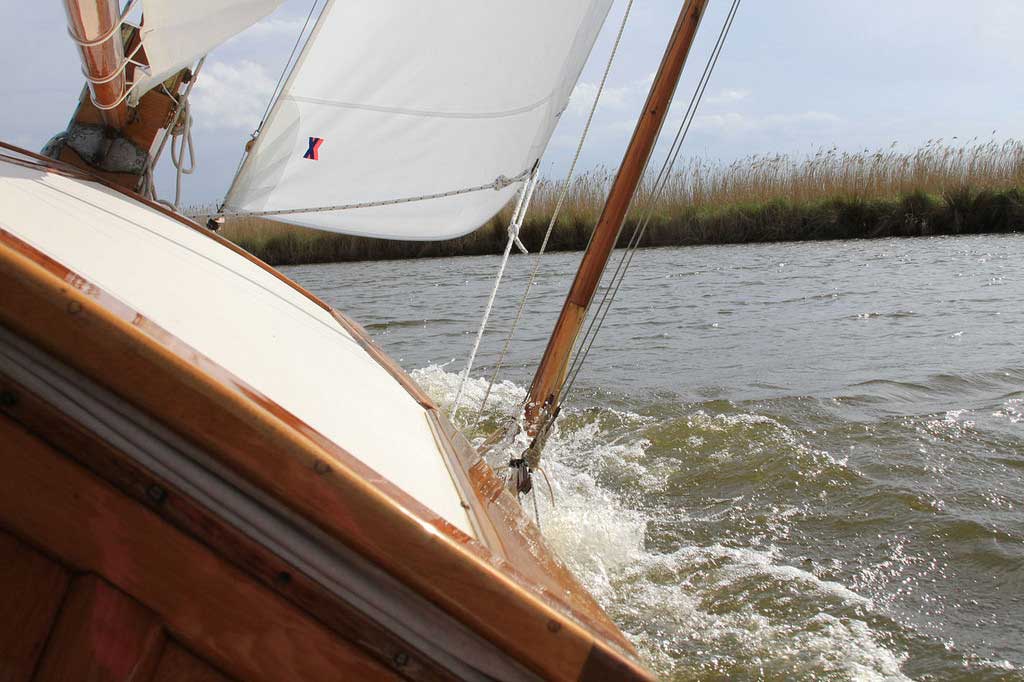 Yet another great cruise. Thanks to all who attended and made it such a fun weekend. EACC cruises have become a bit of a legend so don't miss the next one.
Paul Stevens
To see all of Sue Hines' photos taken at the weekend click here