Southern Rivers Cruise 2014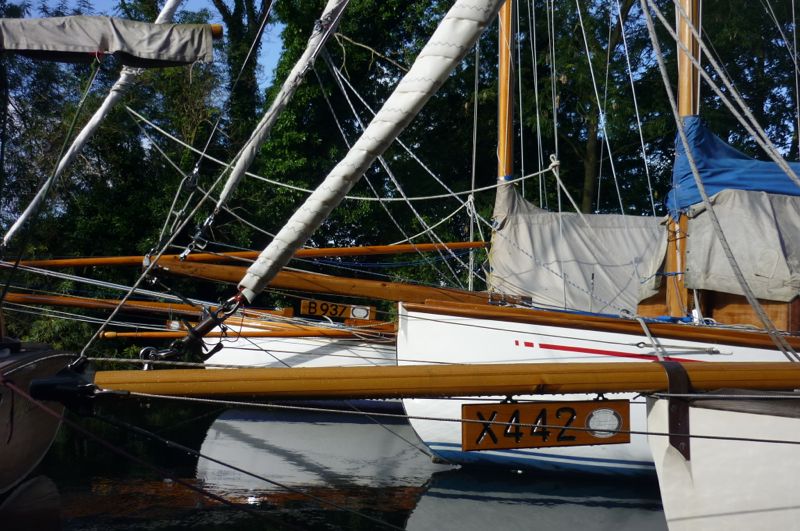 Photo: JIMMY & CAROLYN JAMES
Red Leader Ruth Thompson's Report on this Year's Cruise
This year's cruise started with the first boats crossing Breydon Friday afternoon and overnighting at Berney Arms. Those not competing in the Breydon Regatta went on to Loddon, and were joined by others crossing Saturday with Breeze arriving Sunday in the pouring rain. They all sheltered from the weather at Loddon until Monday but they made the most of it with a trip to town (pub crawl) as Jo Edye needed to find a television to watch the Norwich City game. All entered into the spirit, particularly Amanda who has since been affectionately nicknamed 'Wino Wiggins'.
We all met up on Surlingham Broad Monday lunchtime and then had a superb meal at Coldham Hall Monday evening. Tuesday some went to Norwich but in the evening we all managed to get into the basin at Rockland, ate in the pub (another excellent meal) or had a BBQ.
On Wednesday we sailed/motored to Waveney River Centre, stopping at Herringfleet for lunch, where Bishy joined the cruise and Thursday on to Beccles, swimming pool moorings for lunch. We were very wet by the time we arrived at Geldeston and spent the afternoon in the pub, had a very nice meal and a very pleasant evening thanks to entertainment by Colin Chett. with his guitar and various 'star turns'.
Friday – those heading home made for Berney Arms and were disappointed to find the pub closed. Others heading for the Regatta at Oulton Broad stopped along the way, bankside or at the Waveney River Centre, meeting up again at Oulton.
We have been rather spoilt on our Southern Rivers Cruise for the last two years with sunshine, fair wind and little rain. This year we had everything… the remnant of hurricane Bertha with strong winds most of the week and lots of heavy rain and hail.
Despite the weather we had a fabulous week with the usual amount friendly hospitality, loads of laughter and the lasting memory of the two Colins and Nick singing (with actions) Swing Low Sweet Chariot by candle light in The Locks at Geldeston.
Ruth Thompson
Cruising Boats
Amaryllis
Bishy
Breeze
Cordy
Mischief
Moorhen
Mossy
Ranger
Snowbird
Sun Glory
Westward V
Yorkshire Belle II
Scroll down for another version of events
Assistant Red Leader, Roger Everett's Version of Events
The forecast for Friday was abominable. Red Leader telephones on Thursday afternoon, "Were we still going?"
"Yes," we reply. Doubt is put in our minds, however, so we 'phone Mr Slim to find out if he is still going. He is definitely going because, "When I'm there, I'm there!" We are not sure of the logic of that but we make plans for a wet crossing. As it turns out, the forecast is wrong and we have a dry day. After stopping for lunch at The Ferry at Stokesby we have a boring journey down the Bure, only enlivened by Mrs Crew leaning over the side to see if our sides are dirty and accidentally inflating her lifejacket! Deflating and re-packing the jacket helps pass the time before a very calm crossing of Breydon. Leaving The Berney Arms that evening we remark on how incredibly mild it is and how still.
We turn in and are soon asleep. Not for long, as it turns out, for soon all hell breaks out. The rain pours down with a vengeance and we fear it will drill through the canvas. Thunder and lightning roll around and we are buffeted by vicious gusts of wind. Getting up, I check that we are still attached to land and that the Snowboarding Penguin is still attached outside of us. Then I fit bracing to the cabin side supports and retire to bed to listen to the storm. Confirmation that East Anglian beer is still of a very good quality is confirmed when Mr Slim reports the next morning that he slept right through the mayhem!
Saturday dawns and I find myself promoted to Assistant Red Leader. We head off following Amaryllis and Snowbird - always best to lead from behind - and motor our way up the Chet to find a quiet mooring. EACC cruiseristas are experts at bad mooring but I have to say that the three of us surpass ourselves to such an extent that, although there has been no mooring space all afternoon for boats, when Moss Rose, Westward V, Sun Glory & Mischief arrive in the evening, there is suddenly room for them all. Moorhen joins later and there is room for her too!
Sunday, and we are supposed to be at Cantley for early afternoon, but, with Big Bertha on her way, we all resolve to stay put. It is then that I start to lose control of the group. Mrs Sylph announces that she is going shopping and sets off with Mrs Wayward, Mrs Glory and Mrs Mischief - a dangerous combination. Mr Glory, Mr Wayward, Mr Slim and the Fleets MO accompany them, but only to watch the football.
A more sober group of us opt for some exercise and walk halfway to Norwich before finding the path on the other side of the river and walking to Hardley Flood. We arrive at the bird hide at the same time as Big Bertha and suddenly find an enormous interest in birdwatching. Realising that it is teatime we telephone Mr Slim to request that he motor down the Chet with tea and cake. No reply, and Mrs Sylph is not answering either.
We return to the boats to find that Breeze has joined the fleet. Red Leader 1 'phones to say that she is safely at Coldham Hall with Yorkshire Belle 2. All seems well. Then Mr Slim returns with rather a large grin on his face. He is fine he says but he is not sure about the rest of the party. Apparently shopping and watching football involves visiting every pub in Loddon. Soon, Mr Glory returns, escorting Mrs Sylph across the common. They obviously have a strong headwind because they are seen to tack frequently on the crossing. The rest return in various degrees of disorderliness and there is much giggling. Mr Slim, who has professed sobriety all evening, proves it by kneeling in Mrs Mischief's supper. I retire to bed defeated.
Next morning we are away early. I am anxious to hand over this motley lot to Red Leader 1 who will bring some discipline to the Fleet. Comment is made that those who are retired are always up early and that those who still work rise later. We say nothing, but quietly note that those with the most empties around their boat seem to be the late risers. By lunchtime we are all on beautiful Surlingham Broad and I can hand over to Miss Whiplash herself, Red leader 1.
The rest of the cruise passes in a blur. We have some exciting sailing, some almighty rain showers and some brilliant company. We wine and dine well. Particular mention to Coldham Hall who cooked a brilliant meal for us all despite having no kitchen.
All too soon it was Friday again and we were part of a break away group of five heading for home. No promotion for me this time so I guess I will have to try harder next year. We always find these weeks enjoyable but this year was surely the best of the lot.
"Only marred," remarked Mr Breeze, "by the excessive dependence upon alcohol." And he then promptly invited us all for Pimms and Spiced Rum and goodness knows what else to celebrate the end of another fantastic EACC SRC.
Thanks to Ruth especially and to all other cruiseristas.
Roger (Ranger)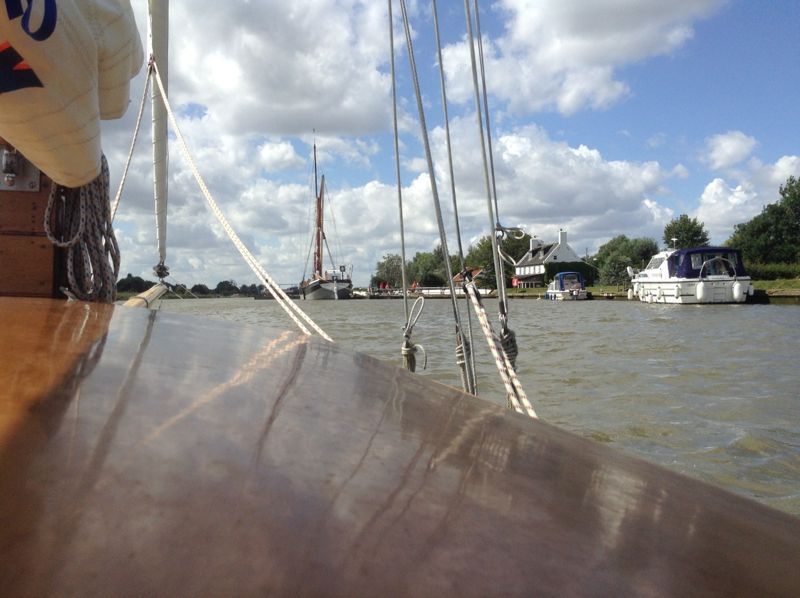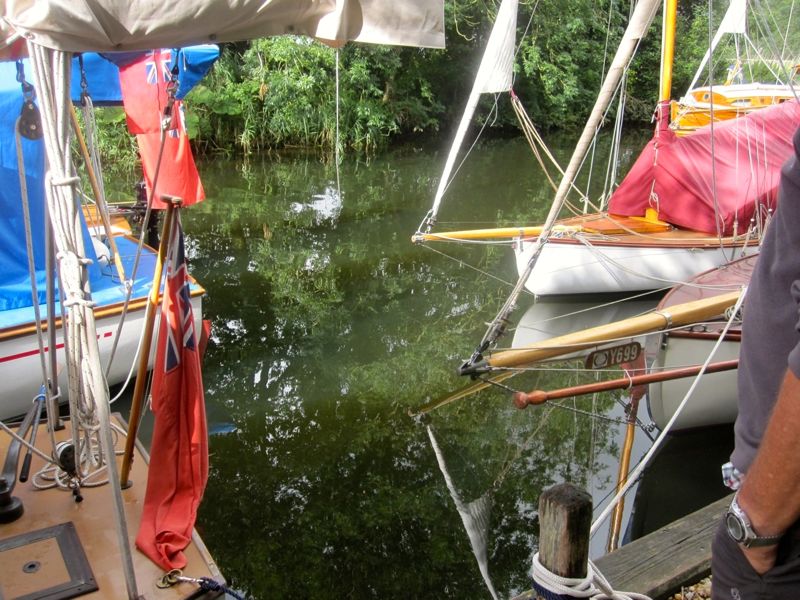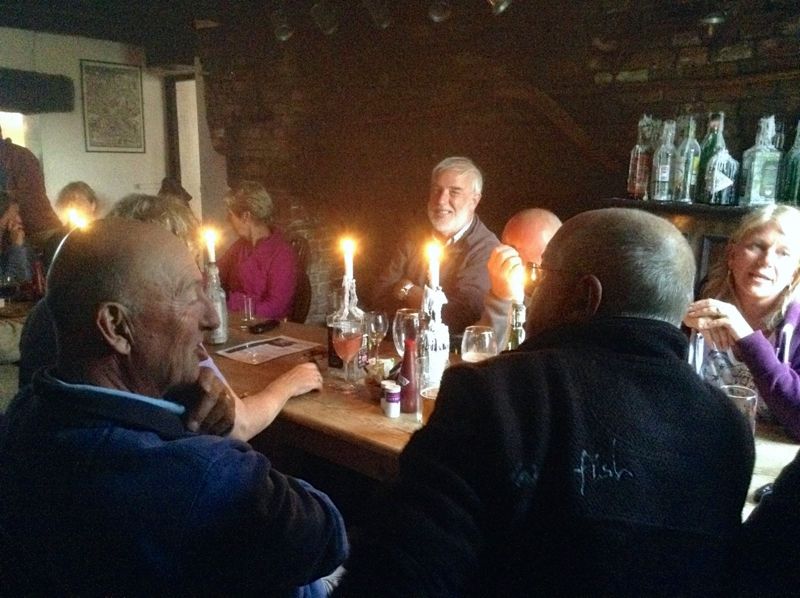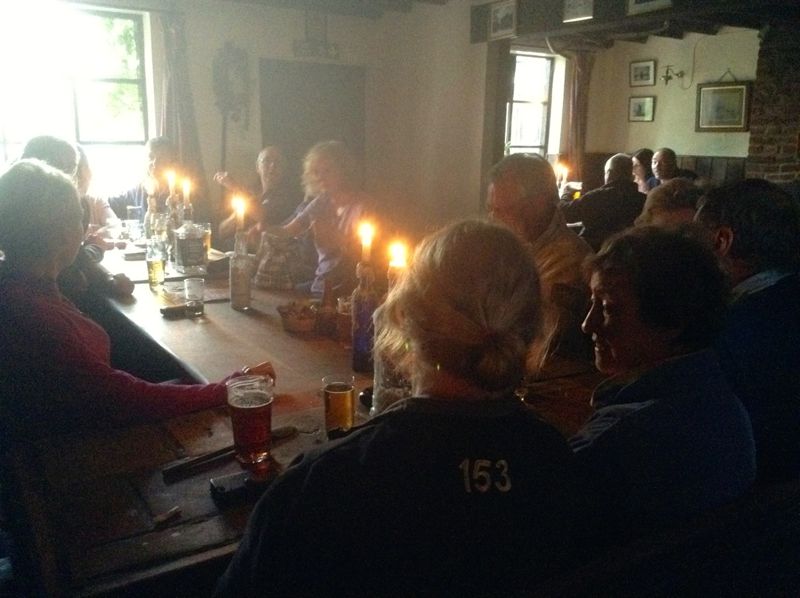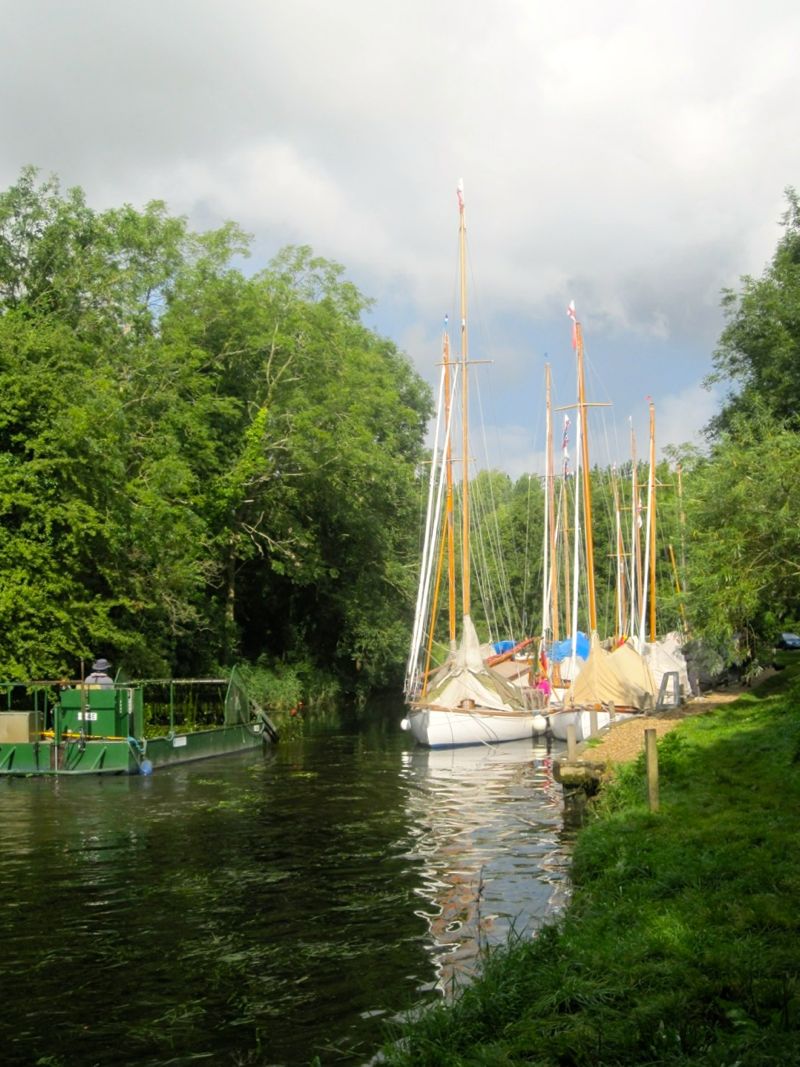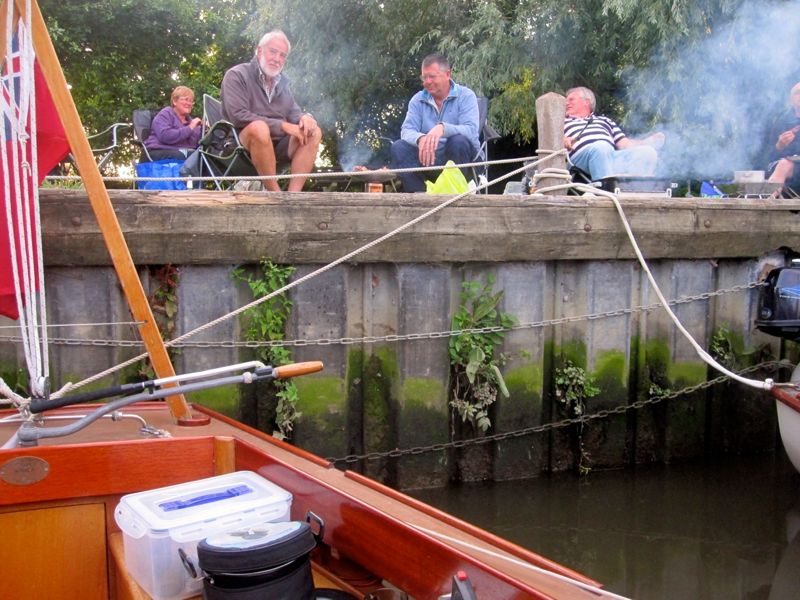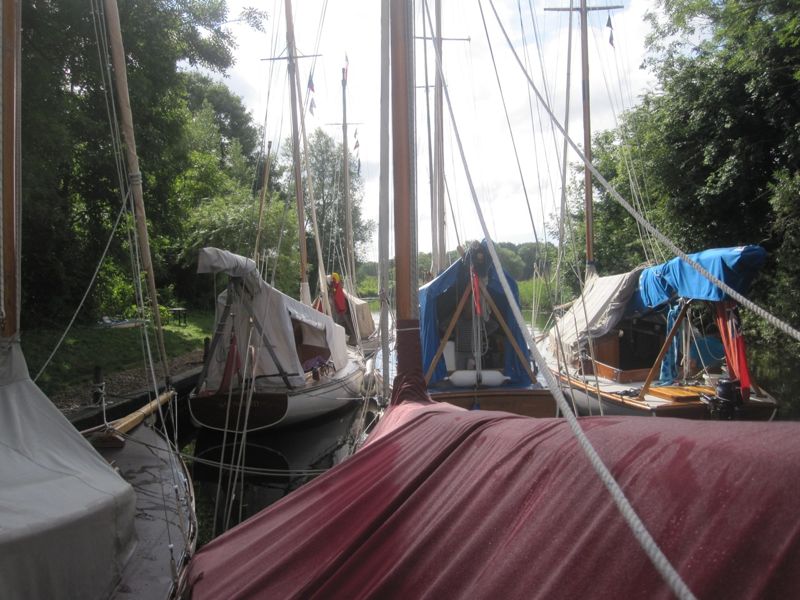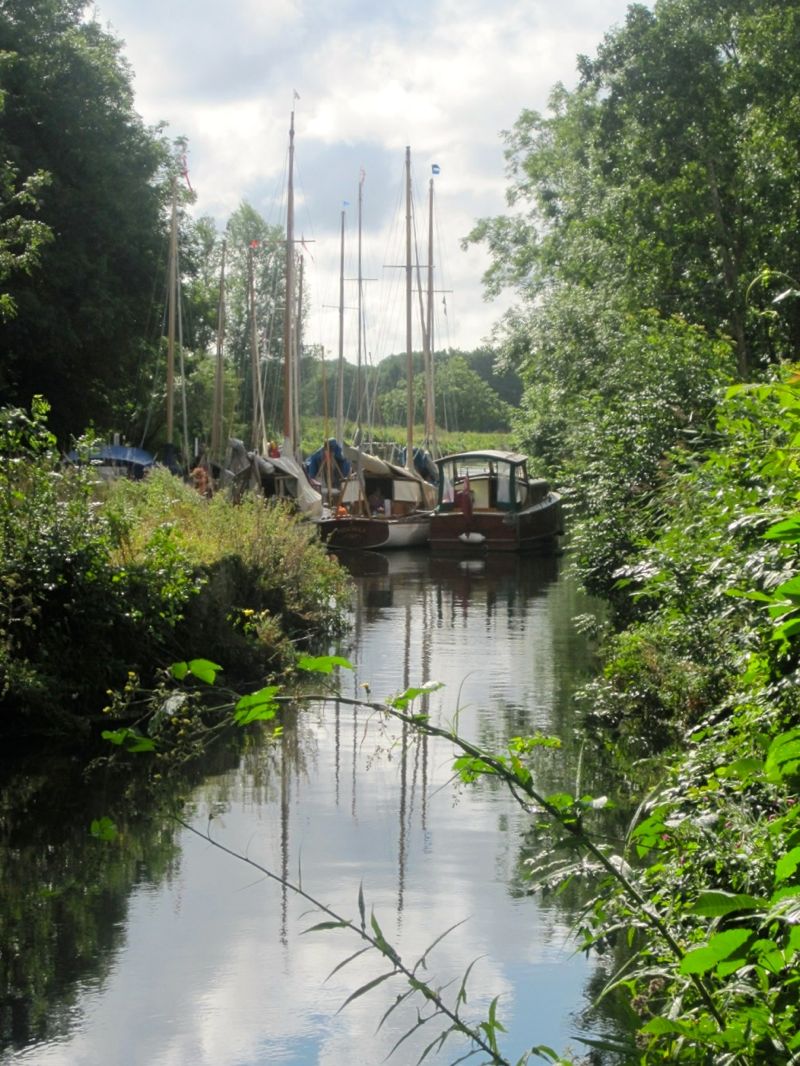 Photos above: JANE STEVENS
---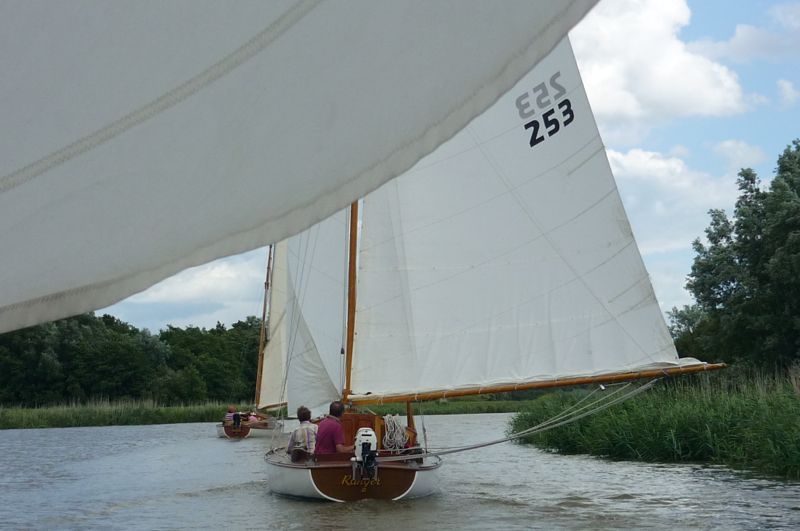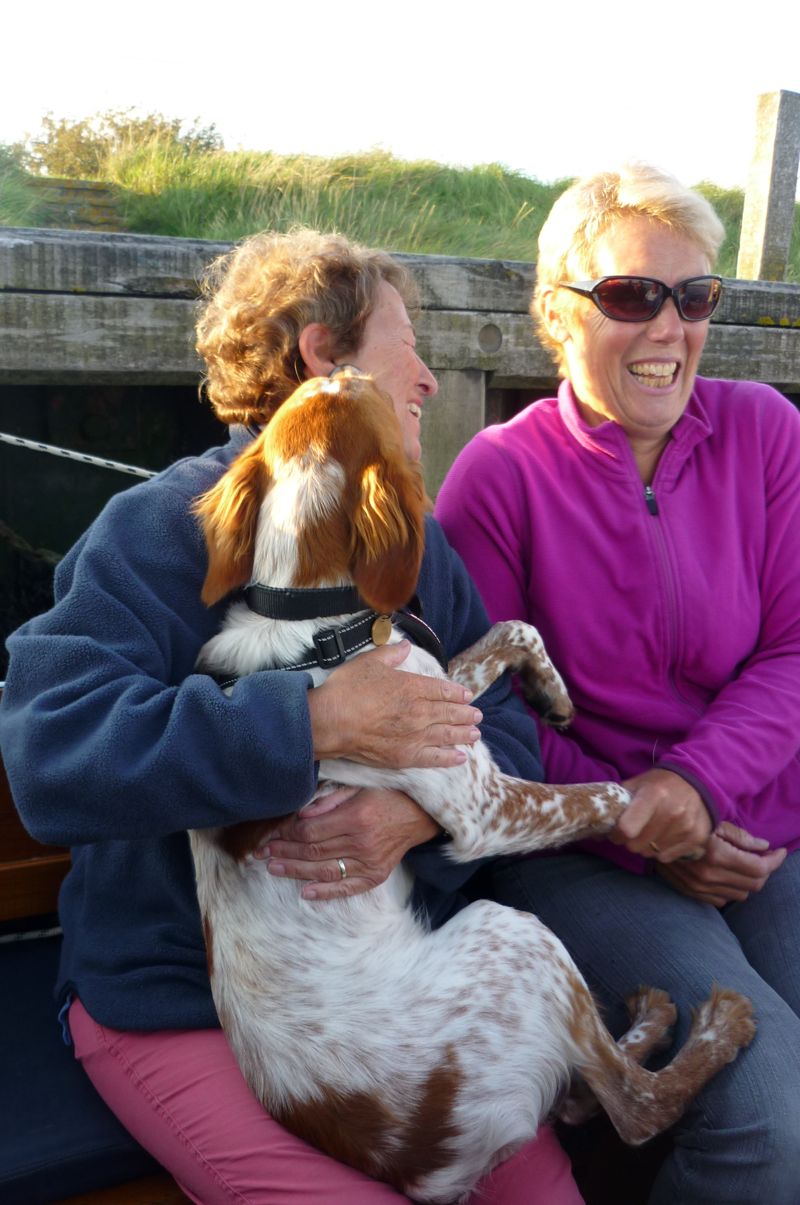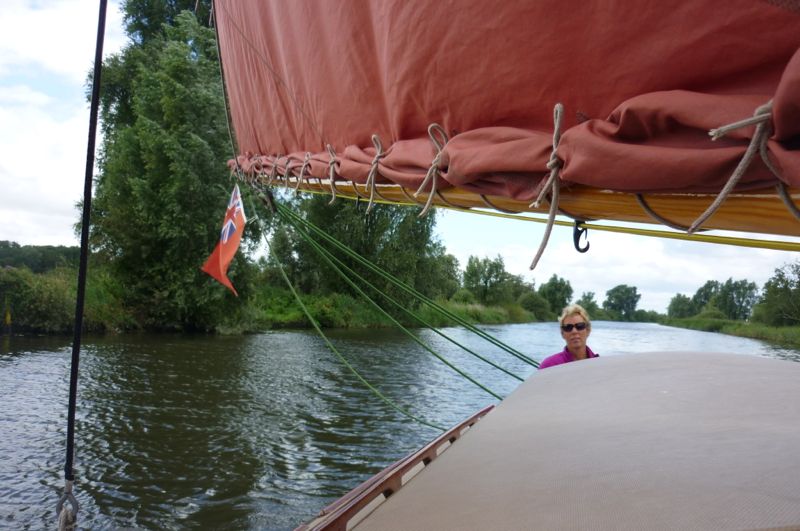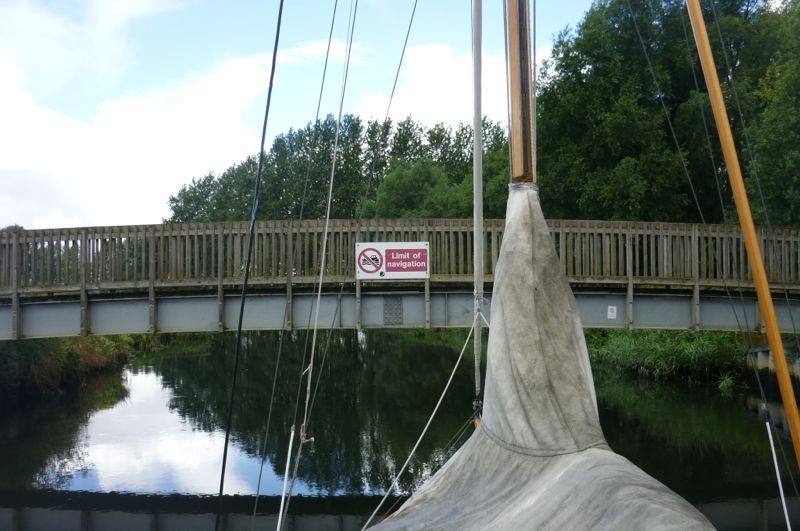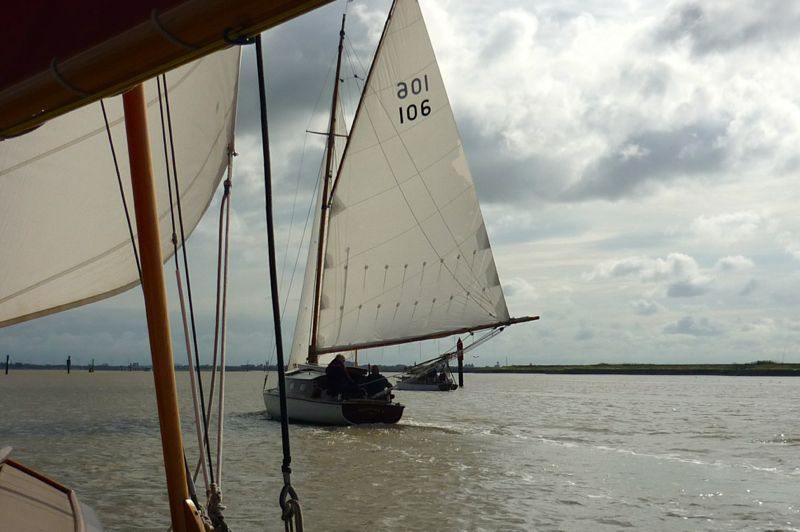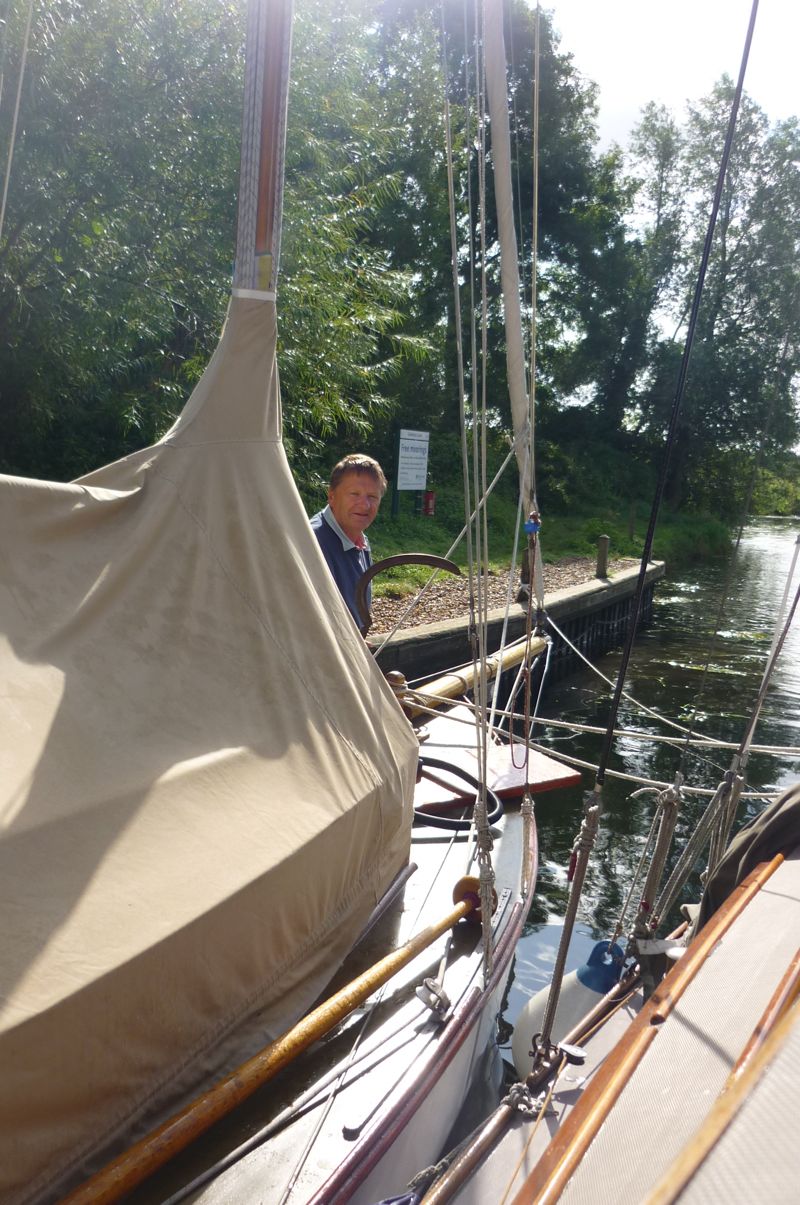 Photos above: JIMMY & CAROLYN JAMES
---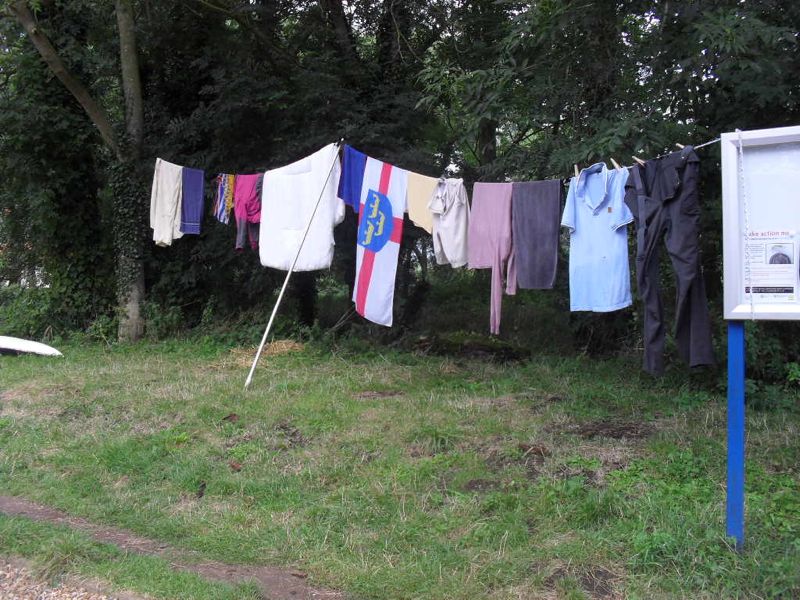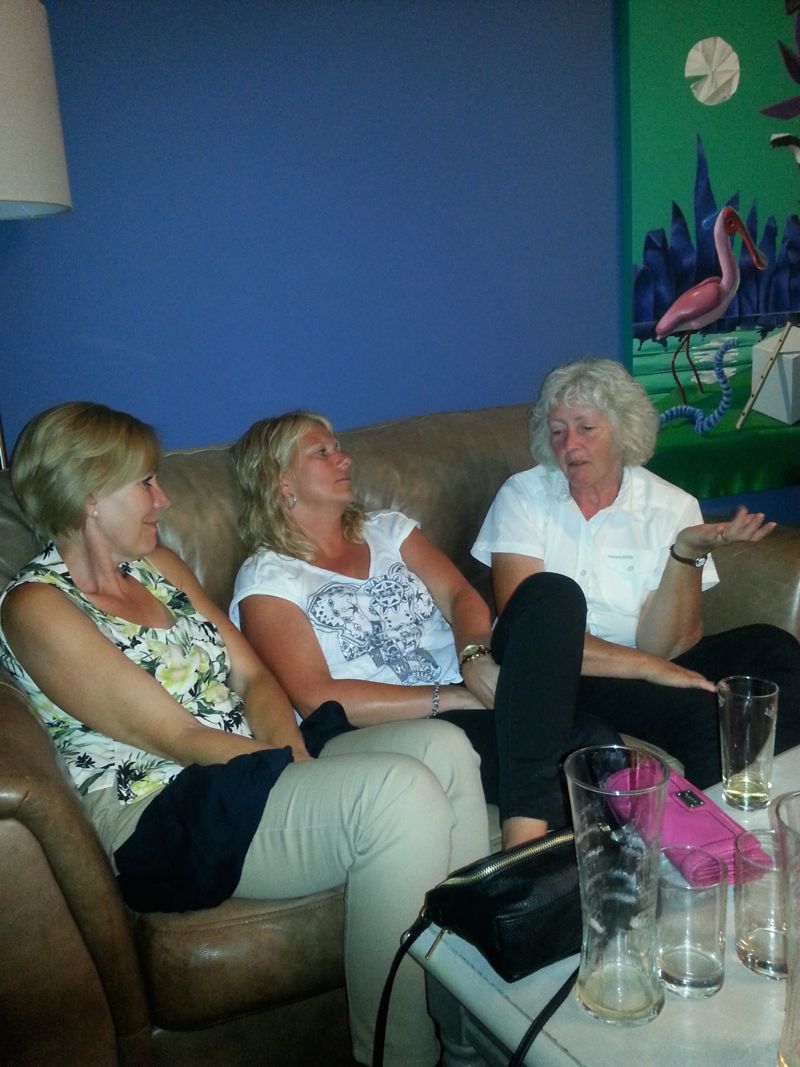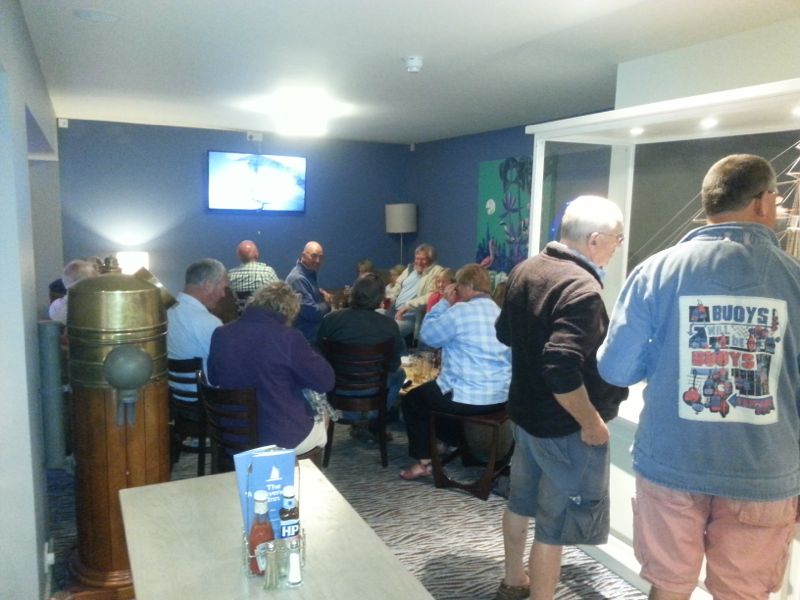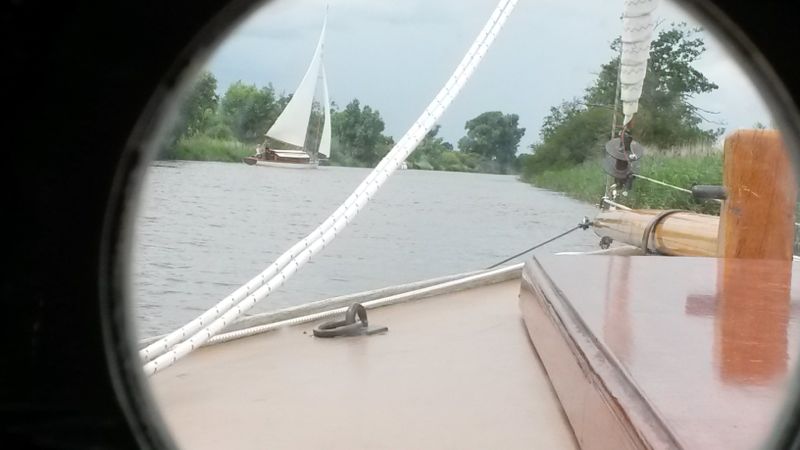 Photos above: NICK & AMANDA WIGGINS