Rigging Out Supper 2014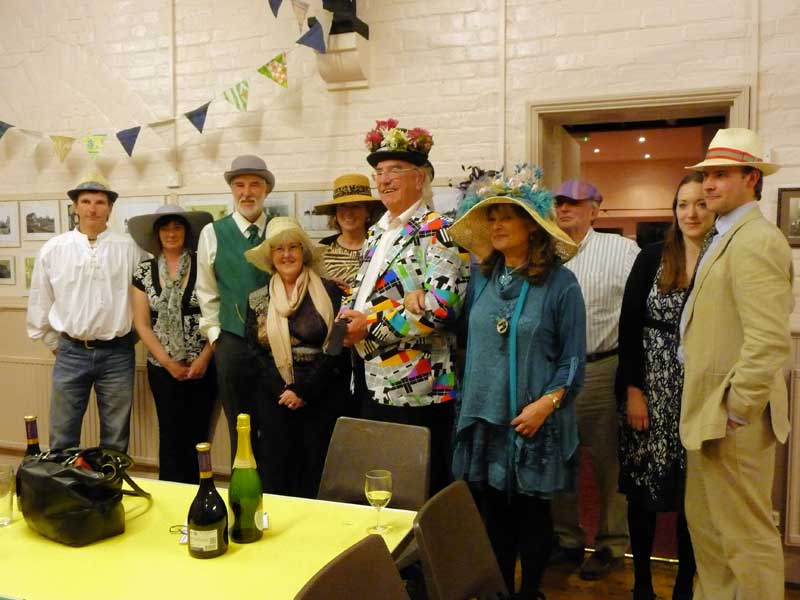 Photos: Sue Hines
Thanks to Chris and Rachel's excellent organisation and hard work the Rigging Out Supper this year was a superb event. Planned as a Murder Mystery and Race Evening it needed a good turn out to work because some members would have to adopt acting parts. But, as only a modest 28 members had signed up by the required date, it became necessary to drop the Murder Mystery part. It might have been ambitious anyway as the evening seemed to be pretty full as it was. As the photos show, it was a fancy dress party with most people at least wearing a hat. After the judging of hats and costumes there were some generous prizes presented to the winners.
In recent years the use of outside caterers or restaurants for the Rigging Out Supper has called value for money into question. Convinced we could do a much better job by keeping it in house, our Skipper Chris proved his point. Our thanks have to go to him and Rachel assisted by Robin Wilkinson, Ruth Lincoln and Ruth Thompson. They produced, between them, a fabulous supper. There was a choice of Chili or Lasagne with Jacket potatoes and salad followed by a toffee or chocolate pudding with cream. Delicious it was too and fantastic value.
The race evening was a lot of fun. On arrival we were all presented with a glass of Bucks Fizz and an envelope with instructions and £250 of Monopoly money. Modesty forbids me from saying who won, having turned £250 into £6,510 on a winning streak . Not bad for someone who has never so much as bought a lotttery ticket. Thanks to Adrian, David and Rachel for being bookies.
As Nick Wiggins said in his speech of thanks to the organisers, "any members who were not there missed a cracking evening". I have to agree with him.
Paul Stevens