RCC Open Results 2013
29TH & 30TH JUNE 2013
Scroll down for the full results
Unless otherwise stated all photographs are courtesy of Sue and Robin Hines
We are indebted to Sue & Robin Hines again for the use of their wonderful photos
For a video of the sailing taken by Brian Day click here
Many months ago I forgot the expression 1 volunteer is worth 10 pressed men, and I said to my "Mate" if you really can't find anyone else as I do not have a cruiser I will help run the line. I meant help as in assist.
The long cold dark winter months continue (April/ May) and then John Aves then volunteers that he will also help but not run the event. Then "Mate" informs me that he can't get anyone else to do it/ you did say/ as you said you would I couldn't be a***s to find someone….. so would I still be prepared to run it. Well if I really have to then I will. I then for some unknown reason look in the EACC membership book (printed sometime before above conversation) and see in black on white that I was already with my head in the noose so to speak.

Anyway to cut a short story long before too long the weekend arrives. I arrange for "Mate" to assist with preparation. He tells me that as Sabrina 2 Mischief and We(s)tward V will be at the moorings on Friday night he will take Snewurd over, put the boat in and put the marks in the boat so that on Saturday morning I can take them out and set the course. JA has kindly said he will bring Solace as the committee boat.
09:00 hours I call "Mate". A blurry voice… Mr Duffield, I am looking at you from my boat. I look across the river and sure enough the safety/ assistance boat is on the bank with its cover on. Apparently there were good intentions to get it ready but somehow pressed grape juice got in the way. All too soon we are away with a cup of tea laying the course. I forgot my lesson from last year and put B up the Bure toward St Benet, and A down towards Acle. Wow it really is as simple as ABC. A return to base to get the start line stuff together and then down to Solace to set up. The motely crews then start to assemble and all together 21 cruisers enter the Saturday afternoon race, which is round the cans and then overnight in Upton. In view of the number of starters I decide there will be split starts. A quick briefing, B is up there, A down there and C is that red thing in the middle of Thurne Mouth.
During the race the wind rises and falls but we get about an hour and half or so in. It is then to Upton where eventually John the tree man gets me a drink. The provisional start times for the pursuit race are given. I leave the fleet to return home and hope not too much damage will occur overnight.
Once home I advise Jimmy that he does not need to be at Thurne until 08:00 and not 07:30, by email having left my mobile on Solace. Sunday 07:33, doorbell rings. "You didn't read your email last night then?" "No". "Oh well do you mind going to the shed to get the beer?" "Ok shall I take it to the boat?" "Yes please and when you get back I will have a coffee for you."
We get to the boat and head to Upton. 3 crews ask roughly what time they will be starting as they will not make the briefing. At Thurne Mouth Vagabond stops us and enters the racing. I explain that although she entered her she cannot start here and must come down to Upton first.
Upton for the briefing. Are people too scared of being accused of currying favour. No offers of bacon sandwiches for any of the line crew, lots of hints needed before a cup of tea was offered (thanks Jo). The best offer was a pork pie, but even that did not materialise at lunchtime. The wind forecast is light, but fortunately it filled so there was enough wind for almost all
First start 10:30 and both boats on time. The rest of the starts an absolute shambles. Everyone, well almost everyone, at least a minute late. I got so concerned that I was checking everyone's' watches in case the anatomical clock was wrong or the start list. No it was right. Perhaps Upton is a minute behind Thurne. Even Mischief right on the line for her start went about and came back about 40 secs later. Anyway all got away although Vagabond did get slightly stuck on a lee shore and took a little while to get off. Should have asked me, I've got lots of experience of lee shores, just ask JJ. Having made sure Vagabond was over the line and safely on her was "STILL clear!!!!" we move Solace up to the moorings ready for the afternoon.
For those who don't know the pursuit race is the one where the slower boats go first, the quick boats last and over 100 mins they should all be together. However they got together a bit sooner than expected, see photo of Liz C.
Photo: Liz Chettleburgh
Just to add to the fun Sabrina 2 got stuck on a lee shore , where strangely there were no trees to closely inspect and could not get her rig down so needed the assistance of the assistance boat; there were several of the Hunter fleet going up the Bure; the wherry Solace was heading up river under power, and just as Pirate and Halcyon got to B mark White Moth comes sailing round the corner!
JJ and me manage to get Sabrina 2 sorted and under power. We then have the delight of trying to catch the leading boat up (see pic by Liz C) Well at times you can be glad you are under power and not in the middle of the fleet. It made the M25 on a Friday afternoon look empty. Fortunately no one hurt, no boats damaged and no tempers lost (well not too much). I was passed a message from 1 DAFI to the effect that whoever organised this needs to get it sorted out properly next time.
The race is ended and I go back along the fleet to see who has finished where. " I am sure I was in front of him/ her at 100 minutes." Does it really matter you weren't in the top 3 and getting any beer.
The afternoon race was the roundabout. 3 marks in any order, provide they are all taken to starboard. JA informs me that if a boat goes down river to start it must finish going down river and vice versa. What he did not allow for was boats doing 1 upriver leg first then the A mark and then going back upriver. It is for this reason that Cordon Rouge got a bell after about 38 minutes. "that's kind they say but we still have C to do."
After all the excitement the racing is over and the results declared. Time for prize giving once people had selected 3 different places to moor having come across from the windward bank. Halcyon helmed by Roger won all 3 races and received not only half a pub of beer but the world famous Moth Salver. Pirate with "My Way" on the helm comes second overall, and third was Dryad with Martin.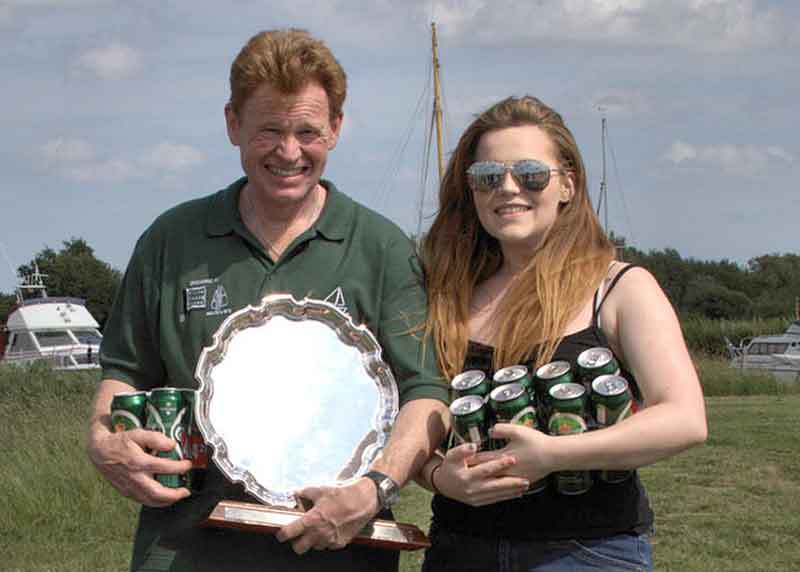 A good weekend had by all. Thanks to all who took part and made my job (it isn't really a job) that much easier. If you enjoyed the weekend my name is Malcolm. If not my name is …., no better not put a name in, in case they are sensitive.
RESULTS
Race 1 Saturday 1400

Sail No

Boat Name

Helm

Hcp

Elapsed

Corrected

Position

78

Halcyon

R Wilson

-12%

01:59:56

01:45:32

1

217

Melinda

P Howes

-3%

01:49:11

01:45:54

2

221

Dryad

M Thompson

-6%

01:53:52

01:47:02

3

265

Joy

P Davies

-6%

01:53:59

01:47:08

4

30

Zingara

R Dugdale

1%

01:46:13

01:47:16

5

177

Breeze

C Chettleburgh

1%

01:46:52

01:47:56

6

199

Morning Calm

P Carrington

-11%

02:01:57

01:48:32

7

15

Pirate

T Moore

-10%

02:00:51

01:48:45

8

24

Pippa

G Angell

-6%

01:56:47

01:49:46

9

82

Beth

G Howarth

-5%

01:55:53

01:50:05

10

375

Amaryllis

P Stevens

-14%

02:09:53

01:51:41

11

152

Sabrina 2

J Holmes

-7%

02:01:04

01:52:35

12

259

Cygnet

M Reilly

-9%

02:04:08

01:52:57

13

307

Mischief

S Seeney

-7%

02:01:34

01:53:03

14

384

Cordon Rouge1

D Thompson

-8%

02:04:00

01:54:04

15

151

Pixie

A Lincoln

-16%

02:15:55

01:54:10

16

146

Sally

J Burton

-14%

02:12:52

01:54:15

17

300

Matilda

A Landamore

-1%

01:56:15

01:55:05

18

122

Martlet

H Franzen

-16%

02:17:42

01:55:40

19

106

Westward V

P Markham

-11%

02:13:11

01:58:31

20

223

Snowbird

N Wiggins

-10%

02:14:51

02:01:21

21

379

Amantani

M Partridge

-18%

00:00:00

00:00:00
Race 2 Pursuit Race Sunday 1030

Sail No

Yacht Name

Pos.

78

Halcyon

R Wilson

1

15

Pirate

T Moore

2

259

Cygnet

M Reilly

3

30

Zingara

R Dugdale

4

265

Joy

P Davies

5

307

Mischief

S Seeney

6

221

Dryad

M Thompson

7

217

Melinda

P Howes

8

300

Matilda

A Landamore

9

177

Breeze

C chettleburgh

10

199

Morning Calm

P Carrington

11

151

Pixie

A Lincoln

12

82

Beth

G Howarth

13

384

Cordon Rouge 1

D Thompson

14

375

Amaryllis

P stevens

15

122

Martlet

H Franzen

16

106

Westward V

C Markham

17

24

Pippa

G Angell

18

146

Sally

S Burton

19

18

Vagabond

M Collins

RTD

152

Sabrina 2

J Holmes

RTD

223

Snowbird

N Wiggins

RTD
Race 3 Roundabout Sunday 1300 - 1400

Sail No

Boat Name

Helm

Hcap

Elapsed

Corrected

Position

78

Halcyon

R Wilson

-12%

00:49:00

00:43:07

1

15

Pirate

T Moore

-10%

00:48:40

00:43:48

2

375

Amaryllis

P Stevens

-14%

00:52:24

00:45:03

3

151

Pixie

A Lincoln

-16%

00:53:43

00:45:07

4

221

Dryad

M Thompson

-6%

00:48:41

00:45:45

5

217

Melinda

P Howes

-3%

00:47:20

00:45:54

6

106

Westward V

P Markham

-11%

00:52:29

00:46:42

7

265

Joy

P Davies

-6%

00:49:51

00:46:51

8

384

Cordon Rouge 1

D Thompson

-8%

00:51:09

00:47:03

9

82

Beth

G Howarth

-5%

00:49:36

00:47:07

10

259

Cygnet

M Reilly

-9%

00:51:55

00:47:14

11

307

Mischief

S Seeney

-7%

00:51:01

00:47:26

12

300

Matilda

A Landamore

-1%

00:48:30

00:48:00

13

223

Snowbird

N Wiggins

-10%

00:53:23

00:48:02

14

122

Martlet

H Franzen

-16%

00:58:11

00:48:52

15

152

Sabrina 2

J Holmes

-7%

00:52:43

00:49:01

16

24

Pippa

G Angell

-6%

00:52:46

00:49:36

17

177

Breeze

C Chettleburgh

1%

00:53:49

00:54:21

18

18

Vagabond

M Collins

-4%

00:00:00

00:00:00

DNS

146

Sally

J Burton

-14%

00:00:00

00:00:00

DNS

199

Morning Calm

P Carrington

-11%

00:00:00

00:00:00

DNS

30

Zingara

R Dugdale

1%

00:00:00

00:00:00

DNS
OVERALL

Sail No

Boat Name

Helm

Hdcap

Race 1

Race 2

Race 3

Total

Points

Pos

78

Halcyon

R Wilson

-12%

1

1

1

3

1

15

Pirate

T Moore

-10%

8

2

2

12

2

221

Dryad

M Thompson

-6%

3

7

5

15

3

217

Melinda

P Howes

-3%

2

8

6

16

4

265

Joy

P Davies

-6%

4

5

8

17

5

259

Cygnet

M Reilly

-9%

13

3

11

27

6

375

Amaryllis

P Stevens

-14%

11

15

3

29

7

307

Mischief

S Seeney

-7%

14

6

12

32

8

151

Pixie

A Lincoln

-16%

16

12

4

32

8

30

Zingara

R Dugdale

1%

5

4

24

33

10

82

Beth

G Howarth

-5%

10

13

10

33

10

177

Breeze

C Chettleburgh

1%

6

10

18

34

12

384

Cordon Rouge 1

D Thompson

-8%

15

14

9

38

13

300

Matilda

A Landamore

-1%

18

9

13

40

14

199

Morning Calm

P Carrington

-11%

7

11

24

42

15

24

Pippa

G Angell

-6%

9

18

17

44

16

106

Westward V

P Markham

-11%

20

17

7

44

16

122

Martlet

H Franzen

-16%

19

16

15

50

18

152

Sabrina 2

J Holmes

-7%

12

24

16

52

19

223

Snowbird

N Wiggins

-10%

21

24

14

59

20

146

Sally

J Burton

-14%

17

19

24

60

21

379

Amantani

M Partridge

-18%

24

24

24

72

22

18

Vagabond

M Collins

-4%

24

24

24

72

22